The Nitro Circus live show is coming to the U.S. for the first time this weekend in Las Vegas. While digging through photos and bench racing about the event, we started to reminisce about great Travis Pastrana events of the past. There are, most probably, literally 199 wild Travis moments, so we'll just break it down to nine here and let you fill in your own faves in the comments section.
9. SX Back Flips:
Back in his racing days, rumors swirled that Pastrana could back flip every jump at the Suzuki test track, and was even trying to back flip into the whoops! We never really got to see these tricks in a race, because, well, Travis was injured a lot during his 250 days. But he finally took a shot at it in Daytona one year across the finish line jump. And crashed! The AMA told him never to try that in a race again. Ever.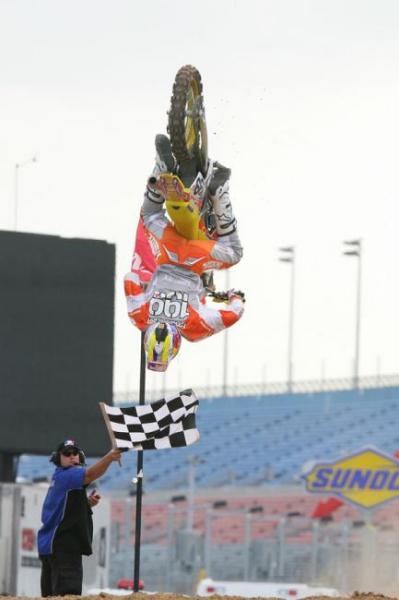 Travis goes for a backflip in 2006 at Daytona, the outcome was not what he expected..
Photo: Simon Cudby
8. Parade Lap Tricks: Travis made an impact at the beginning and end of his racing days. At his first AMA supercross, at Indy in 2000, he tried a trick on the parade lap and wadded it up! At his last supercross, a one-off appearance at St. Louis in 2009, he back flipped the finish line jump during the parade lap, heck, he backflipped over the back of a berm that was only about three feet high!

7. The Montel Williams Show: Few remember this one, and we have no idea if the footage exists anywhere, but a young Travis once appeared on this day time talk show with his family, hoping to have all the bad luck and injuries exorcised from his life. Uh, it didn't quite work.

6. The Late Show: David Letterman once invited Travis to his show in New York City, and they closed down 53rd street and trucked in some freestyle ramps. Unfortunately, Travis crashed on the slippery landing while practicing and wasn't able to jump during the live taping. But it was still pretty cool. Also, Travis once raced through the parking lot and hallways of Jay Leno's Tonight Show.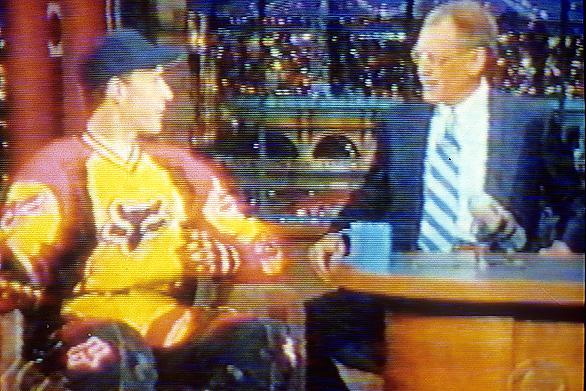 Unfortunately during the live taping of his David Letterman appearance,
Travis Pastrana
was unable to jump on-air due to a crash sustained earlier while he was practicing for the show.

5. Grand Canyon: About a decade ago, before backflips were perfected, Travis told us he had a crazy idea about where he could find enough room to pull one: The Grand Canyon! So he brought some ramps and old bikes out to the Canyon and jumped in, parachuting off after he pulled his stunts. This still sounds crazy!

4. Live without a 'chute: Nothing to do with bikes here, but Travis did skydive without a parachute once. Other dudes had to get to him and grab him up before he hit earth. His skydiving license was pulled for this one.

3. Double Back Flip: He nailed it at X Games a few years ago, and ESPN still rolls the clip out each year...

2. The Nitro Circus: One day, video producer Greg Godfrey was either dumb enough or smart enough to put a video camera in Travis' hands. They were way ahead of the YouTube craze, and a whole new level or hijinks was born.

1. The Bay Jump: At the first X Games FMX comp ever, Travis already had the event won after his first run. So he had to do something crazy for his second run. He found a jump and launched his RM125 all the way off of the course and into the San Francisco Bay! An X Games legend was born. But the environmentalists were not super pumped.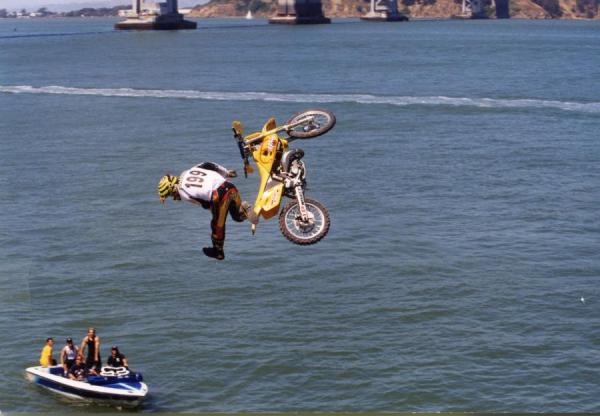 This one really launched Pastrana's career.
Photo: Eric Johnson