Defending Can-Am Grand National Cross Country Series (GNCC) Champion Josh Strang has found that protecting a championship may be harder than winning one, as he currently sits two points back from FMF KTM's Charlie Mullins in the XC1 standings. After seven weeks off due to two rain cancellations, the FMF Makita Suzuki rider heads to the Rock Run GNCC in Pennsylvania this weekend to make a run for the title that was once his own.
Originally from Australia, Strang now calls Southern California home, which leads to a slightly different lifestyle than many of his GNCC competitors who ride cross country-style terrain and even hang out with one another on the off-weekends. You can find him mixing it up on the popular motocross tracks of SoCal with some of the fastest MX riders on the pro circuit. The difference comes for Strang on the weekends, though, as he switches back to racing for 3 hours through the woods - conquering rocky mounds, mud holes, hill climbs and even creek crossings.
We caught up with the Strang as he puts the final preparations for this weekend's race in Pennsylvania.
Racer X Online: Hey Josh! What have you been up to since we last saw you wading through the mud at the Indy 100?
Josh Strang: Not too much, I just got done cleaning out my cabinet in the truck.  We had plans to do some riding today but it's been raining here so we've just been tidying up and getting things ready for the weekend.  I've been out here in Indiana with Shane [Nalley] at his place; this is where he keeps the team truck and everything.  I came here in between races to test some things with the race bike and I've been doing a bit of riding and cycling with Shane so it's been good.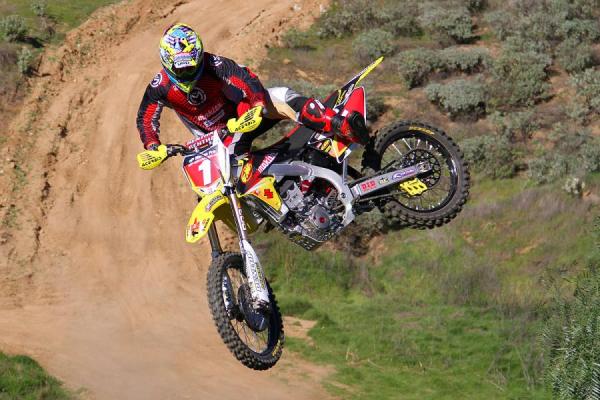 This GNCC Racer dabbles in moto as well.
Photo: Jason Hooper
Who have you been riding with?
Well I mainly stayed out here to do a little bit of testing and that, we had some stuff to try out so Shane and I have been riding a lot by ourselves.  At the end of last week we got to hook up actually with the Hayden brothers, they were back in town - they live about half an hour from Shane so we got to ride with them at their house one day and then they came back out on Saturday and we did some motos so it was pretty cool.
Have you changed anything on the bike?
Yeah we changed a few little things to where I feel more comfortable on the bike.  The bike I've been riding back in California has been really good and some stuff back here on my race bikes were a little different so we changed it and got it all sorted out to where I feel comfortable again.  We've got some rocky races coming up so we've been getting my bike back to how it was in '09 when I was winning those rock races so the bike feels good now and I'm pretty happy with the changes we made.
What's different about riding in the Midwest compared to California?
Well there are no motocross tracks here in Indiana (laughs).  In the East, you ride a lot of woods and grass track type stuff and in California you ride just motocross.  I actually enjoy the change after being in California for a year and a half - I mean I still enjoy it but it's just good to get out and ride some different stuff.  I've been gone for two weeks now so I'll be ready to go back after the race this weekend and get back into my normal routine.  I definitely like coming out here every once in a while; it's something different for sure.
So what is your normal routine when you're back in Cali?
Well like I said, there's no woods where I'm at in Southern California, so I ride a lot of motocross during the week.  And then I ride the off road stuff as soon as the Winter is over, it stops raining so it's too dry and dusty so the fun factor isn't really there (laughs). I've been getting 2-3 days a week at the track, like in California they have a different track open up each day and they work out which are better to go to than others so it's actually pretty fun.  I just do that mainly and then my normal training routine in between riding and it works out pretty well.

The Aussie is no stranger to the GNCC podium.
Photo: David Scearce
I know a lot of the other GNCC guys race with each other in other off-road events, like National Enduros or the OMAs on the off weekends. Do you think being on the West coast helps or hurts you at all?
Oh I don't know, I do what I do and it works for me.  Those guys do what they do, and it works for them, so I mean everyone is different.  The way the economy is, the team is still hurting and there's not really a budget for me to go to an OMA or National Enduro or WORCS race.  Sometimes I wish I could go do some of those races but the budget just isn't really there at the moment so I just have to do what I can and work around it until we can work some stuff out and get some more races going.
You've got a really great team behind you; I know those guys work really hard to keep your Suzuki out front.  How long have you been with the Suzuki team?
I've been with the team since 2007 when I came over [from Australia].  It's been good, I mean the bikes are really good and they're behind me 100 percent. I couldn't ask for anything more.
This weekend will mark seven weeks off of racing, what have you been doing to keep yourself in that racing mindset?
Yeah it's been seven weeks too long (laughs)! After Big Buck I worked on what I wanted to work on and rode a couple races back home so that was good.  The next race at Loretta's was cancelled so I just kept doing the same thing and then when this last one was cancelled I decided to come here and test the bike and keep preparing myself. I mean I'm prepared; I'm ready to race - I feel like I've done what I wanted to do so I've just been doing the same stuff and getting ready to race.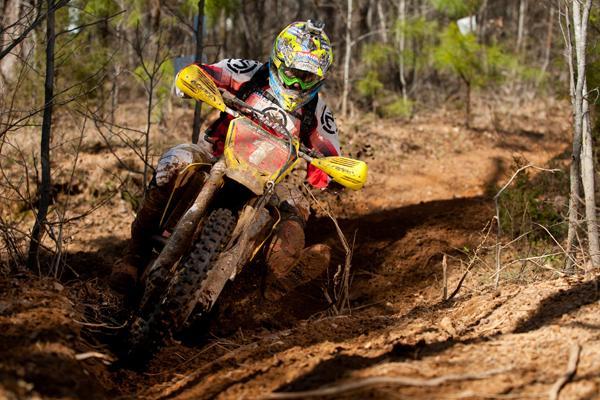 It has been seven weeks since Strang has lined up for a GNCC race.
Photo: Shan Moore
Last year at this point in the season you had swept all four races.  This year it hasn't gone that way for you. Tell us a little bit about your season so far.
They were good, I mean definitely not four wins (laughs) – which is always the best possible thing that could happen to a racer but I don't think many people have won four races like that.  Last year I was a little surprised to win the first four and this year I'm disappointed because I haven't won the first four but I set a high standard last year after doing that.  A lot of guys are riding really good, too so I can't take anything away from those guys - like Charlie winning his three races and Whibs [Paul Whibley] winning his.  I mean it keeps it interesting, I think it would get boring if I won the first four again. I'm excited, I just wish we could go race! 
Now that you're defending a championship do you feel any added pressure to win this year?
Not really any added pressure, I mean we're still only down four races so it's hard to tell.  If we were nine down and I had still only won one race then I'd definitely be disappointed but we still have a long way to go until the season is over.  I'm pumped with how everything has been going, I should be able to get some more wins and hopefully get into the points lead again.
Obviously you and Charlie have been battling a lot this year, making things interesting for the points lead.  Let's go back to the end of that Steele Creek race? Mullins was leading, you were on him for the entire last lap, and he slid out in the last turn.  What was going through your head when Charlie slid out before the finish?
Man that track was good!  Definitely one of my favorites.  That was probably the wettest track I've seen there, but it was a good day again and Charlie was riding good.  We got pretty close there for the last two laps and I was just trying to make a pass toward the end.  Heading into that second to last corner I nearly went down and I just figured it was over and then he crashed.  It was a relief, I'm lucky for Charlie to crash there but that's racing I guess, I don't think he'll do it again.  I'll just have to make sure I pass him before the last corner in the future. (laughs)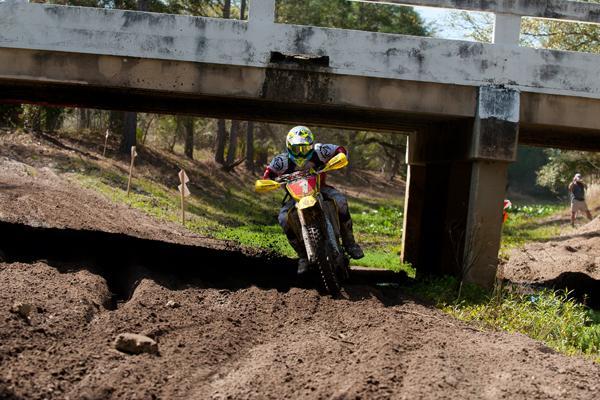 Strang currently sits two points back of Charles Mullins in the XC1 class.
Photo: Shan Moore
We're headed to another new course on the schedule here in PA, what are your expectations heading into the weekend?
I think it'll be similar to the Somerset race last year, so probably a little bit rocky.  I'm just excited to race; I've been sitting at home doing nothing! I'm ready for the rocks, mud, dust or whatever – I just want to go racing and get some good results.
And Friday night I hear you're going to be at Cernic's Suzuki/KTM in Duncansville, PA.  What's happening out there?
Yeah I'll be there.  That's something cool that we're doing more of this year, the dealer signings and that.  It's nice to see all the fans come out and support what we're doing.  It's going to be really cool, there's a country music station coming out to give away tickets for the race and other cool stuff.  I'll have a signed Moose Racing jersey to give away so it should be a good time.  We're out there from 5-7PM and free food will be provided so come on out!
Switching gears from racing a little bit, you just recently purchased your first house out West, congratulations on that! How does it feel to be an adult?
Thanks! It's really good, I'm excited.  I've been looking for a house for a while and I wasn't sure if I wanted to get one in California or one back east somewhere.  Looking at it now, I think while I'm racing I want to live out in California because that's where the industry is at and where I think it would be best for my career.  It's good; the deal with the house went a lot easier than I thought so I'm pretty happy (laughs). I haven't moved in yet but I have to be out of my rented house on Tuesday so hopefully I'll be excited after a win this weekend and I can move into the house and settle in and make it mine.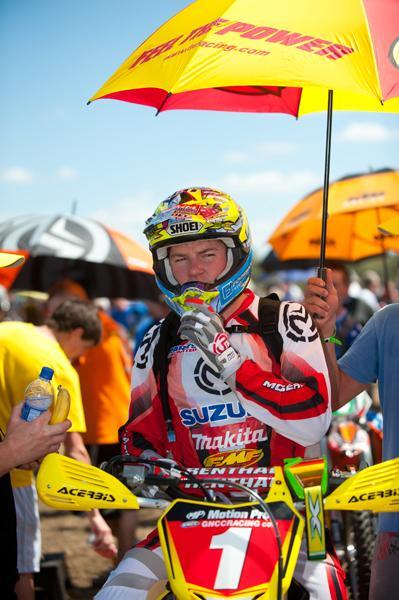 Strang will be at Cernic's Suzuki/KTM in Duncansville, PA this Friday meeting with fans.
Photo: Shan Moore

Before we go, I saw you posted a picture of your moto bike on Twitter last week.  Is there a chance you're going to race any Lucas Oil AMA Pro Motocross Nationals this year?
(laughs) I don't know, those numbers were just from last year. It actually wasn't ready to go to race outdoors but we'll see.  We have a summer break again year and I was talking to a couple people and I would really like to do some nationals it just depends if we can organize it a little bit.  GNCC is the priority at the moment but hopefully I can fit something in somewhere during the break.
Thanks for taking the time to chat with us, enjoy your week in Indiana and we'll see you in PA!
Thanks! I want to thank my sponsors this year: FMF Makita Suzuki, SiDi, Moose Racing, Shoei, X Brand goggles and Foremost Insurance.