Freestone Raceway
Wortham

,

TX
Freestone Raceway
Lucas Oil AMA Pro Motocross Championship
Ahh the great outdoors! Forget the sub-one minute lap times and the manufactured jumps and bumps, this is motocross and this was the 2011 Lucas Oil AMA Pro Motocross season opener at
Hangtown
! Generally by the time the end of supercross comes, I'm ready for the outdoors and then near the end of nationals, I want to start seeing supercross again. It's a ying/yang thing. Or maybe it's a circle of life thing. Whatever it is, let's get it started!
It's quite a shock to the system to see the guys just hanging off the back, flying around the track and exploding berms after 17 weeks of the guys not getting out of third gear. Ever since I've been coming to Hangtown (1996), it seems to get better and better ever year (except for that one year that they put in an S-turn and it caused everyone to crash). It used to be hard pack, slick and not much fun but now it's like the rest of the national tracks: prepped perfectly with perfecto traction most of the day.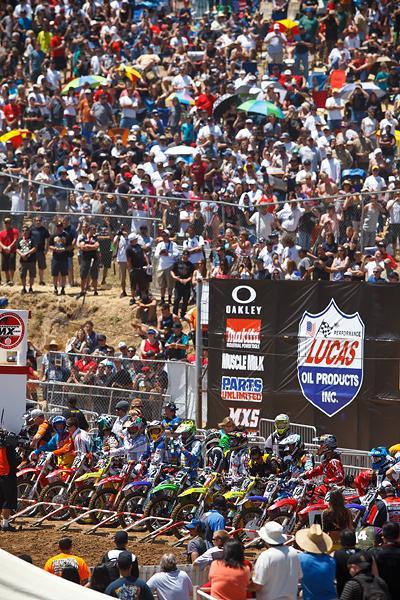 The spectators were out in full force at
Hangtown
.
Photo: Simon Cudby
It's a good spectator track and speaking of spectators, it seemed like there was a ton of people there (22,000 was the number I saw). More than I can remember in the last few years anyways and a very big contrast to the USGP that was held just one week earlier.  American fans want to see American racers- that's not right or wrong or anything, it's just a fact and I think we have the proof right here (along with Pala's packed house).
You know Chad Reed has been discounted by a lot of people over the years, myself included. When he won Hangtown last year on a Kawasaki, it definitely came as a shock, but not a huge one. I was only shocked because of his struggles in supercross in 2010, because after all, he did have a number one plate on last season.
This year though, he took the shock to a new level, I think. Reed split moto wins with Ryan Dungey to take the overall and the way he did it was amazing. Dungey didn't collide with Ryan Villopoto in the first turn and have to work through the pack. Nope, nothing like that. Reed had to pass both Ryans to earn the second moto win. In the process he did something that no one could do all of last year.
He broke Ryan Dungey.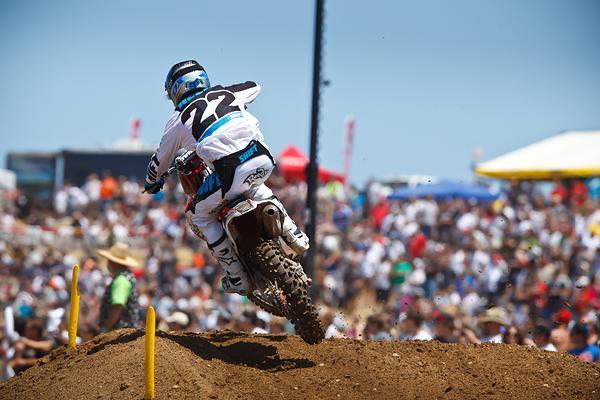 Reed caught and passed both Ryan's en route to the overall at Hangtown.
Photo: Simon Cudby
Besides hauling ass on a motorcycle, one of Ryan Dungey's strengths lies in the fact that he is in great shape. This is a kid that works as hard off the track as he does on, and last summer, he simply demolished the field. Around the twenty-minute mark, he would just pull away while the other dudes got tired. Last summer he crushed the spirit of other riders with his incredible endurance, guys like Reed, Ben Townley, Andrew Short- guys who are professional and work hard just like Dungey but yet, he still beat them down.
So smash-cut to second moto at Hangtown, Dungey crushed everyone in the first just like we saw all last summer and now, with four laps left, he pulled to within a second of Reed who had led for half the moto. There wasn't any doubt in my mind that Dungey was going to get by--that's just what he does. And allow me to quote one of my favorite movie lines right now:
Listen. And understand. That terminator (this would be Dungey) is out there. It can't be bargained with. It can't be reasoned with. It doesn't feel pity, or remorse, or fear (or get tired) And it absolutely will not stop, ever, until you are dead beaten.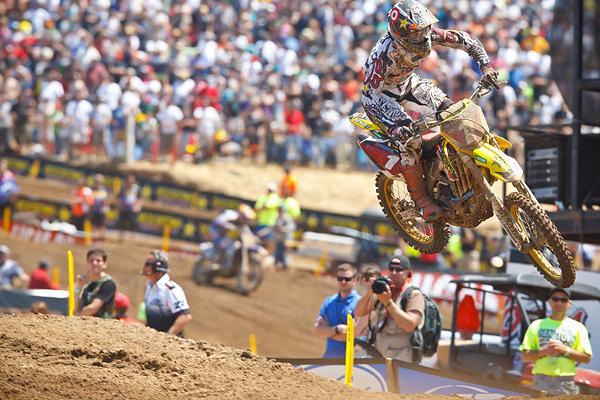 Dungey lost out on the overall to Reed, but managed to win moto one.
Photo: Simon Cudby
But this was different, Reed managed to break back away from Dungey at the end. He had broken Ryan and that my friends, is a different thing altogether. There's winning (duh!) and then there's winning. This was in that second category.
It was a well-earned win and one that's unlikely. After all Reed was full-on into the supercross title and didn't ride outdoors at all. Even during that Easter week off when Ryan Villopoto and Dungey got to go outside and test a little bit, Reed stayed with the jumps and bowl turns. He didn't even know he was going outdoors until a week and a half or so ago!
Very impressive win by Reed. It's a long series, lots of motos to go and I'm sure Dungey will have something to say about this title, as will Villopoto. The rest of the field? Well, judging by the gap the top three had in the second moto, it's going to be a long summer.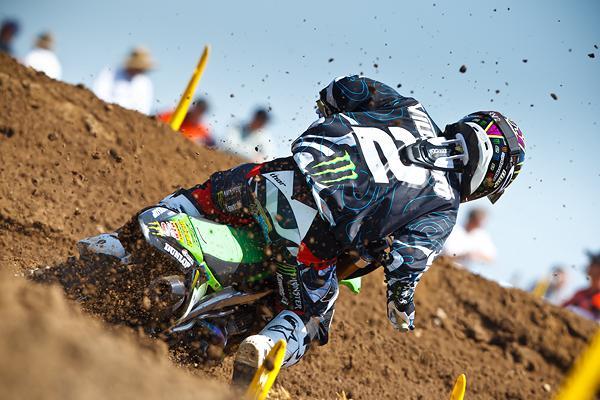 Villopoto rounded out the podium in his first outdoor race in almost two years.
Photo: Simon Cudby
On the positive end for Dungey, he looked to be a different guy this weekend than he was in supercross. He seemed confident and assertive and like I was saying, he took off for the first moto win and reminded everyone why that number 1 plate is on his bike. He had some sweet lines out there as well that Reed and Villopoto never seemed to catch onto like in the third turn, which was a right-hander. It was money for sure. It's with the utmost respect for Dungey that I talk about Reed being able to motor away at the end being a big deal. You just don't do that to Ryan.
As far as the other Ryan, Villopoto- he gets somewhat of a free pass this weekend because he was sick all week and wasn't 100 percent going into this race. And it showed as he got worked late in the race by the 1 and the 22. RV led the second moto for half of it but he knew he couldn't hold those guys off forever, he was just making sure he had the speed covered and he did that. Another week of rest and getting back up to strength and we'll see what RV can do. Although we might not even see him at his peak powers until High Point.
In the 250 class, on the pre-season prediction podcast right here on Racer X Online our own David Pingree called out Blake Baggett for the win and although Blake should be in any discussion of potential winners, I don't think too many people thought he was the favorite.
Maybe we should listen to Ping more.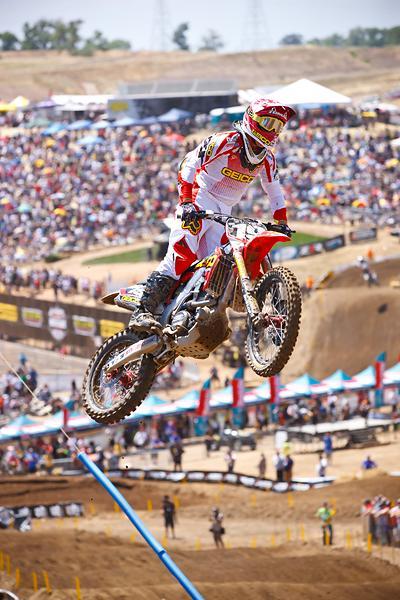 Tomac ran into the Pro Circuit buzzsaw at Hangtown.
Photo: Simon Cudby
Baggett put on a phenomenal bit of riding to win Hangtown with a 2-1 score and trust me, if you were there, you know that Blake was the fastest guy. Not even a crash in the first moto could deter the quiet Baggett's fiery charge to the front. So Baggett was the first national winner and that sets up a very interesting Freestone national this weekend because Baggett was hella-fast there last year as was his teammate Dean Wilson. Then the other amigo, Tyla Rattray, won the second-moto last year.
If you're Eli Tomac I'm not sure if you're bummed or content with your Hangtown weekend. There are two sides of thought to this: One is that a solid fourth overall isn't a bad way to open the year, but the other side is that Tomac won this race last year and at one point, he led the first moto. So I'm not sure if Eli Tomac's Hangtown was good or bad and you know what? Maybe it doesn't have to be good or bad, maybe it can by just okay.
I knew that Marvin Musquin would be good going into this series but I have to admit that after watching him at the USGP, I wondered if I was off. I didn't think that in his first race since last November he'd be beating Kenny Roczen or Jeffrey Herlings, but I definitely thought he'd be in that next group but instead, Tommy Searle, Max Anstie and Zach Osborne all seemed to be better than him.
At Hangtown, though, he was on it and worked his way up from the back each moto and hear me now and listen to me later, Musquin will be winning motos before long.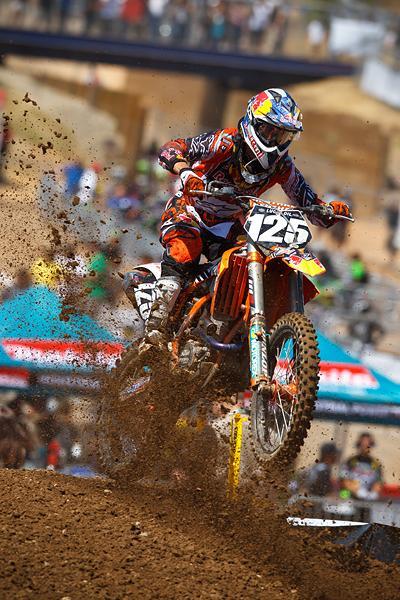 Musquin came back from dead last to sixth in moto two.
Photo: Simon Cudby
Davi Millsaps always seems to do well at Hangtown, and he came through this weekend (although his second moto wasn't that good) as he ended up sixth overall. You may think that it's not a big deal but in the first moto he carded a fourth and was one of a few guys (Tommy Hahn as well) that was moving forward.
Hangtown saw the debut of Christophe Pourcel for the Motoconcepts Yamaha team and it definitely was an interesting development and added some intrigue to the day. And then when he went by Ryan Villopoto early in the first moto, it was definitely a "Hmmm" moment. Soon though, RV got back by and Pourcel started going backwards before turning it on the last two laps. In the second moto, he got a terrible start and worked his way from way, way back to get eleventh.
Pourcel's day to me was mixed, he can obviously go the speed but his endurance isn't where it needs to be, but that shouldn't be a surprise. He'll get better as the series goes on.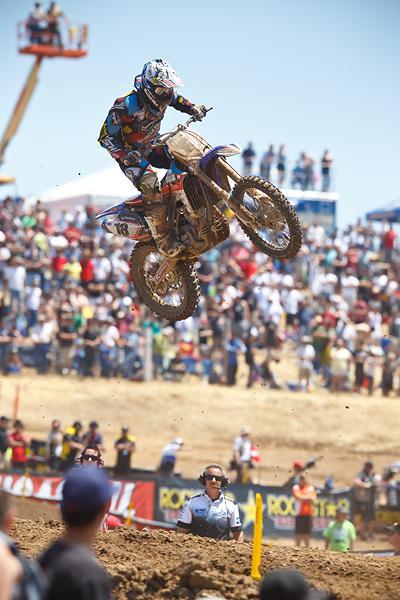 Millsaps had a solid day at Hangtown, finishing sixth overall.
Photo: Simon Cudby
Brett Metcalfe went 5-5 and as usual, not too many people talked about him but really, he's been out for a few months recovering from injuries and stepped right in to finish top five both times out. I'd say that's pretty good and like Pourcel, he'll get better. Remember last summer!
The Honda's of Kevin Windham and Chad Reed both suffered some airboot problems in the first moto and the bikes were down on power once they got hot. No telling how it affected the guys out there but you could hear KW's bike sounded a bit like a vacuum cleaner out there. For the second moto, Honda figured it out.
Speaking of Windham, his magic carried on when he holeshot and led the first moto for some laps. The crowd was going nuts and KW must have been thinking it was pretty cool for him to be leading the best riders in the world with virtually no motocross testing. His 6-4 was probably the most popular 6-4 in the history of the sport!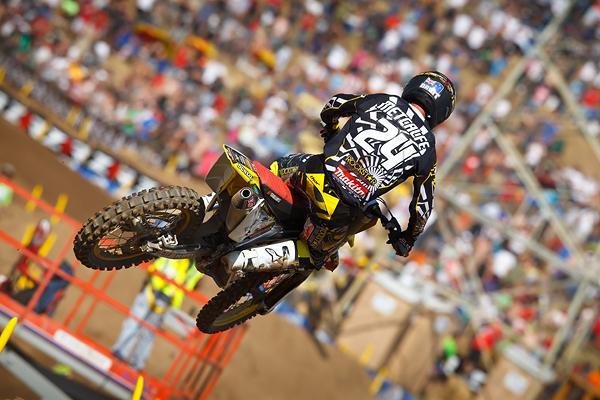 Metcalfe finished fifth overall after missing the last part of the SX season with injuries.
Photo: Simon Cudby
Let's take a look at the results shall we?
Lucas Oil AMA Pro Motocross Championship
Hangtown -  Sacramento, CA
450 Overall
1. Chad Reed (2-1) Hon
2. Ryan Dungey (1-2) Suz
3. Ryan Villopoto (3-3) Kaw
4. Kevin Windham (6-4) Hon
5. Brett Metcalfe (5-5) Suz
6. Davi Millsaps (4-7) Yam
7. Tommy Hahn (8-8) Yam- good ride for T Hahn!
8. Christophe Pourcel (7-11) Yam
9. Ricky Dietrich (11-9) Yam- Dietrich was pretty solid on the day and him and his teammate Nick Wey suffered terrible starts both motos.
10. Christian Craig (14-10) Hon- To get tenth overall in this 450 class is definitely solid and good ride for Craig.
11. Michael Byrne (10-14) Suz- Byrner was up there in the first moto.
12. Jake Weimer (21-6) Kaw- Weimer had a terrible first moto with crashes but he rebounded nicely in the second moto. A sixth is about where he should be- around Metty I would think.
13. Kyle Chisholm (16-12) Yam- The Chiz should be happy with this ride. He's still recovering from his injuries suffered in SX.
14. Nick Wey (15-13) Yam
15. Mike Brown (13-15) KTM- Brownie rode a 450 and although he was pretty good for a part-timer, he didn't get the 25 points he needed to keep his number. He'll have to come back out.
16. Tye Simmonds (12-16) KTM
17. Andrew Short (9-34) KTM- Just another bad start of the nationals for Shorty. As he was coming up in the first moto, something let go in his motor and he nursed his bike home. Second moto, the same thing happened to the bike. I've been on many teams and that's not good.
18. Calle Aspegren (26-17) Hon
19. Kevin Rookstool (19-19) KTM
20. Robby Bell (17-22) Kaw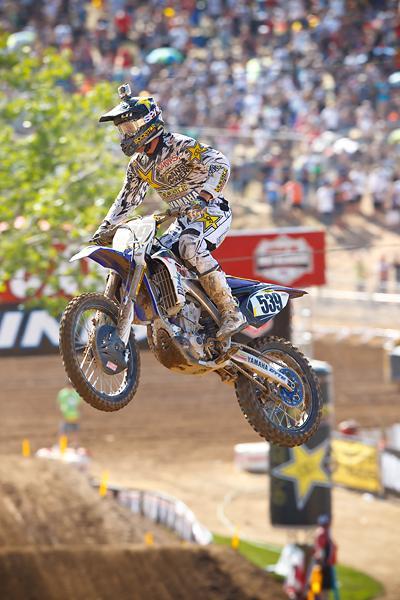 Dietrich finished ninth overall in his return to outdoors.
Photo: Simon Cudby
250 Overall
1. Blake Baggett (2-1) Kaw
2. Dean Wilson (1-3) Kaw- Wilson did nothing to not make me think he's in the running for this championship. Dean-o's got good style out there!
3. Tyla Rattray (5-2) Kaw- All Rattray did was almost win the second moto and log a solid third overall. Good race for Ratters!
4. Eli Tomac (3-4) Hon
5. Marvin Musquin (4-6) KTM
6. Gareth Swanepoel (9-5) Yam- This was pretty good right? I have to ask you guys because I never really noticed Gareth out there.
7. Kyle Cunningham (8-8) Yam- Generally with Cunningham, you see scores like 5-28 or 37-7 so anytime he can go 8-8, it makes me think that maybe he's harnessed himself a bit.
8. Darryn Durham (10-9) Hon-DDT rode well and was up front in the first moto with that silky smooth style of his. He's the first real privateer as well.
9. Broc Tickle (11-5) Kaw- Tickle had some bad luck with his throttle and a crash and as he told me afterwards, if he can get ninth with everything that went wrong- he'll take it.
10.Cole Seely (7-13) Hon
11. Martin Davalos (12-11) Suz- Good ride for Davalos in the second moto because he was down there with Musquin in the first turn.
12. Jason Anderson (11-12) Suz
13. Justin Barcia (6-18) Hon-Barcia's wrist injury might be a little too much to overcome in the outdoors.
14. Gannon Audette (14-15) Yam
15. Nico Izzi (30-10) Hon
16. Austin Howell (15-19) Suz
17. Alex Martin (24-14) Hon
18. Ben Evans (19-16) Kaw
19. Nick Paluzzi (17-20) Suz- Tough day for Rockstar Suzuki.
20. Scott Champion (16-22) Hon
GEICO Honda is down a couple of riders with Blake Wharton, Jimmy Decotis and Wil Hahn all out with injury. Hahn's gone for a while, Wharton is gone for the year and Decotis I imagine is coming back soon but if his injury lingers, it's interesting to see if the Honda guys try to put someone on the bike.
Everyone I talked to in the post-race podcasts http://www.pulpmx.com/podcasts/hangtown-pulpcasts remarked on how rough the track was. It was pounded by rain, then amateurs, and finally was disced up and watered, which always makes for a rough course. It was gnarly, you could see the guys coming down the hills and just getting swapped and kicked around. Generally Anaheim 1 is a little tame for the guys as the track builders want everyone to get their sea legs under them but outdoors, there was none of that! After the backbreaking Hangtown, we're going to the heat of Texas this weekend. There is no rest for the wicked in the American motocross series!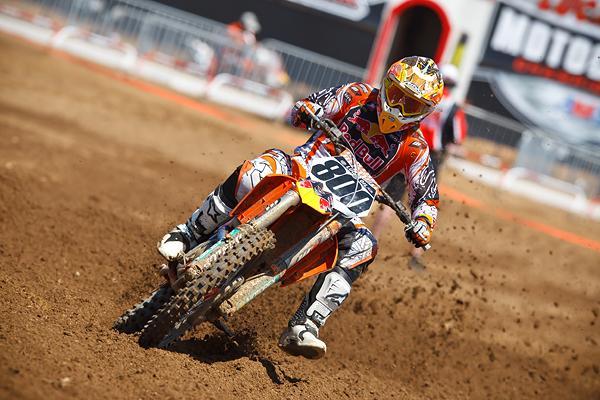 Alessi will be out until High Point after a big get-off at Hangtown.
Photo: Simon Cudby
You may have wandered around the pits and noticed that Star Racing Yamaha has 450 rider Kyle Partridge on the team and you may be like I was and wondering, Why does Yamaha's official 250 team have a 450 guy on their team? And no offense to Partridge but he's a journeyman privateer who's been around for a few years so why the ride? Turns out that Partridge has bought himself a spot on the team and is giving himself a shot with good equipment and support to do the best he can. And there is your answer.
Poor Mike Alessi. The 800 is on the bike that he wanted to be on and has been, according to people that have seen him, riding well in the pre-season. In the first practice Mike went out and set the fastest time proving that he would be right there for podiums. In the second practice, I was leaning against the fence when Mike went by me and another team guy hauling ass. It was a little bizarre because practice had just started and everyone was sort of cruising. The guy turned to me and said "Wow, he's really on it, he must want to win this practice also." Then, half a lap later, the ambulance flags were out and the practice was red-flagged after Alessi took a big header.
So that was it, he was out for the day and I would say, seeing as how he hit his head at the Vegas SX (and maybe at the previous week's Salt Lake City as well) a third knock to the noggin isn't good. Alessi definitely had some serious speed but he's going to have to wait a while to show it and that's too bad.
Thanks for reading and email me at matthes@racerxonline.com and we can talk!