Hangtown Motocross Classic
Rancho Cordova

,

CA
Hangtown Motocross Classic
Lucas Oil AMA Pro Motocross Championship
Monster Energy/Pro Circuit Kawasaki's Blake Baggett was certainly a guy that people were talking about going into Hangtown, but it was more talk about how he was going to be one of the guys inside the top five. What Baggett did at Hangtown was simply phenomenal; he was on the move in the first moto when he went down. Not too worry, Baggett simply ripped through the pack once again to get second. In the second moto he battled with teammates Dean Wilson and Tyla Rattray to grab his first-ever national win. There was no doubt that Baggett was the fastest 250 rider on Saturday and we caught up with him afterwards to get his take on the day.
Racer X Online: Congrats on the win, Blake, I think you came in a little under the radar today, but great job. Take us through it.
Blake Baggett: Thanks. Yeah, I think I did come in under the radar today- I wasn't on any Racer X polls or anything like that [glares at Weigandt and laughs], but I like it that way. I like to come in and get the job done and then move on to the next race.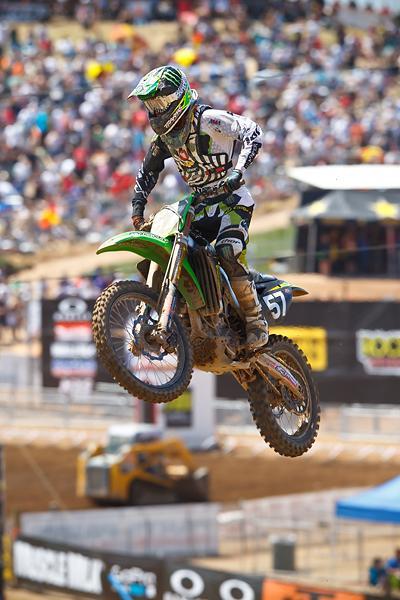 Baggett got his first National win at Hangtown.
Photo: Simon Cudby
In that first moto you were moving up and fell down and managed to come almost all the way back for the win. What was your secret?
I really don't know. I was taking some of the lines the other guys were taking. I guess I was taking the extremes, far right, far left, I would go high, go low--I don't even know. I was just riding and I don't think I took the same line twice! I was going for it and I knew I had to get back up to the front to be in contention for the overall. You know I got up to third there and crashed and didn't even know where I was at that point. I just knew I had to get to the front.
What did you think of the track? Everyone I talked to says it was really rough.
It was definitely really rough and I think that was because it rained during the week. It was rough coming in and the ruts were awesome; it had braking bumps and I think it was one of the best we had.
Were you wishing for a few more laps there in the first moto because you were on the move?
Yeah, maybe one or maybe a half a lap! Maybe they could have put the checkers up on that step-up on the hill! No big deal, it is what it is.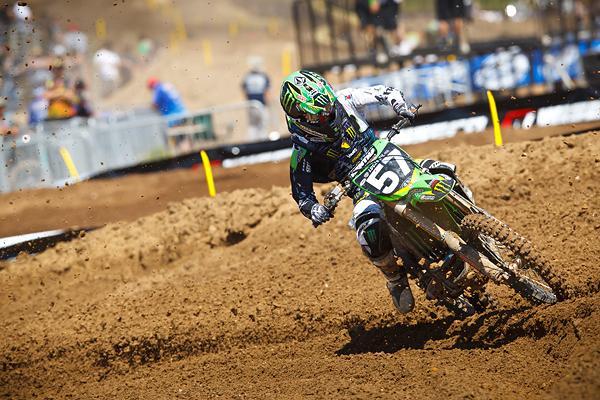 Racer X's own David Pingree called Baggett for the win on the Racer X Podcast show.
Photo: Simon Cudby
You know, like you said, you came in under the radar but there was one man who called you for the win on Tuesday in the Racer X Podcast show- none other than David Pingree called you for the win. Weege and I said he was crazy…
[Laughs] I didn't know about that, actually. I might have to shoot him a thank you text. I rode pit-bikes with him and Ping's a good guy. If he has any advice to offer me I'd take it for sure. That's pretty cool.
This is your first national win, Blake! What are your thoughts right now on your accomplishment?
I don't want to have a big head about it. I got to go back and get back to work. I have to work on my starts a bit because those weren't good today. It's no fun to start in sixth and get blasted for a while until you get going. So I'll go home, work on my sprints and starts and try to get better for Texas. I rode pretty well there last year until my bike broke. I'm looking forward to it and I like that place.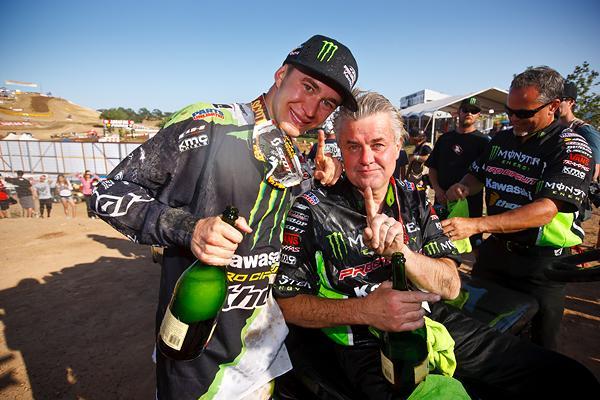 Baggett celebrates his first win with PC mastermind Mitch Payton.
Photo: Simon Cudby
In the pre-season testing, how did it go for you against your teammates because those are probably going to be some of the guys you're going to battle with for this title.
Definitely. We rode with each other a lot during testing; some days I threw down and some days Dean-O threw down. Other times, it was Rattray, and it wasn't like there was somebody that dominated all the time. It seemed to be different each day. We'll just have to see here and it would be nice to keep it under the green tent and hopefully it's me.