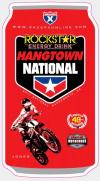 Red Bull Teka KTM's Ken Roczen is on quite a roll these days. Just eight days after winning his first career Lites supercross main event, he followed it up with a dominating 1-1 performance at the Glen Helen USGP. Roczen has now won two out of the three MX2 GPs and his future is so bright, he has to wear shades. Roczen is personable, fast, and a guaranteed future champion either in Europe and America, or both. I caught up with the 17-year-old shortly after his second moto.
Racer X Online: Kenny, great ride today. Can you tell us about it?
Ken Roczen: It was pretty good. I woke up this morning and it was raining pretty bad. The track was very muddy, and the first moto I got the holeshot and I think that was key because the track was very wet and deep everywhere. In the second moto, I got the holeshot and my teammate Jeffrey [Herlings] was right behind me the whole way. I hit my finger again (Roczen holds his bloody digits up) and I struggled a bit in the middle. Overall it was a good race and with two moto wins, what more could I possibly ask for?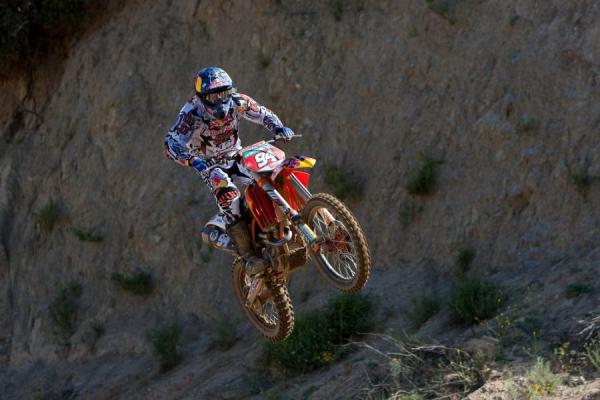 Roczen has been on an absolute roll the last couple of weeks.
Photo: Carlos Aguirre
How much different was the track from the first moto to the second? It looked like a different race track altogether.
Oh yeah, totally different. They even had to water in between the motos, which was funny because of how bad the track was in the first moto. The second moto the track was much rougher and dry.
Have you ridden here a whole bunch while you've been here in America?
No, not at all. I was here before Bulgaria when I was testing to get ready for the GP season, but that was it. I haven't ridden here since then. On practice day the track wasn't even half of what this was today and it was way different for sure.
It looked like it got really rough out there in the second moto...
Yeah, it was pretty rough. It was still not too bad though!
It looks like you and Herlings are going to battle this out to the end.
Yeah, he seems like he's going to be my main competition. He's going to be good. This track is not too hardpack, though, and I know that's more his style. He's riding good, for sure, and will be there the whole way.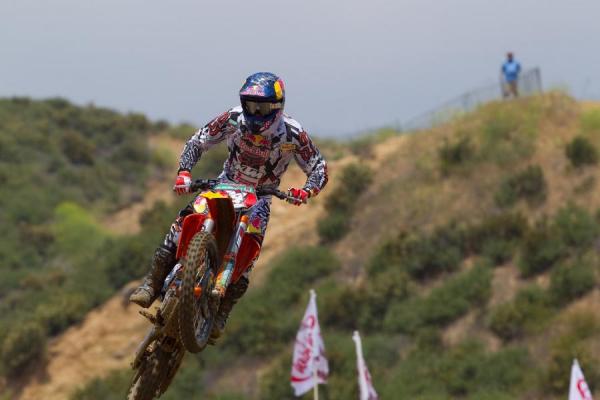 Roczen was dominant at Glen Helen with a 1-1 performance.
Photo: Carlos Aguirre
Do you wish there was more Americans here?
I do, it would be cool to race them. But I know their schedule and I know that it's tough to make this race.
You're getting pretty good at this racing in America stuff. You should stay.
Yeah, it's good. I think, I'm pretty sure I'll be here next year and I'm pretty excited about that.