It's a shame that Ryan Sipes isn't getting more press for his weekend in Vegas. The title winners, Ken Roczen's first win and the West Region drama clouded the fact that he won the East-West Shootout and nearly won the East Region main event. It was probably one of the more dominating rides of the weekend. Great job, Ryan.

Here's the thing about that West Region main event: If there were no other riders on the track, Eli Tomac would have won that championship. He was out-riding Broc until they hit lappers and I don't think he was going to make a mistake. But there are other riders during a race and you have to be able to get through them.

So, was Tickle getting help or not? You can watch the tape all you want and there was never any dirty riding going on. All of those guys were fighting for podium spots and racing hard. But it sure looked suspicious when they all stopped for a group hug on the jump after the finish. Now Honda is mad, Factory Connection is mad and, judging by the emails I got this week, a lot of you are mad. It was just a really bad situation and that's about all you can say about it. Broc rode a great series and Eli surpassed everyone's expectation of him. Both have bright futures ahead of them so don't feel sorry for them.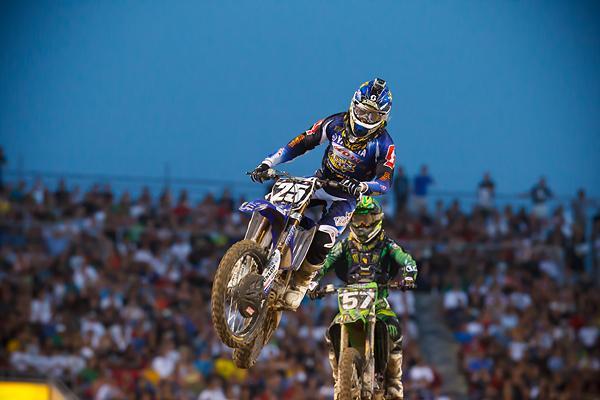 Ryan Sipes
had quite the weekend at Vegas.
Photo: Simon Cudby
The 450 racing was amazing—at first. But dangit if Bubba didn't go and crash again, taking another rider down with him in the process. I'm not picking on James here—I'll do that in a minute—but what is going on? It is so out of character for him to crash while leading and he's been doing it a lot this year. Yes, he's had the pushes [a front end condition, not related to eating spicy Thai food] and tipped over in turns but he's also had some big, over-the-bars moments this year that he should be thankful he walked away from. I don't know if it's a focus issue or a suspension setting issue but I hope he gets it sorted out because I feel like this year we haven't seen the best of James Stewart. 
I know one moment where we didn't see his best side was when he took to the podium.

Oh, hey James, Steve Erkel called and he wants his glasses back... Really, no good could come of him wearing those things. That was just a non-starter. In his defense, I have noticed that a lot of celebrities are wearing those clunky, black-framed glasses these days. Maybe all of us are the square ones?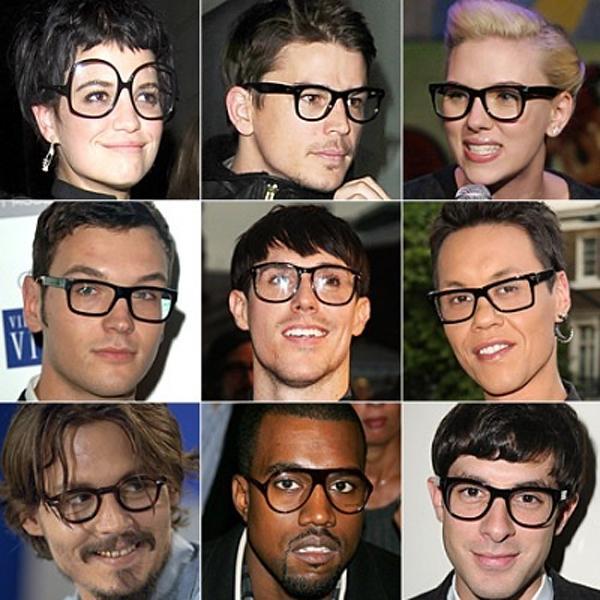 If you are planning on making a long weekend of it at Hangtown be sure to check out the crossover athletes that will be competing on Friday morning. Back once again is the Go Pro Crossover Challenge, which will include some amazing athletes that love motocross. There will be an autograph session so you can get a poster with all the athletes' signatures on it. Here's a sample of the poster.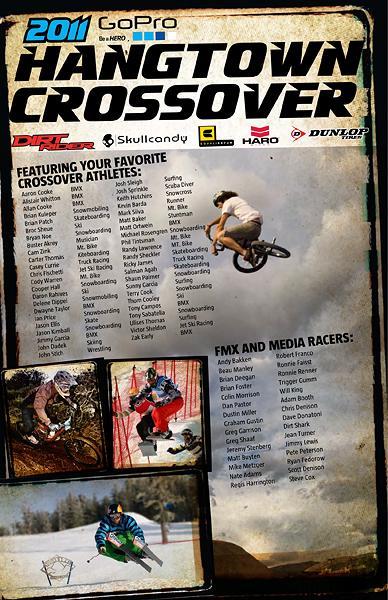 Now here's
Weege
:
I don't know when I started dancing. My memory is sometimes fuzzy when it happens, but I can guarantee you it started somewhere between moving to Morgantown 10 years ago, and today. Just started getting my groove on and making things happen on the dance floor. Back in like 2007, I would go out on Saturday nights after supercross and say, "I'm going right to the front and center of that dance floor right now" and just get out there. Oftentimes I was dancing before I had even had a drink (I'm the same way with karaoke, don't get me started). Only one time did I truly not have the skills to pay any of those bills—one night after Anaheim they had full-on break dancers at this club and I had nothing for them. Otherwise, I've busted out the dancing at any time, any place, anywhere, from coast to coast, from Paris to Tokyo (I'm not kidding about any of this) and it always works.  
Sunday night at the Supercross Awards Ceremony in Vegas, I hit the dance floor and started feeling the mojo (alas, this time was not before I had a drink) and the singer from the band liked what he saw. So he told me to get up on stage and show the masses. Next thing I know I was in a dance off with the legendary Dano from DVS Shoes, and we battled pretty hard. Afterwards I grabbed the mic and went on about thanking my team, sponsors, and talking about how much hard work and effort we put in. Hey, it's what you do at the Awards Ceremony!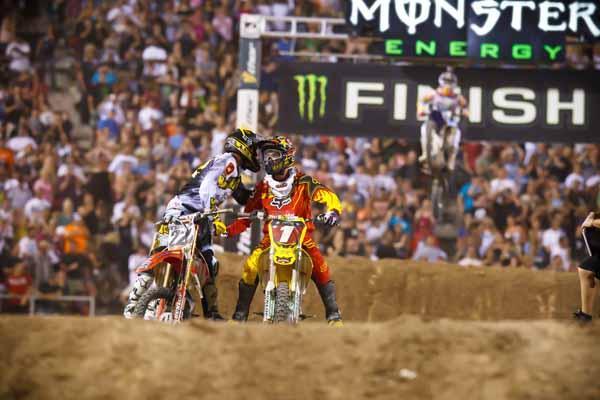 Reed and Dungey had an epic battle at Vegas.
Photo: Simon Cudby
Now I hear video of the dancing has shown up on Transworld's site. I'm so proud that after 10 hard years of sweat, desire and effort, I finally have been recognized for my talents. Much thanks!  
Ryan Villopoto
also had his chance to shine, only this for much more important things, like winning perhaps the toughest SX Title there has ever been to win. All of the top names stayed in the hunt, everyone took a swing at it, and RV was the most consistently fast rider in the series. He won the most races, and he won them in all fashions—through sheer speed or sheer smarts, from the front of the pack and from the back. Any talk about gifts or luck is junk, Ryan was the best rider this year over 17 races, no doubt about it. I was amazed that he didn't cry during his victory speed, though. From my last count, the last four champions have shed tears during their Awards Ceremony speeches, including Dungey last year, Stewart in 2009 and Reed in 2008. This is a hard-fought game and the emotions really take hold when the riders realize what they have accomplished—when riders are battling on 50cc bikes at Loretta's, they're all picturing winning this supercross championship when they're older. Congrats out to Ryan, but I have a feeling he doesn't feel like he has officially climbed to the top yet. AMA Pro Motocross is up next and I think Ryan has a goal of winning both crowns, and he won't be happy until he does it. Look out.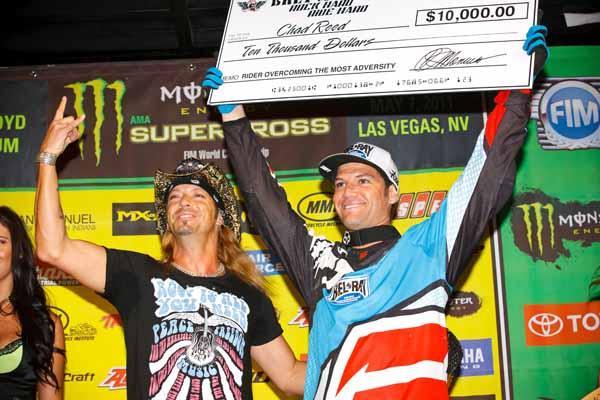 Chad Reed
took home the Brett Michaels Rock Hard Ride Hard Award.
Photo: Simon Cudby
Chad Reed
won $10,000 for the Brett Michaels Rock Hard Ride Hard Award, which is voted on by the fans but also selected by Brett (not sure what the mathematical equation for that is). Reed certainly overcame a big obstacle by building his own team, but with
James Stewart
crashing and getting back up countless times, Villopoto coming back from last year's broken leg, and Dungey climbing out of a 40-point hole, man, the voting had to be close on this one. But good for Chad that he won—he's a privateer and he needs that money!  
I'm joking. Sure seems like Honda and Chad enjoyed their little test ride with each other this season and expect much bigger support for TwoTwo Motorsports in 2012—and I've heard the same "They're going after Dungey" rumors Matthes has, which shows, if anything, there are plans to keep this team around long after
Reedy
himself is done racing.  
I think we all have a soft spot in our hearts for nostalgia, so when we hear things like "greatest season ever" we can all probably go back to some great era of the past and reflect on how awesome it was. The 1990 and 1992 years were close, as well, and I love looking back on them because I remember learning to set the VCR to tape each one at 12:20 a.m. Eastern on Thursday nights—I was so into the races, so these were big years for me. And 1985, by the statistics, is right up there with this year for close competition. But stripping away nostalgia and hype, I think this one was the best. We didn't just have multiple winners and a close points race, we had wild crashes, controversy and a great personality play between the riders and teams. If only the internet had existed in 1985. Then we could go back, see what the fans said, and really get a gauge on how this one compares.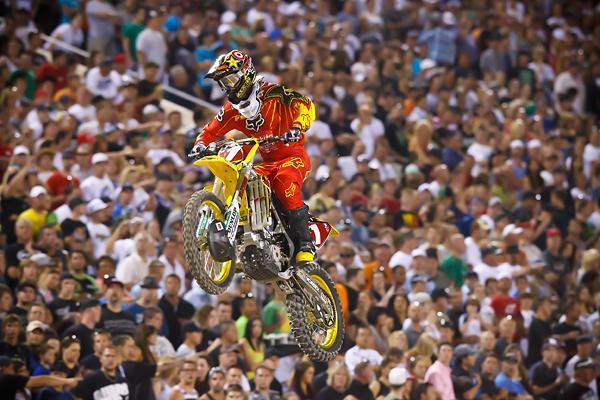 Dungey could not find a way to repeat his 2010 performance.
Photo: Simon Cudby

But now it's onto the Lucas Oil AMA Pro Motocross Championship. At the St. Louis Supercross, I spent Friday and Saturday gathering interviews with top riders to build a season preview show for Fuel TV. The show debuted last night, and it's excellent, and if you missed it, there are plenty of re-airs.
The next showings for the AMA preview show are:
SAT 5/14
@ 2p EST / 11a PST
THUR 5/19
@ 10p EST / 7p PST
@ 1a EST (5/20) / 10p PST (5/19)
@ 4a EST (5/20) / 1a PST (5/20)
SAT 5/21
@ 3p EST / 12P PST  

If you don't have FUEL TV, you had better go find a way to get it, because the network is showing every single 250 and 450 first moto this year live. The second motos from Hangtown will air on SPEED on Saturday night—for every race this year, you're going to get live or same day coverage.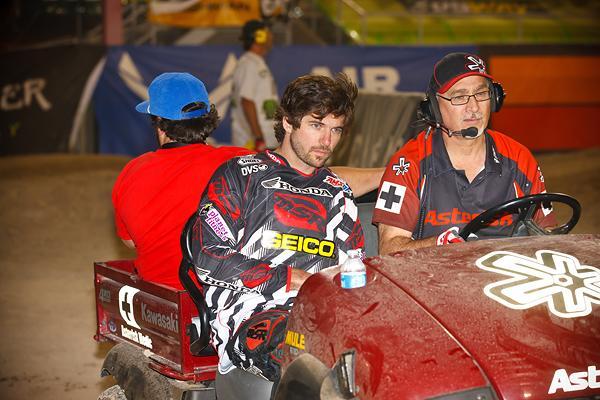 Windham may miss Hangtown after a bad crash at Vegas.
Photo: Simon Cudby
I'm hearing
Kevin Windham
won't be on the gate at
Hangtown
, unfortunately, after his crash with
James Stewart
in Las Vegas. One man who will be back is
Brett Metcalfe
, after missing most of supercross with a wrist injury. Don't forget that
Metty
was as strong as anyone coming down the stretch on a 450 last year. And I'm bummed
Metty
didn't get into the season preview show on FUEL, the folks from Allisports shot most of the interviews at the St. Louis Supercross, and
Metty
missed that one with an injury. Then the Kawasaki and Honda people followed up to get interviews done with their west coast riders a few days later in California. Hopefully we'll all be talking about Brett by the time the racing is done at
Hangtown
.   I'll be back in the TV booth myself along with Jeff Emig and Erin Bates. As much as I like have a weekend off this weekend (we've got Matthes, Adam Wheeler and DC out covering the USGP) I wish I had a time machine, because I can't wait to give the race call next weekend. It's going to be epic!
We'll finish with some notes:

The guys over at Novik Gloves released some pretty hilarious grip donuts this week… Yes, donuts! Save yourself some blisters and check these out.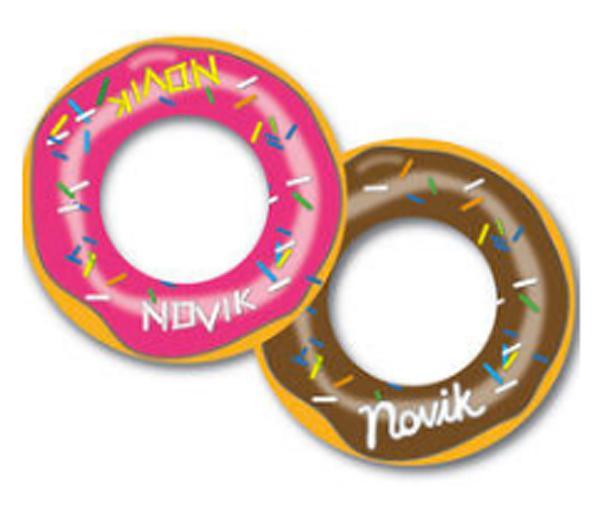 Check out this sneak peek of the new 2011 line of Racer X Brand. We have started to get our new inventory in here at Racer X HQ, and we couldn't be more stoked! A huge thank-you to Kevin Carpenter and the rest of our friends at Taylor Creative for designing some really rad retro shirts in celebration of the 40th Anniversary of American Motocross. The entire line will be available, in the coming weeks, online at www.racerxbrand.com, as well as East Coast rounds of the Nationals. A small selection will be at all rounds, in the Racer X booth, so make sure you stop by and check it out! Keep an eye out for hats, ladies and kids apparel, and other swag coming soon!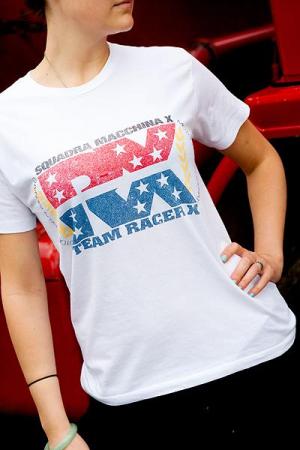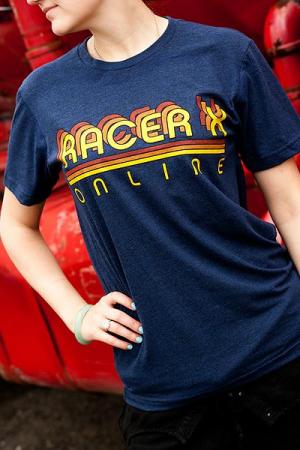 Photos by: Andrew Fredrickson

If you are heading to the Monster Energy U.S.G.P. this weekend at Glen Helen, then be sure to check out Pole Position Raceway in Corona or Murrieta. There's all sorts of cool motocross memorabilia on display and it's home to the fastest riders in our sport. Pole Position Raceway is America's #1 chain of indoor kart tracks and those behind the brand include Jeremy McGrath, Chad Reed, Grant Langston, Greg Albertyn, Kenny Bartram and Mike Metzger, to name a few. Check out www.PolePositionRaceway.com.

We've got Chris Pourcel lined up for our 10Q feature in the next issue of the magazine, so here's your chance to ask CP a question. Click here to submit:

That's it for this week in American Motocross. Thanks for reading Racerhead. See you at the races.