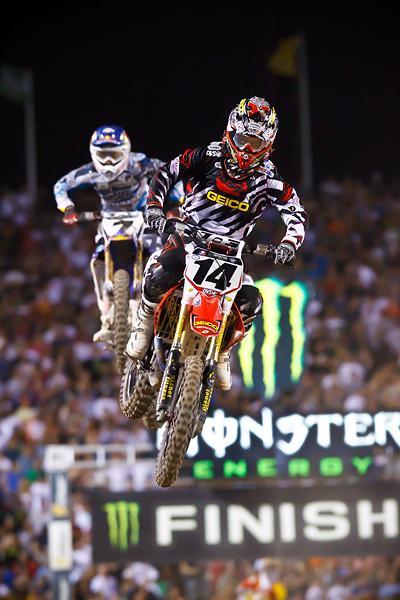 Windham held the lead early over Stewart at Vegas.
Photo: Simon Cudby
The slick, dusty Las Vegas track was a perfect match for K-Dub's precise throttle control, and when the main got underway, it was Windham who emerged with the early lead after battling briefly with Mike Alessi. A few laps later, James Stewart took over the lead, but Windham kept charging, forcing Stewart to ride defensively. Try as he might, Stewart just couldn't get away from Windham, and the pressure was enough to force Stewart to play his ace-in-the-hole. During practice, Stewart had quaded a double-double (or triple-single, depending on who you are) section once, then put it in his pocket. When he couldn't shake Windham, Stewart pulled it back out, only to see Windham respond by replicating the move on the very next lap. K-Dub was definitely all-in at Sam Boyd Stadium.

Then, on lap seven, Stewart bobbled and lost it in the whoops. Hot on his tail, Windham had no choice but to try to wheelie over Stewart's bouncing motorcycle. The move was unsuccessful, and Windham went over the bars. Had Ryan Villopoto been a second closer to the two, he could have just as easily been collected in the carnage. For Windham, it was the decisive moment of the race; if he had made it through, he had an open track and a shot at the win. Instead, he DNF'd and later left in an ambulance when he started coughing up blood in the pits. Unfortunately, that's just the way racing goes sometimes, especially in Vegas.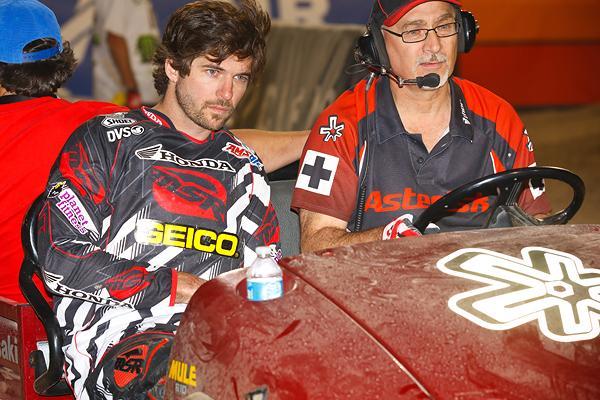 Windham had a rough 2011 Supercross season. Hopefully he can rebound outdoors.
Photo: Simon Cudby
As far as Hangtown is concerned, it's looking like Windham will be there, despite some internal injuries he sustained on Saturday night. One thing is certain; whether K-Dub returns to the track at Hangtown or Anaheim, he'll have thousands of fans waiting for him.