Sam Boyd Stadium
Las Vegas

,

NV
Las Vegas
Monster Energy AMA Supercross Championship

This week we'll find out the winner of the 2011 Monster Energy Supercross Series and no matter what happens, it's been a great year with more ups and downs than an episode of Days of Our Lives. At different points, it looked like a few different riders had this thing won and just the fact that this race is coming down to the final one with four riders mathematically still alive for the title makes for good viewing.
But we wondered, what were some of the other great finishes over the years where the supercoss title was in doubt until the final round? Without further adieu, here are the best ones we could come up with.
1985 Rose Bowl Supercross
Going into the final round of the Insport Supercross championship (some politics prevented it from being the AMA title, the AMA title was actually only two races this year) four riders were all going for their very first indoor championship. Kawasaki's Jeff Ward, Yamaha's Broc Glover, Honda's Ron Lechien and Yamaha's Rick Johnson all had a shot at the title with Ward and Glover tied, Lechien three points back and Johnson seven points. The format this year was two twelve-lap motos and the combined score was your total points on the night.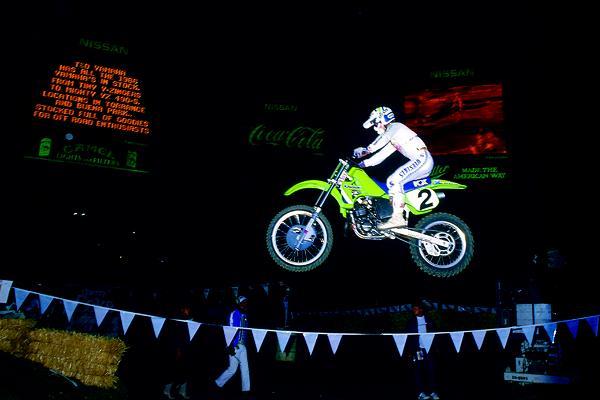 Ward was able to hold off Glover to become the 1985 Supercross Champion.
Photo: Moto Verte
Controversy erupted when Wardy crashed in his heat race and rode his bike backwards on a jump to get it started. This was illegal and a few different riders (including Glover) had been DQ'd for this same infraction earlier in the year.
Lechien crashed earlier in the week and hurt his elbow which caused him to crash himself out of contention. Johnson put in solid rides but was unable to make up the deficit.  The pressure was on, and Glover followed Ward around in the last moto and had he been able to make the pass, the title would have been his. Ward rode strong the whole night on the tight track and held off Glover to become the 1985 Supercross champion.
2006 Las Vegas Supercross
Three riders had a shot at the '06 supercross title going into the final round. Suzuki's Ricky Carmichael and Yamaha's Chad Reed were tied in points with Kawasaki's James Stewart five points back for the right to hold the crown. The three riders had dominated all the races that year and without a doubt those three were going to have to settle it on the track. This series was also not without controversy as Carmichael had been given a fuel penalty similar to Reed a few years before. The penalty was eventually dropped and the points restored but not without a few upset people in the other teams camps.
When the gate dropped it was Stewart with the holeshot and he took off into the lead with Honda's Kevin Windham right behind him. Carmichael was in fourth and Reed was fifth. From there it was a sprint to the front for both RC and Reed and soon enough, they were in second and third respectively. Stewart needed help to win the title and he wasn't going to get it as Ricky and Chad played a game of cat and mouse with the lappers. Each would use them to their advantage at times and when the checkers flew, it was Carmichael by a couple of seconds over the 22. Stewart would end up tied with Reed in points but be awarded the second spot due to his wins being greater than Reed while Carmichael would claim his fifth supercross title on a great night for racing.
1992 LA Coliseum Supercross
In what will always be a classic supercross, it's one of the only (if not the only) race where the man in second moved to first at the final round. Honda's Jeff Stanton trailed Yamaha's Damon Bradshaw by six points and if Stanton won, Bradshaw would just have to finish in the top three, something that the nine race winner seemed more than capable of doing.
The start of the race saw Stanton jet out to the lead and do his part. Kawasaki's Mike Kiedrowski followed in second and then Suzuki's Guy Cooper was third while Bradshaw was fourth. Everything seemed to be working in Damon's favor and he just had to get by Cooper to secure his first supercross title but then a funny thing happened.
With a few scant fans watching (the LA Riots were a few weeks prior) Bradshaw was not only NOT catching Cooper, he was actually losing time! Behind Bradshaw was Honda's Jean Michel Bayle who didn't want to see his teammate Stanton win so he was riding behind Bradshaw trying to help him out! It was a bizarre scene as Bradshaw melted out on the track and eventually, Bayle passed the number 4 Yamaha rider.
That was it. Stanton crossed the line and had won the most improbable title of his career while Bradshaw was never the same rider again.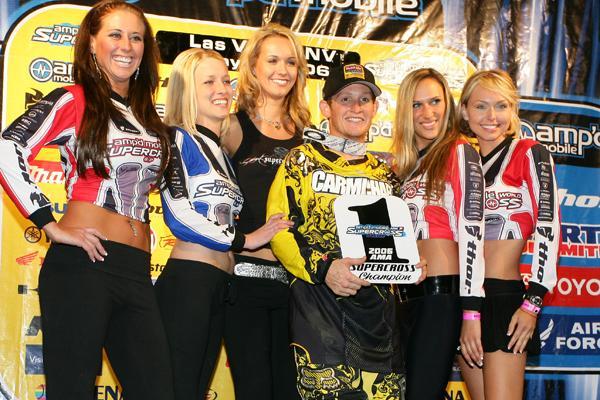 The GOAT would take the SX crown in 2006.
Photo: Simon Cudby
Las Vegas 2009
Once again Vegas proved to be a boiling point in the 2009 supercross series as old rivals James Stewart and Chad Reed fought over who would win that year's indoor title. Unlike 2006, both riders were now on different brands as Reed was on a Suzuki and Stewart on a Yamaha. The riders fought back and forth all year and were on another level.
Stewart had six points on Reed and the Australian definitely needed some help to win the title. It seemed that no matter what happened, Stewart would be able to hang on and win the title with relative ease. Reed's teammate Mike Alessi grabbed the holeshot and was quickly dispatched by Stewart as James didn't want any part of needing anything to happen- he was going to take control of this race by winning.
Reed was outside the top five and soon worked up to Alessi and made the pass on the 800 only to have Mike pass Reed right back, much to the disbelief of Reed's supporters! Eventually though Reed got pass and set off after Stewart who at this point had made some mistakes, lost the lead to Kawasaki's Ryan Villopoto and allowed Chad to get close.
The two rivals sliced through lapped traffic and as they exited the stadium into the high speed Thunder Alley section, Reed pulled up alongside Stewart (who seemed to slow to allow Reed by, the two point differential would not matter to James) and forced the Yamaha rider off the track and into some tuff blocks. It was a bizarre moment and a little questionable to be sure. Reed was grasping at straws at this point and luckily for Stewart, he kept it upright.
Villopoto won with Reed second and Stewart third which was enough to get the title for the San Manuel Yamaha rider. It was a tense night at Sam Boyd Stadium to be sure!
1983 Pasadena Supercross
Honda's David Bailey, his teammate Bob Hannah and Suzuki's Mark Barnett went at it all year long for supercross supremacy with Hannah winning the most races but he exited with a wrist injury. This left Barnett in control of the series until with two rounds remaining his Suzuki broke and left him out of a main event. This misfortune allowed Bailey to get into the points lead and with a ten point gap going into the final round, it seemed that the Little Professor was pretty safe.
That is until Bailey got off to a bad start and struggled a bit while Barnett was ripping through the field from his own bad start. The Bomber scratched and clawed his way through the field and even got by Bailey at one point. In the end, Barnett made it up to second behind Yamaha's Broc Glover while Bailey worked his way up to a sixth. This was enough for Bailey to claim his first title by a scant two points and Barnett would be left wondering if he would have managed to get around Glover if there was only a few more laps remaining in the race.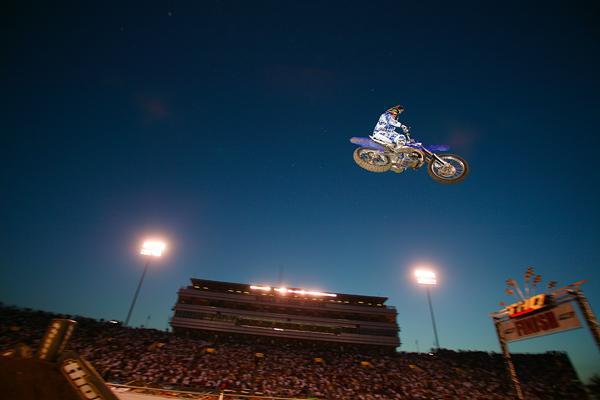 Reed would grab the title in 2004.
Photo: Simon Cudby
2004 Las Vegas Supercross
It certainly seemed like it was Yamaha's Chad Reed's title to lose in 2004 as he proved to be the man after his main competition Ricky Carmichael didn't line up this year due to injury. On the Yamaha YZ250 two-stroke, Reed won nine events this season and Honda's Kevin Windham was right there to fill in the podium most times. Windham had won four races going into Las Vegas and received a bit of help in the form of a 25-point penalty to Reed for fuel irregularities after the Dallas round. The championship was now close and trust me (as I was on factory Yamaha at the time, I can attest to the pressure) there wasn't anything easy about this championship.
To make matters worse Windham won in Salt Lake City and Reed saw his points lead slip from over a one-race lead to just twelve points and it was now on in Vegas.
Once in Sin City, Windham did his part as he got the holeshot and ran away with the win in front of a packed house. Reed followed Windham around in second and eventually won his first AMA 250 Supercross championship in a way closer than expected manner.
2008 St Louis Supercross- 250 East class
Honda's wonder rookie Trey Canard jumped out to three wins in row which surprised everyone as Canard was expected to just get his feet wet in the class. The defending champion Villopoto struck back with three wins of his own and going into the last race in St Louis, RV found himself only three points back of Canard. It was a winner- take-all scenario.
Both riders worked their way around early leader Branden Jessemen and for the time being, Villopoto held the number one position while Canard tracked RV down to where, with the halfway flags thrown, he was all over the Kawasaki. There was a right hand corner before the finish with a double right before that, Canard jumped to the inside of Villopoto and there was contact made which sent Ryan into the finish line structure. That was it, the race was over from there (the hard feelings were certainly not though) and Canard would go on to take the title by ten points as all RV could do was a fourth.