Sam Boyd Stadium
Las Vegas

,

NV
Las Vegas
Monster Energy AMA Supercross Championship

Let's be straight: it has not been a good year for JGR Muscle Milk Toyota's Davi Millsaps. A winner of three career SX Class mains and the 2006 AMA Supercross Lites East Championship, Millsaps has been hard pressed to even snag top-five finishes this season. He's still on the mend from a big crash last year at the Budds Creek AMA Pro Motocross, where he lost a kidney. But he's starting to recover. After a fifth over the weekend in Salt Lake City, we asked about his recovery.
Racer X Online: You got a top five. Was that good, what do you think?
Davi Millsaps: It was, well, it was top five.
But it's been a tough season. So does that mean top five is good?
Yeah, it has been a tough season. But would you be happy just getting fifth?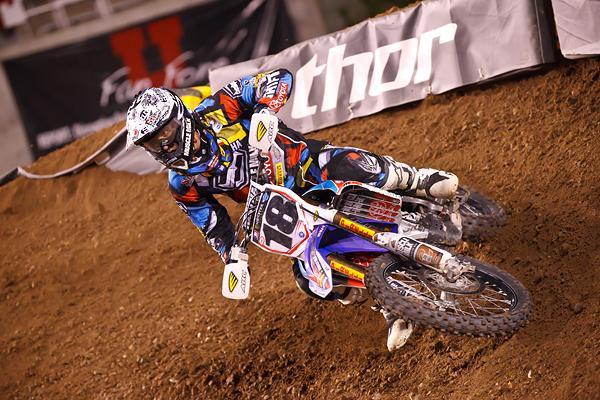 Millsaps was solid at Salt Lake City, scoring a top-five finish.
Photo: Simon Cudby
I know you've been to the top and have won races before. But are you finally starting to feel better?
Even last weekend, I crashed and I was twenty-five seconds behind last place and I still came up to eighth. So it's better. But not only that, but I changed my program up a lot, I changed everything.
So it's starting to come together.
Yeah. You know, the whole thing I've talked about with you before is, it hasn't even been a year since I lost my kidney. And it has been causing complications that I didn't even know about. We did some bloodwork and it turns out I'm anemic. I was just hitting the wall. I couldn't even do twenty laps, I couldn't even do eight laps. I wasn't getting better. I sat down and had a talk with the team trainer, I sat down and talked with Yogi [riding coach Ezra Lusk], and we just decided something needs to change. We found a new program that I really enjoy and it's working for me. Even the weekend before Seattle, I don't even know what I got, but I did twenty laps. Seattle I came from the back, and tonight I came from the back and got fifth. Normally, I come from the back, move up, and then go back again!
So how long have you been at it with this new program?
Three weeks.
And it has already made a difference?
Yeah. And the only difference it's making right now is that I can actually do twenty laps. I'm just looking forward to the future. This program I'm on, it gets harder into the future. Everything I'm doing right now is geared toward what happened to me in June with the kidney, and what I can and can't do, and how I recover and things like that. Losing your kidney, you don't realize what it does to your body. People should be grateful that they have two of them.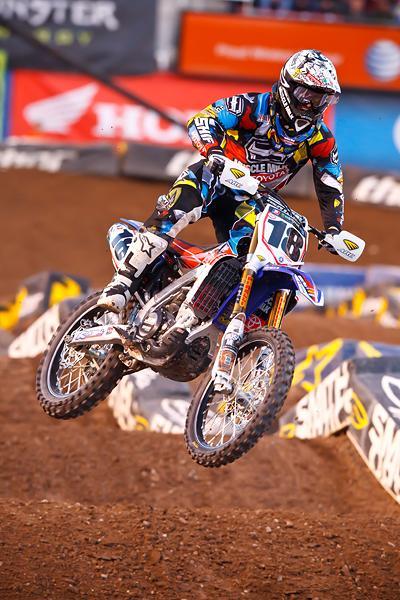 It has been a long road back for Millsaps.
Photo: Simon Cudby
At any point did you consider that you couldn't do this anymore?
No. Right from the start of the season I knew something was wrong with me. I couldn't get through this barrier, not in practice, not in the races, I was just stuck. So we had some bloodwork and found out that I was anemic, I figured maybe that was the reason why. So now I just eat a lot of red steak, taking more iron in my vitamins, that's the only thing I changed as far as that. But what I really like is working on my new training program, it really helps me recover better before the races.
And this is with Tim, the JGR team trainer, and with Ezra Lusk?
Yes. With my team trainer. Yogi is kind of just geared toward the riding, and the trainer and I came up with this program.
So the team didn't just say, "this is how you need to train just keep doing what you're doing?"
No, they were cool with it because I wanted to do it.
So any idea of a time table here to when you're really feeling it?
Well, they said it could be two years before your one kidney begins to take over for the function of the other. But that's not really the problem, on this program I'll definitely be getting stronger a lot more quickly than that. I've already lost a little weight, and my goal for this summer is to be lighter than I've ever been since I've been pro. I really think it's going to keep getting better for me.