Sam Boyd Stadium
Las Vegas

,

NV
Las Vegas
Monster Energy AMA Supercross Championship

This sport doesn't manufacture competition. We don't use full-course yellow flags, playoffs or chase formats to tighten up the field. In reality, supercross and motocross is the real "have at it boys" sport, and that's mostly awesome. Unfortunately, though, when the rules and schedule aren't built to force things to tighten up, you can't guarantee close championship drama every year.
So when that scenario does present itself, it only makes the pressure bigger. Even a rider with multiple championships may only face a heavy-pressure, clutch situation once in his career. Their performance in that moment can come to define them—and they don't simply get to redeem themselves in the playoffs the next year.
Ricky Carmichael won 15 (!) AMA National Championships, but we all remember the only one that came down to the wire: Vegas '06. Had RC failed in that one race, we might look at him a little differently, and trust me, he knew it at the time, which only added more pressure.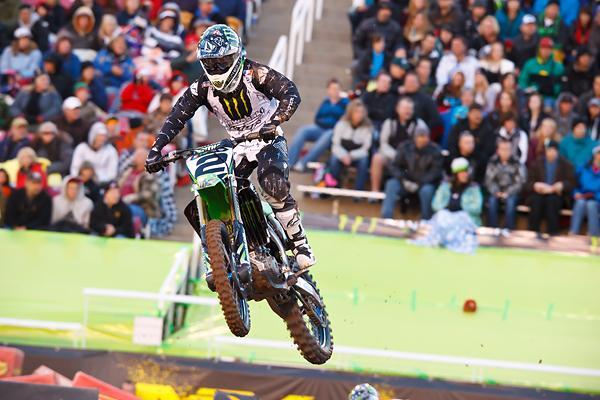 With his win in Salt Lake City Villopoto now has a nine-point lead over Chad Reed with one to go.
Photo: Simon Cudby
This weekend's Salt Lake City round of Monster Energy Supercross presented one of those high-pressure scenarios. Incredibly, in a season defined by crazy mistakes, drama, ups, downs, what-ifs, second guesses and gifts, all four contenders found themselves in a very simple position: win in Salt Lake, and the world can be yours next weekend in Las Vegas. Win this race, and you wipe the slate clean.
For Ryan Villopoto, that pressure was highest. He was holding the points lead and had scarce momentum after going DNS-9-2-3-4 over the previous five races. The buzz was starting to build. We all heard it. "Villopoto has lost that edge." "Villopoto is falling apart." "Villlopoto is cracking under pressure."
We know this is a mental game, especially when all four title contenders are fast and in shape. No one is going to just steamroll at the races, so the difference comes down to subtleties. Stack a few mental bricks in front of you—loss of momentum and the pressure of a points lead—and that could make a difference. Villopoto faced that scenario, and he promptly stood up to that pressure, rose to the occasion, and delivered a career-defining win.
(Yes, I know the championship is not over yet, but I'm going to take the liberty of going all hyperbole on you even though Villopoto could muck it up this weekend in Vegas and ruin this Salt Lake City win. But even in Vegas, it's pretty clear the safe money is on him so I will continue on with the praise.)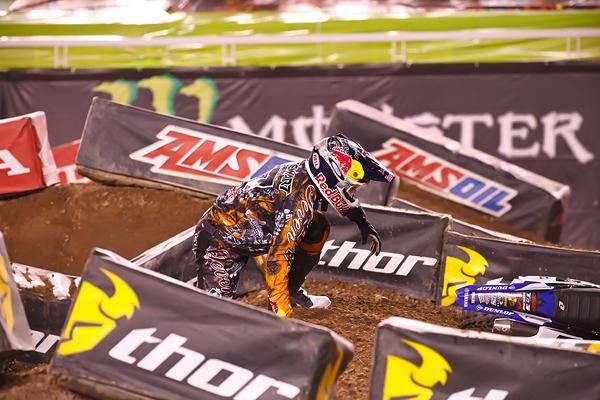 Stewart failed to hold onto his early lead, crashing not once but twice en route to a tenth place finish.
Photo: Simon Cudby
The Salt Lake race summed up the whole season in 20 laps. The Big Four all put their season of strengths and weaknesses on display. Stewart was fast and had his shot at it, but crashed. Twice. And he not only crashed twice, he actually managed to crash the exact same way he has all season—the washout, and the wild ride.
Dungey was consistent, but just didn't have that burst, that juice, that extra layer of aggression. He rode great in Salt Lake, heck, but against this year's comp, even great only results in podium finishes, and podium finishes aren't quite enough to get the points lead.
Chad Reed was gritty. He wanted it, and he dug deep into his bag of tricks to make it happen. All year, I've said Chad reminded me of a veteran pitcher in baseball. Maybe he doesn't quite have the 100 MPH fastball of his youth, but he still throws damn hard, and what he misses in pure velocity he makes up for in experience, grit and tenacity. Chad has made things happen in races where they probably shouldn't have. Late in the race at Salt Lake, he was doing that again. Villopoto had fired past him—he's still young and still has that 100 MPH fastball—but Reed hung tough into the late innings and was trying to manufacture something again. He came so close, but he just couldn't quite get it.
Villopoto was mentally tough. We've said over and over that RV doesn't play the confidence game, he doesn't get caught up in the pressure and doesn't fall into the same mental traps that most riders do.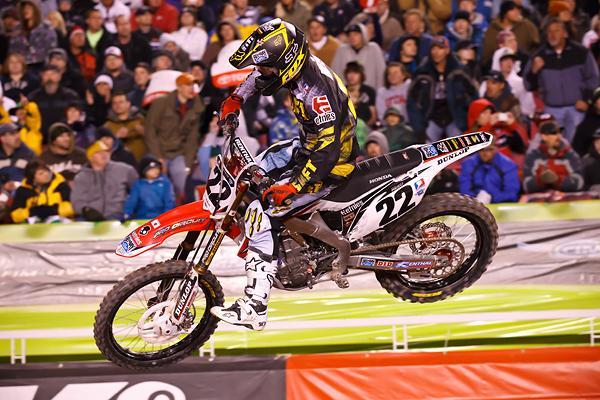 Reed would make a late race charge, but it wasn't enough to catch Villopoto.
Photo: Simon Cudby
Here's what I wrote about him after Anaheim 1: First, it was his first race back from a major injury. Second, he was only so-so in practice and his heat race. Does he care about this? He does not. Villopoto's approach to racing is very simple, and it goes something like this: "I will get a good start. I will ride fast. I will win." As Ping says, "he doesn't get lost upstairs."
After Los Angeles: Like I said, the guy believes, with conviction, in his heart, that he's supposed to win every darned race. So even if he starts in the back, even if he has to catch Stewart or Dunge, it's like he just says "okay, I'll do that" and he does. How many riders have ever gone to the gate thinking, "If Stewart gets a lead on me I'll just reel him in?" I count one and a half (RC all of the time and Reed some of the time). Villopoto is into some rare air.
Or, in 450 Words, I once wrote: The Villopoto strategy is simple. Get a good start and haul ass. If you don't get a good start, haul more ass.
So coming into Salt Lake, he's got pressure building one way and momentum in another, so he goes with his strength: ignoring things like pressure and momentum and just riding his ass off. A cold-blooded killer. That's the formula that has made him successful all year, and that's the formula that worked in Salt Lake City, the race that summed up the whole season.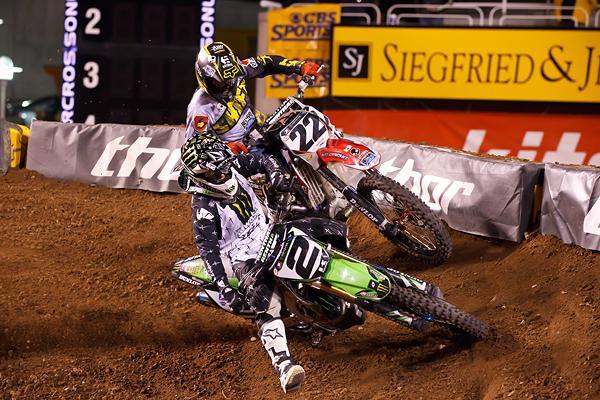 Did this pass seal the championship for Villopoto?
Photo: Simon Cudby
Villopoto now needs to finish fifth or better if Reed wins Las Vegas. In this crazy season anything can happen, but Salt Lake was a big nail in the coffin, and everyone knows it. Reed, Dungey and Stewart knew this was their last, best shot, and now they can rely only on a Vegas long shot. Villopoto knew winning this race could mean the championship, too, and that's what made it such an amazing clutch performance.
In contrast to the SX class, this Lites Championship has changed repeatedly during the season. Eli Tomac didn't have anything close to a winning formula when the year began. At Anaheim 1, he was a nervous rookie and he barely made the top ten. Now, he looks like the championship-proven veteran!
Too often rookies try to escape the pressure by saying they just want to learn, they don't expect to win and all of that junk. If you hear a rider use the term "just trying to get the feet wet," he's in big trouble. The best expect to win straight out—Villopoto, Reed, Dungey, Stewart and Canard didn't say a damned thing about wet feet in their first supercross tour, they were too busy winning races. Tomac is following in those footsteps. And they are dry, apparently.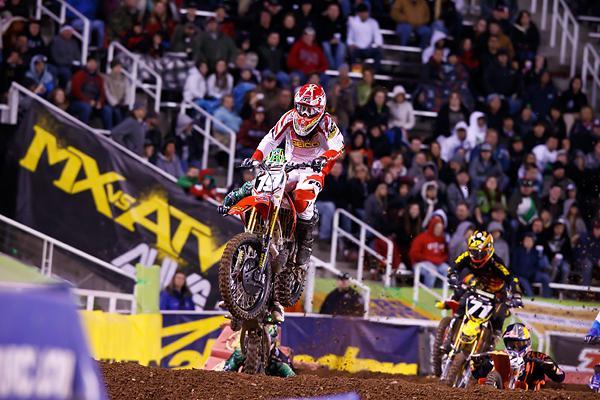 After struggling early in the season, Tomac now looks like a seasoned veteran.
Photo: Simon Cudby
In Seattle, Tomac straight up said he wants this title, and he repeated it again Saturday morning. He knew what was coming, too. In the heat race, Hansen ran it in on him with a block pass, and Tomac responded by block passing him back in the next turn, and pulling away. In the main, Tomac got the lead and Hansen immediately started running it in on him in every corner—Hanny style—and Tomac was ready. He leaned in when Hansen tried to stuff the crap out of him, Hansen went down and Tomac got away. This kid will not be pushed around.
Really bad move by Hansen there. As they say, leopards don't change their spots. But if I dig in on this too much I'll be accused of being a Hanny Hater, so I'll just let the results speak for themselves. And Hanny himself via twitter, where he apologized for the move.
So Tomac is doing all the right things down the stretch, and he now holds the tiebreaker over Broc Tickle heading into the final round in Vegas. Tickle is up by two points, but doesn't it just feel like Tomac holds the upper hand right now?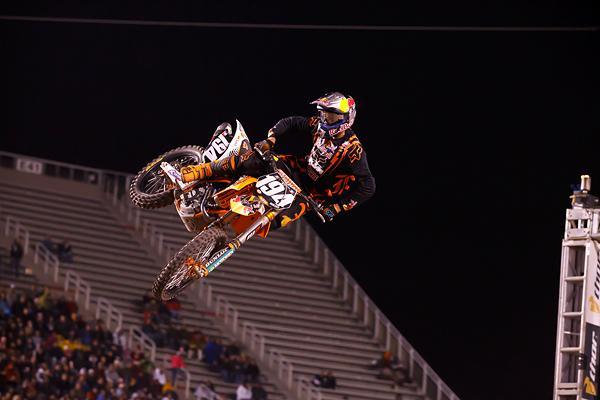 Roczen finished a career best second at Salt Lake City.
Photo: Simon Cudby
Meanwhile Ken Roczen is back from a trip to his native Europe, but even after two months away from supercross, he seemed even better than when he left. At the beginning of the season Roczen logged crazy fast lap times but so-so results. In Salt Lake City, he had only the fifth-fastest lap in the main event, but finished second. Roczen and Tomac sure do learn fast.
That's it for me this week, we'll have lots of other articles on the site to preview this weekend's epic "three titles in one night" showdown. We're calling it Championship Week around here, and with good reason. If you're Ryan Villopoto or Eli Tomac, your run to number-one in Vegas started with a critical victory one week earlier.
Email me: jasonw@racerxonline.com