Rice-eccles Stadium
Salt Lake City

,

UT
Salt Lake City
Monster Energy AMA Supercross Championship
Interviews by Steve Matthes and Jason Weigandt

Andrew Short- Red Bull KTM – Fourth Place in SX Class

I'm really excited about my ride, I felt good in practice. My heat race I struggled but I figured it out. I was a little worried about my bike in altitude but it was fine, it was a little flat but I think everyone's bike was like that you know? The last two weekends, I've been working on being more mentally prepared and I think it's helped me although we had some bad luck in Seattle in the first turn.

I got a decent start, I passed some guys and was excited about that. I was right behind  (Ryan) Dungey and he slowly inched away from me a bit to where he was about ten seconds ahead of me at the finish. I had Davi Millsaps pressuring me so I had to keep it going. All in all, I was happy with my ride and I was strong for twenty laps and ready to go to Vegas.

Jason Thomas- BTOSports.com/BBMX - Sixteenth Place, SX Main

It was a pretty uneventful race for me, I rode by myself most of the time. I had a good start but had some terrible opening laps. So that allowed all the guys that I normally race with to get in front of me and I was trying to catch (Tyler) Bowers for the whole main event. Seriously, I rode around out there and there wasn't anyone behind me. It felt like I was out there in a go-kart race. The main was pretty short also and the track was sketchy so I was just racing the track. It was honestly one of the most uneventful races I can ever remember.

Mitch Payton - Team Manager, Monster Pro Circuit Kawasaki

It didn't go like we thought it would. I think Josh (Hansen) was way impatient and went too aggressive, too fast and should have picked a place to get by him. He went into him and went down, it wasn't a good move and he knows it. That wasn't smart. Broc (Tickle) rode pretty good, he was in second, lost some ground but was really good in the whoops. Ken Roczen got by him, and he closed back up at the end but couldn't make it happen.
He (Tickle) still has a two-point lead in the series and we go to Vegas and see what happens. Hanny's move was way too quick, he knows there's a lot on the line and I know he wanted to win but he went too aggressive and it wasn't smart. I think he could've got him later but he got impatient and blew it.

Justin Brayton - Muscle Milk/Toyota JGR Yamaha, Ninth Place SX Main

It was great start for me, track was tough to pass on and I wasn't that prepared really. I was off for a while-no excuses-but I hadn't ridden much really.  I wanted to be here racing, if I can ride I want to be here. This week I'll be in California, get some good riding in, be ready for Vegas and Hangtown also.

My back is what I hurt so my arms didn't pump up and I didn't get really that winded. It's the standing and sitting that hurts out there, I sprained four vertebras in my back, which is basically the same as spraining your ankle. There's nothing I can make worse, it's just going to be sore and I hope it doesn't hurt me for Hangtown.
Nick Wey - Valli Rockstar Yamaha - Eleventh Place, SX Class

It was an okay night, I felt like I rode pretty well but I got a terrible start and made some bonehead moves early in the race and dropped back to, like, fifteenth or something. From there I worked up and passed some guys, there was a good battle between the guys from fifth to around eleventh and I was at the tail end of that.

I got into it with (Kyle) Regal and I got him, he got me back and then James (Stewart) got me in the whoops, I squared him up in the last turn and he beat me by a wheel for tenth. I felt like I rode better than an eleventh but I've got to get some better starts. I moved into the top ten in points so that's cool and thanks to all my sponsors for all that they do. Guys like Valli Yamaha, Rockstar, MSR and Foremost Insurance are the reason I'm out here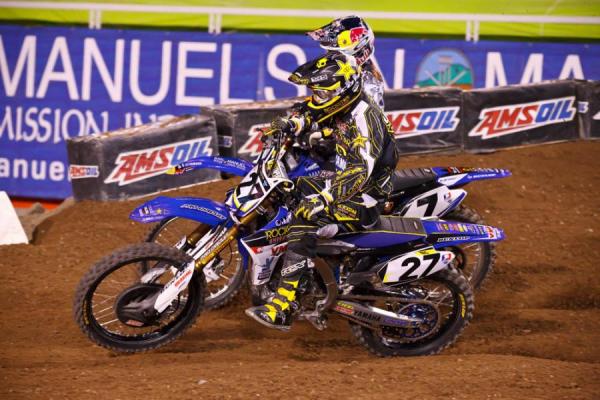 Nick Wey battled Stewart for tenth down to the last lap.
Cudby photo
Tommy Hahn - Motoconcepts Yamaha - Eighth Place, SX Class

It wasn't bad, I had a decent race day, my qualifying times were all decent, I was within a half second of most of the fastest guys which is where I feel I should be. In the heat race I got tangled in turn one came back to seventh, so I had a bad gate pick and got a bad start. I got up to seventh and got to Windham, but I made a mistake on the last lap and Weimer got by me on the last lap. Weimer and I, we battled all the way to the last turn, it was a good race, me, Windham Brayton and Weimer were all close on the last lap. Windham got around Weimer and Brayton and kind of broke away. Then I got arouned them and started to break away too, but just a little. We were all real close in speed—I looked at he times and we were the same as Dungey the whole way—Reed, Villopoto and Stewart top were out front of that.

Jake Weimer- Monster Energy Kawasaki, Eighth Place SX Class

All things considered, it was great. The day in general, it was awesome. I haven't raced in nine months, and just to be back and tell the fans "I'm back" was awesome. To say I rode outstanding, I'd be lying to you. Yeah, I want more, but at least I'm back. First race in the 450 class, all things considered, yeah I'm happy.

So everyone is going to ask, "Why come back with just two races to go." So, why come back with two races to go? What's the motivation?
The motivation is, I get paid money to race motorcycles, and I've been racing motorcycles since I was four, and I wanted to be here. That's it. No one said to me anything about blocking this guy or blocking that guy. I hope I don't get in between anyone, I mean hey, ideally for me, winning and race and getting 25 points of my own would be sweet! The better I can do, the better for me, so I'm here to race the last two races, because I wanted to race.

Will this help you at Hangtown because you got some racing nerves out?
Yeah I'd like to think so. Do I think it will make a massive difference, like night and day? No probably not. It might help a little to get things flowing and get into the groove a little bit. It's not going to hurt, I know that.

Did you have butterflies on the line?
I was really nervous in practice, I was even stressing doing some of the jumps and everything! I was super nervous, but by the time the night rolled around I was okay.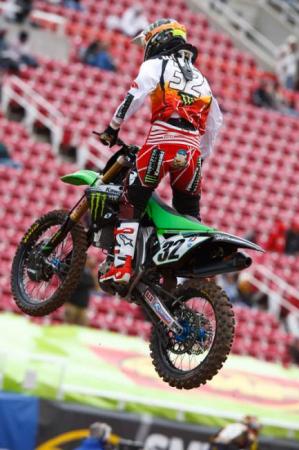 Jake Weimer admitted he had a case of the butterflies in practice.
Cudby photo