Rice-eccles Stadium
Salt Lake City

,

UT
Salt Lake City
Monster Energy AMA Supercross Championship
A cameo appearance, as you probably know, is when a non-regular shows up to participate in something. While they're common in movies and TV shows, they also happen all the time in motocross—like when the Grand Prix circuit visits other continents, or when international riders come here to race SX or the nationals. So who had the ten best cameo rides in the sport's history? Here's our list—and we left off USGP wins like Marty Moates, Johnny O'Mara, and so many others because there's just too many to include!
10.) Johnny O'Mara at the '82 Swiss 125 GP. Team Honda's O'Mara was not quite at the peak of his career when he went to Europe to race a single Grand Prix in 1982. He ended up beating multi-time world champion Eric Geboers and everyone else while wearing what became his trademark: JT Racing boot gators!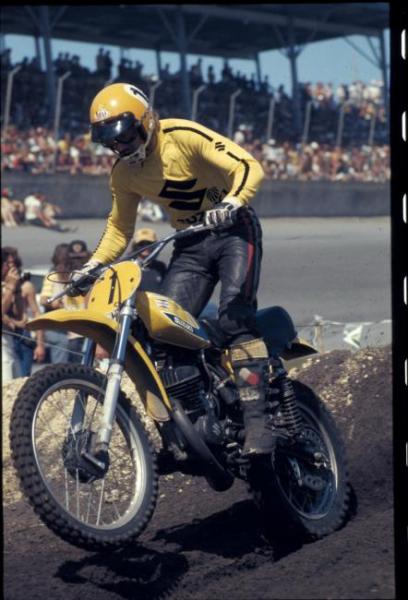 Roger DeCoster showed up at Daytona in '74 and won the  500cc class.
Photo: Gary van Voorhis
9.)Mickael Pichon at the '93 San Diego 125cc SX. The Frenchman wanted to test the waters in America, so with help from Mitch Payton and Pro Circuit, he entered the #112 Honda CR125 in the San Diego SX and promptly won the main event, setting himself up for the big move here.
8.) Micky Dymond at the '86 Brazilian 125cc Grand Prix. The globetrotting Dymond thought it might be fun to race a GP while on his way to his second straight AMA 125cc National MX Championship. It was. Dymond won the 125cc GP of Brazil at Belo Horizonte, establishing himself as the fastest 125cc rider on the planet at the time.
7.) Donnie Hansen at the '82 Swedish 250cc GP. "Holeshot" Hansen was coming off a sweep of both the AMA Supercross and AMA 250 Motocross titles when he went to Europe a couple weeks before that year's Motocross and Trophee des Nations to warm up. He beat world title contenders Danny LaPorte and Georges Jobe fairly easily and appeared headed for domination of the upcoming races, but then he crashed while practicing in West Germany, effectively ending his career.
6.) Roger DeCoster at the '74 Daytona 500 SX. DeCoster loved to travel and race all over the world, and in doing so he became the sport's all-time greatest ambassador. He came to Bike Week in '74 to check out the "stadium motocross" race going on there and ended up winning the 500cc class, earning him the eternal right to remind his athletes that he was pretty damn good on any track, any time, any place in the world!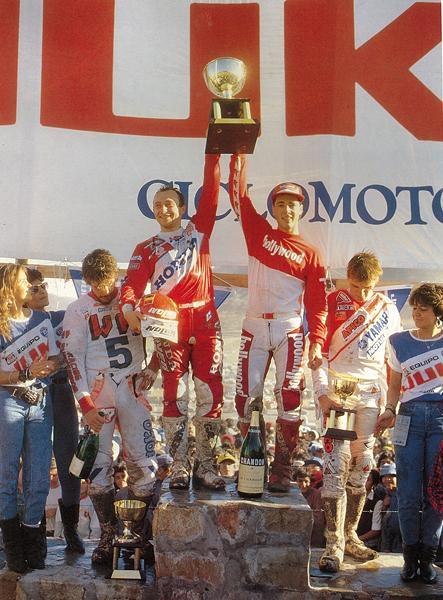 Eric Geboers (left) shares the Argentina podium with future GNCC legend Rodney Smith in 1987.
Photo: World Cross
5.) Kevin Windham at the '97 Charlotte 250 SX. Riding for the Yamaha factory team, Windham was a 125cc West Region rider when he asked to try the 250 class at Charlotte Motor Speedway. Yamaha okayed the attempt and Windham responded by winning the main event!
4.) Mike Healey at the '92 Steel City 125 National. After struggling on his Bieffe Suzuki in the 250 GPs in 1992, Healey decided to drive across America on his own for the second-to-last AMA National that season, held at Steel City. Riding a borrowed RM125 with help from Cernic's Racing, and weighing maybe 20 pounds more than anyone else in the class, Healey somehow went 4-1, winning the second moto over title hopeful Jeff Emig. It was a surreal moment to say the least!
3.) Rodney Smith at the '87 Brazilian and Argentinian GPs. When things didn't work out for Smith here in the States at the factory level, he took a job racing in South America. He became a big deal in Brazil, riding a Hollywood Cigarettes-backed Honda, and when the GP tour visited for a fortnight, he entered as a wild card and took it to Europe's best, winning three of four motos and earning a ride for the next couple of years on the Grand Prix circuit on the mighty Chesterfield team. Here's a YouTube video of Smith the following year at the British GP. Check out the video HERE.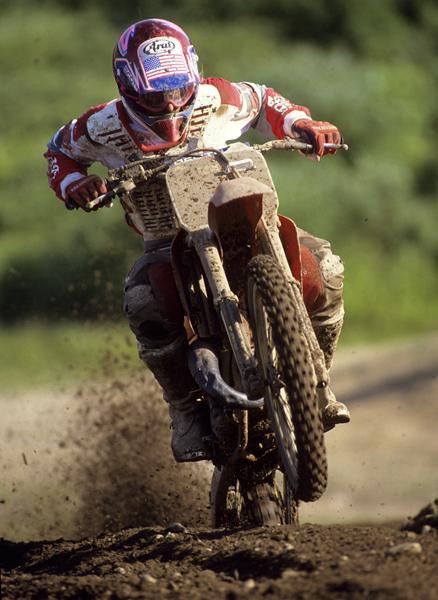 Jeff Stanton won the USGP at Undaill in 1989.
Photo: Kinney Jones
2.) Jeff Stanton at the '89 Unadilla 250cc USGP. Okay, we said no USGPs, but this one is different because Stanton actually raced the 125cc Support class! Having just been crowned AMA Supercross Champion, Stanton still knew that the injured Rick Johnson was the top dog at Team Honda. In order to get on Team USA for that year's MXoN, Stanton might have to race a 125—something he'd never done before in his professional career. So he signed up for the GP in the support class, then went out and whipped the top Americans entered in the race, including Damon Bradshaw!
1.) Jean-Michel Bayle at the '89 Gatorback 250 National. One of the all-time cool motocross moments, JMB came to America in the winter of '89 with hopes of getting a deal to race here full-time the following year. He got some limited help from Honda but lots of help from Mitch Payton and Pro Circuit, including a minivan. After struggling in the early SX rounds, Bayle found his comfort level and entered the opening round of the AMA Motocross Series at Gatorback Cycle Park in Gainesville, Florida. In practice that morning, Rick Johnson broke his wrist. That left everyone scratching their heads, waiting to see who would step up. Turns out it was Bayle, who went 1-3 to take the overall from teammate Stanton (2-2).