Courtesy of Road 2 Recover

Former supercross star Jimmy Button has been on a long journey. Button had been riding from San Diego to Daytona, Florida on a bicycle trying to raise a million dollars for spinal cord research, a cause that Jimmy knows all too much about. It was at San Diego's Quallcomm Stadium in 2000 that Button crashed and had his career-and life-altered.
It's been a while since we last had an update?
Jimmy Button: The last time we posted an update I had just got back on my bike.  We made it through Louisiana, Mississippi, Alabama, Georgia, and Florida. This has been such a great experience and it is amazing to see how much the ride changed so many people's lives including my own. A lot of people that we rode with had never ridden a bike very far and this ride got them to take charge, buy bicycles, start training and get fit. I think a lot of people who came on this ride will continue to ride even after this is finished. I think in some respect it helped some people find a new hobby or a new passion.

Meeting the people we had the opportunity to meet from the people who joined us to who we met on the road and hearing their stories about their family members who had battled with cancer or dealt with adversity and the stuff they had to go through with either a spouse or their child or mother or father were all very similar to me and my injury. All of these people had inspiring rides and stories to share. We had fun raising money and we hope to continue to raise more money before we present the check to the Reeves Irvine Center.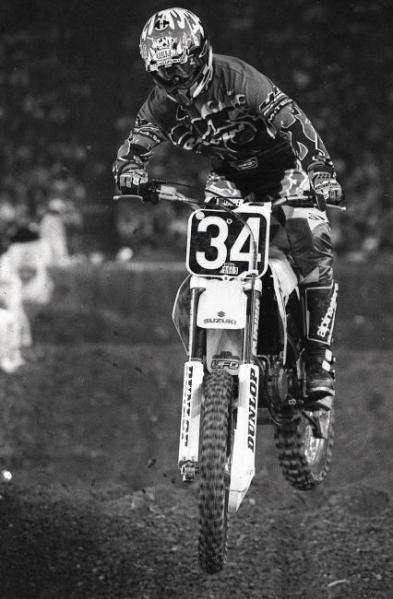 Button began his journey after the San Diego Supercross.
Photo: Davey Coombs
How did it feel to finally be coming into Florida?
Coming into Florida was nice, but the drivers there are not so nice. We were almost run off the road a couple times riding through there. We stayed pretty safe all in all. Not too many bad things happened which was good. I hit the ground more than I should have. The last 3 days were really cool. I had good friends with me, Billy Wood and Tim Ferry, ride the last 3 days with us. It was fun with Timmy to reminisce about the old racing days. We had some fun on Sunday afternoon when the ride was over at Daytona International Speedway just sitting back and eating and talking about the ride. It was an experience of a lifetime and hopefully we can continue to raise some good money for spinal cord research and raise awareness for spinal cord injuries to make a dent in helping people get better.

What inspired you the most on the ride and when did it hit you that you were helping so many people?
I think there was a point about 4 or 5 days from the end, like that feeling when you can almost see the finish line. It was no longer thousands of miles away. It was only a couple hundred miles. At that time you see a circle of completion and start to go back and think about all of the people that you have spoken to and ridden with. The places we went through and the challenges we were faced with, especially for me breaking my elbow and having to leave to have surgery, all started to come back.  I started to realize that in doing this ride and never giving up and continuing to fight through and all of the things we had to get through that we were going to inspire people that we had never met or may never meet. We wanted to tell people to put a good fight up in their own way with their own challenges.

The biggest joy was turning the corner and being able to see the speedway and the finish line. Knowing that we had pedaled from San Diego to Daytona Beach under our own power was such an accomplishment and such a great feeling.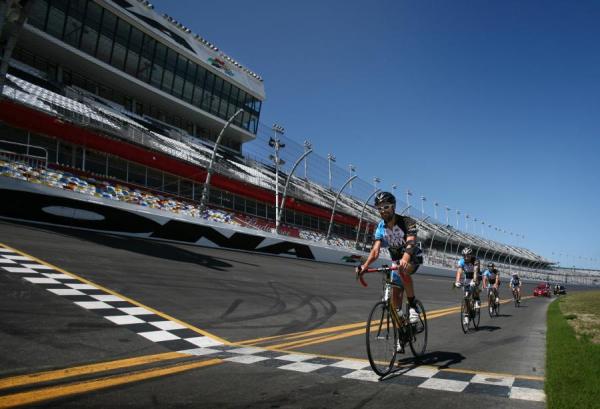 Button on the home stretch.
Photo: Courtesy of Road 2 Recover
Any words of advice for someone who has been injured?
The thing that I have been telling everyone on the ride is to never stop fighting. Never quit, never back down. Doctors told me that I would never walk again and that I needed to get my house wheelchair accessible. I was fortunate to have a good recovery, but no matter what the circumstances are, whether its a spinal cord injury or a disease or something bad that had happened in your life, know that through the trials that you have you have to fight through and never lose sight of who you are and you have to put up the best fight that you can. If you do that then whatever the outcome is you can at least say that you didn't leave anything on the table or sit back and say "maybe I should have and could have" because should have and could have will only go so far. Keep fighting and work hard, be a good person, and believe in what you need to believe in to get you through whatever you're fighting. You can't just quit and roll over. Giving up is not the option to take.

Anyone you want to thank?
I have to say a big think you to the whole M4M crew, especially my wife Kristi, Cory, Rachel, Big E, my mom and everyone at home doing all of the work behind the scenes with Road 2 Recovery. Thank you to all of the people who gave us product and donated money to help us on this journey. There are so many people to list that I could write a dictionary, but a sincere thank you to everyone who helped make this happen.  We will definitely do more events for trying to help spinal cord research.

All in all, how far did you go?
In total we were on the bike for 43 days, rode 2,475 miles, burned 132,611 calories, and rode for a total of 167 hours and 45 minutes. The total length of the trip was 57 days, but we had 3 off days and there were a couple days of recovery when I was injured. I had 3 crashes, 2 broken helmets, and 1 broken bone. It was definitely a long trip.

You can still show your support by sending a donation, purchasing an official M4M t-shirt, wristband, watch, or M4M cycling gear at the official gear store at www.milesformiraclestoday.com. You can also text BIKE to 85944 for a $5 donation and a chance to win a San Manual Yamaha or a Sette Forza road bike