Your Collection: 1972 MM5A 50cc
This weeks collection comes from Tracy Williams from St. Michael, MN.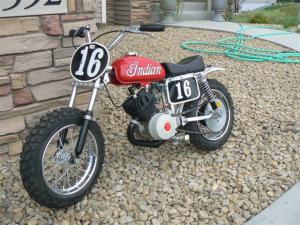 "Here is my 1972 Indian MM5A 50cc flat track bike. This bike was purchased New in 1972 and was raced at Huetter raceway in Post Falls Idaho and Sidewinders raceway in Portland Or in the early 70's then was quickly restored. Bike looks and still runs fantastic and hope you all enjoy it as much as I do."

Thanks

- Tracy
ATTENTION READERS: WE NEED YOUR COLLECTIONS!
Do you have something cool you'd like to show off? Submit a piece from your collection as well as your name and mailing address to madavis@graphicslab.com and be entered to win a Racer X cover poster and Throttle Jockey stickers. You will be notified via e-mail if you are the winner!

*Please note that while international readers may submit their Collections, we are only able to award and ship prizes to winners within the United States.