As we all know, there is no race this weekend folks but that doesn't mean April 23
rd
(this Saturday) doesn't contain some sort of history for the green guys. Quick, hop in the Delorean, let's get to 88mph and head back to 1994 for this week in Kawasaki Supercross history!
As I said, it's 1994 otherwise known in supercross parlance as the "McGrath Years." Jeremy McGrath burst onto the scene the year before and it would be a long time before a rider other than MC would win a supercross title. Team Kawasaki would eventually be the crew to break the streak with Jeff Emig in 1997 but in 1995, Kawasaki had a couple of guys that, if Jeremy was number 1, these guys would probably be number 2 and 3 in the series. I'm talking about Mike LaRocco and Mike Kiedrowski, who were right there challenging McGrath on many nights.
In Texas Stadium in Irving, 1994, it seemed that the stage was set for another Supermac win as he passed early leaders Jeff Emig (then on a Yamaha) and then snuck by Mike Craig in a bowl turn. With that, MC was out front like so many other races. LaRocco was buried outside the top ten with his typically horrible start, and Kiedrowski was fighting past Jeff Stanton to set himself inside the top five.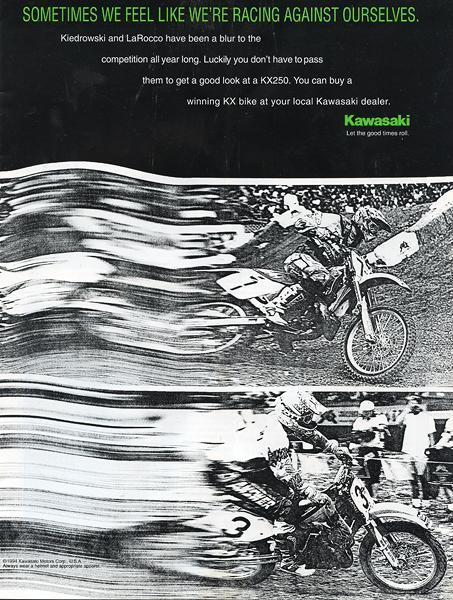 LaRocco and Kiedrowski in a 1994 Kawasaki ad.
The MX Kied was on a roll coming through Emig and a fading Craig to get into second. The Dallas track was its typical tight self with very hard pack dirt and lots of debris on the track. Generally this is where McGrath held his lead to the end but on this night, Kiedrowski was feeling it and actually caught McGrath and was putting pressure on the defending supercross champ.
Meanwhile, LaRocco eventually worked his way into fourth behind McGrath, Kiedrowski and Emig, but was blitzing through the whoops. At this point in the race, the MSR-clad, number seven Kawasaki rider was going some two seconds a lap faster than the leader.
LaRocco caught Emig and those two rivals went at back and forth each taking turns stuffing each other until Emig made a mistake and lost the last spot on the podium.
Meanwhile up front, with the white flag waving signifying the last lap, Kiedrowski's slaying of the King was complete as he went inside of MC. The two drag raced down the start straight. McGrath struck back at Kied in the rhythm lane and with some lappers helping. LaRocco could now see the top two with a scant few turns remaining.
As the riders entered the last rhythm lane, MC and Kiedrowski doubled while LaRocco tripled (I'm serious) and pulled up right alongside the two. As the three riders made a left turn into a set of whoops, it was MC and Kiedrowski side by side with LaRocco trailing ever so slightly. Then after the whoops, the riders headed to a right-hander by the mechanic's area, and that's where disaster struck for the top two riders. McGrath slammed into Kiedrowski sending Jeremy onto the ground and Mike into the hay bales!
It was pandemonium and LaRocco cruised by both riders (eerily similar to Kawasaki's Ryan Villopoto's win in Atlanta this year) and took the win in a great ride. Kiedrowski got settled enough to collect the runner-up position and McGrath picked himself off the mat to get third.
LaRocco charged hard all race, never gave up and was rewarded with a supercross win in Dallas, Texas on April 23rd, 1994.
And that my friends, is this week's Kawasaki SX history!