Qwest Field
Seattle

,

WA
Seattle
Monster Energy AMA Supercross Championship
Seattle was (is?) the home of the anti-rockstar. The 1980's glam-rock/big-hair era had turned rock music into something it wasn't supposed to be—pop—and the whole market became oversaturated with makeup-ed, hair sprayed, cookie-cutter bands (and songs). The envelope had been pushed, the evolution reached its zenith. Even the band names were built by a factory—you either named the band after your last name, or by combining two terms, one harsh and one soft, into one word (see: Whitesnake).
This was all fun and exciting, but it wasn't typical and couldn't last forever. Music couldn't always be about good times—remember, rock has roots in the blues. All those bright colors, high pitches, and over the top-ness needed to go. Grunge hit the scene and changed up everything.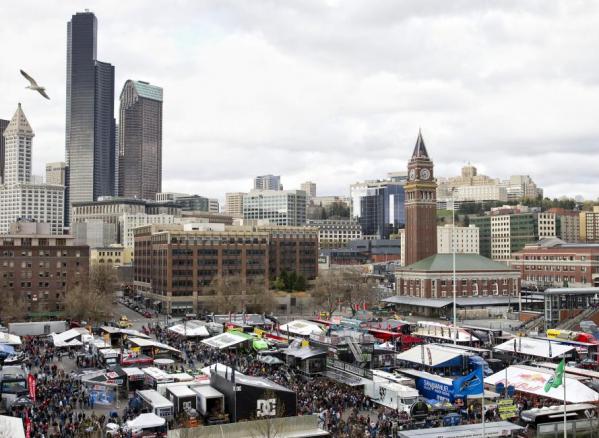 Beautiful downtown Seattle.
Photo: Garth Milan
The 2011 Monster Energy Supercross Championship has been over-the-top in every way imaginable. The storylines border on the ridiculous. Chad Reed starts his own team, now racing against the three squads he rode for in successive years before this one. Stewart and Reed have this rivalry, see common ground for about six hours in the wake of Stewie sending Larry Brooks on, um, family vacation, and then reignite it in a heap on the ground in the same night. Ryan Villopoto is coming back from a horrible crash and injury while using Stewart's old trainer, while Stewart switches to the guy who brought that old trainer into the sport in the first place. Then Stewart runs into a string of on-and-off track problems at about the same time he lets Brooks go, which turns even a few Brooks-haters into Brooks believers. Ryan Dungey is champion, trying to prove he can do it against a healthy field, but he also has a new team manager while surely being courted by new teams for next year, and also still needing to believe his current squad is as capable as ever. And Dungey used to ride and train with Stewart, but now does his work at Ricky Carmichael's place, the same spot where Villopoto's new trainer (and Stewart's old one) broke into the sport. This is a super-tangled web of personalities, backgrounds and storylines. It's over the top like Doug Henry jumping five-stories high off of a hill at Budds Creek in 1995. Something is going to have to give.
Finally, in Seattle, it looked like things were starting to settle down. Less drama, less feud, less controversy. Just straight riding, the way these races used to be before it all blew up this year.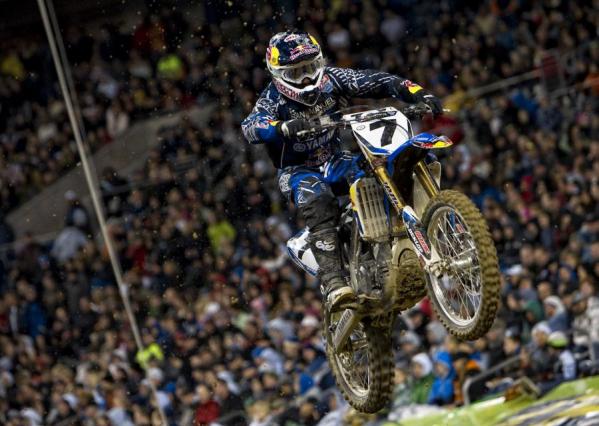 Can Stewart overcome a nine-point deficit with two to go?
Photo: Garth Milan
And if there's going to be less drama, you can probably guess as to why. It's because Stewart has straightened things out. Love it or hate it, pretty much every time something crazy has happened this year, Stewart has been standing near the switch. When all goes well for him, things calm down. When it doesn't, things get crazy for him and everyone else. He's the powerplant of this series—he can surge the current up to unmanageable levels, or flip the switch back to a regulated state. For the last two weeks, he's done the latter, and for the moment, he's turned the series from a battle of personalities and backgrounds into a sheer numbers game. Instead of talking about who took out whom, we're back to talking about who needs to finish where.
Will the crazy days make a comeback? Maybe one last reunion show in either Salt Lake City or Las Vegas? With championship pressure on the line, I'd expect to see at least one more show with some big explosions. But right now, we're just talking about numbers.
The Seattle track was too gnarly to offer up crazy racing. In this rutted mess, Stewart's was back on that next level he used to occupy every weekend (besides this race, we've seen glimpses of his mortality at just about every stop this year. Even in St. Louis weekend, Dungey kept him reasonably honest). The track also made it hard for anyone else to battle. Here, the riders were just trying to survive and stay up. And when Reed failed to do that with his big crash on lap 19, Villopoto let it all hang out to challenge him for third. On this track, that can't last, and RV ended up going down. In the same manner, Reed and Stewart got on squirrely on the first lap battling each other for the lead. The Seattle track offered up to racing what Seattle's music did for rock—it toned it down.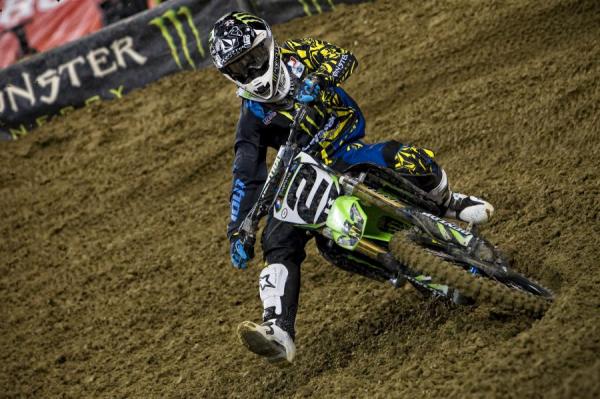 RV is two races away from his first SX class title.
Photo: Garth Milan
So we focus instead on the points instead of the drama. Villopoto is still out front in this one, in fact now by six points instead of five. Only in a season like this can a guy finish off the podium and gain points, kind of like how Stewart made up three points in Jacksonville while being carried off the track on a backboard. But a slightly-larger points lead for RV2 isn't telling the whole story. The big change is that Stewart is now within nine with two races to go, and if JS7 wins out, he'll automatically pass Dungey and Reed in the standings by the finale. And there will be a whole heap of pressure on Villopoto to stay ahead.
But maybe we're getting ahead of ourselves. Based on the last two rounds, two more Stewart wins seem simple. But if the "go big" era returns for a show at either of the last two, Stewart is done—he has no margin for error at all. One bad start, one washout, one tip over, one second-place finish, really, and James is out of the title picture.
So this then becomes the crossroads. If this series stays subdued for the next two weeks, and Stewart can just cruise out front and let the other guys steal points from each other, he has a shot. But if it gets crazy, then Villopoto is actually looking good. That's a strange scenario for a points leader to be in.
Lately the buzz is that Villopoto doesn't have the same edge that he had at the beginning of the season, but I think the target on his back has created two bad starts, and that's making the biggest difference. Last week in St. Louis, he was bumping elbow-to-elbow with Stewart off the start and gassed it so hard that he almost looped out. This week, Dungey edged him out and moved over on him. If Villopoto wasn't carrying the points lead, dudes may not be bumping him so much off the line. Instead, he has had to come from the back. This week he even collided with the big Stroupe/Short first turn crash and went straight onto a tuff block. He recovered, kept his cool, and prevented a horrible start from becoming a horrible finish. I think he's doing okay, considering.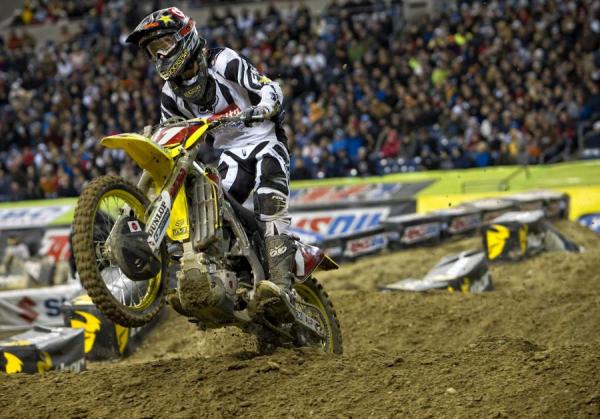 Let us not forget that Dungey is still very much in this title chase.
Photo: Garth Milan
And Dungey ended up giving some points back. He was right there on the first lap but crashed, sending him further back than Villopoto, and then he went down again coming through. We've been trotting out the theories over the last few weeks over who is going fast, who is feeling pressure and all of that, but Villopoto does have something no one else does—those extra few points to absorb a bad moment. For Villo, his bad first lap and a fourth works out okay. For Dungey, who still needs to make up ground, it doesn't.
Then you have Chad Reed making it happen when he needs to. He wasn't on fire in practice and had more problems in his heat race, but in the main, he made sure it didn't go wrong like it did in St. Louis. Reed is making a habit out of turning off nights into decent finishes. I asked him how he managed to turn it around this time. "I never felt like I was that far off," said Reed after the race. "I'm not a big fan of going out there and giving it everything you have for one lap. Practice, I call it one big ___ stretching contest, so I just try to put myself in position where I have a decent heat pick. I don't sweat it at all. Normally I just try to turn it around in the heat race and get a good pick for the main. But I had a horrible heat race. I just had to regroup, you know? I wouldn't say I rode horrible, but I was off. For me, I was like, man, the last three weeks have been tough. I wasn't ready to do that again. So I had a long conversation with Ellie on the phone, pretty much snapped out of it. I was ready to bring it to the main event and go for it. I got a good start and was going for it. I made a mistake, James passed me, I passed him back, and I think I was a little bit tight, a little bit confused on lines.  I said, "C'mon dude, pull it together." It was good from there, really."
The worst news of all from Seattle actually took place before the race, with Trey Canard going MIA with a broken leg. Bummers don't get much bigger—everyone loves Trey and everyone was pumped on his performance this year. Hopefully he doesn't lose too much during his down time, but there's no doubt this series lost something.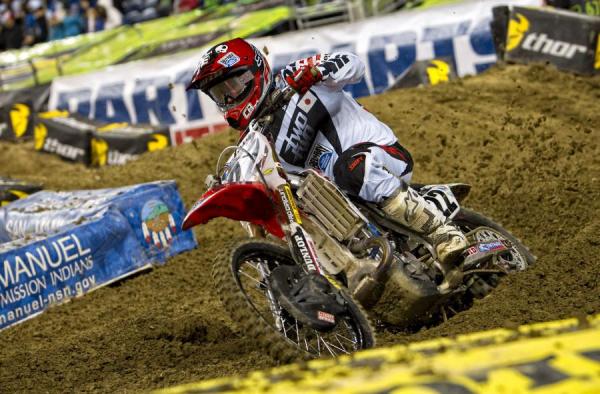 Reed still trails RV with two to go.
Photo: Garth Milan
So coming into the race, everyone wondered how the abscense of Canard could shake up the standings. Well, it's almost like Honda had already went out and hired a fill-in, because Kevin Windham got back into his old groove and battled for a podium just like Canard would have done. KW has been improving over the last few weeks, and the gnarly Seattle conditions only helped propel him further forward. The dude even beat out Stewart for fastest qualifier, which has to be the new age record for that feat. He won his heat over Villopoto and Dungey, and he took advantage of Reed's crash to finish second in the main. That's the very definition of getting in the mix, and of course the Seattle fans loved it. I would expect Kevin to be on his game again at the next race in Salt Lake City. He could really play spoiler there.
Mike Alessi was also a whole new person in Seattle. Obviously the track conditions worked in some combination with Mike's love for outdoor motocross, and I'd also say that the KTM looked at home in this stuff. But even with all of that going for him, I don't think anyone expected him to come out and pass Windham and even go after Reed in the opening laps! Once the veterans got going, they shuffled Mike back, but he kept fighting. Then he made some mistakes, but he kept fighting. Methinks the mere idea that the nationals are right around the corner have lit a fire in Mikee boy. Like Windham, most of these guys are just a mental flip of the switch away from better performances. Look out come Hangtown.
You can see that switch is flipped with Cole Seely, too. Cole won LA and now Seattle in the same fashion, going wire-to-wire. But this one was somehow different. In LA, you weren't sure what Cole would do with that holeshot—tighten up or bring it home. In Seattle, there was no doubt. He was the man on this night, and I'm not sure anyone would have topped him, even if Broc Tickle and Josh Hansen weren't coming off of injuries, and Eli Tomac didn't get such a bad start. Cole just rode like he owned this one, and I'm still totally amazed how far this guy has come in such a short time. Kids, if you're looking for inspiration, forget focusing on super talents that have won races since the day they hopped on a minibike—they're born with something you can't teach. On the other end, Seely proves that anyone can make it happen if they do the right things.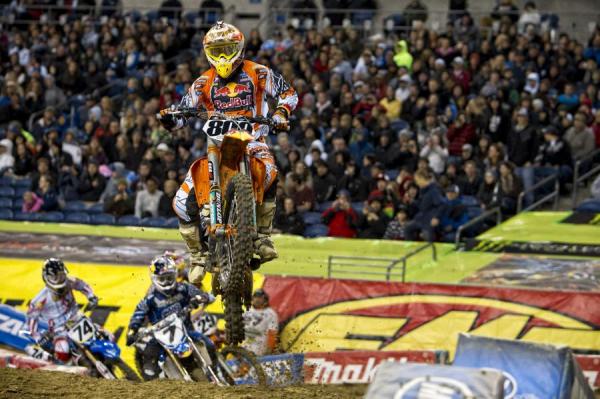 Alessi had his best finish of the season in Seattle.
Photo: Garth Milan
Tickle is kind of like that, too, but I really think his collarbone injury from two weeks ago knocked him back a step, even though he won't use that as an excuse. Seattle offered up Tickle-like conditions (which are, ironically, not funny) but he couldn't hang with Seely or Tomac. I think he needed to get a race under his belt after that injury.
And I learned something about Tomac. He's been a pro for less than a year, so we don't know too much about him besides he's fast and his dad is a bad dude. In Seattle, I saw a glimpse of desire that belies his "aw shucks" demeanor, kind of like how you have to assume Ryan Dungey really, really wants it but doesn't really express it outwardly. Tomac got beat in his heat race by Hansen and Kyle Cunningham, and that made him mad. So mad that he hopped on a spin bike and just pegged it, taking out some rage, and then jogged back over to the track for the main event. Tomac, clearly, is not trying to just learn during his rookie season. He wants this championship and he'll be mad if he doesn't get it. When I asked him about points, he didn't shy away with the standard, "I'm not thinking about points I'm just trying to have fun and learn" stuff you normally hear." He told me he hopes that maybe Tickle and Hansen are thinking about him now that he shaved off a few more. This is good stuff.
As for Hanny, it's all bad right now. He crashed a lot in practice and one big hit jacked him up good. Many are conflicted by all of this bad news for Hansen. Either it's karma coming around for his dark past, or, it's really unfortunate that all the work he's put in lately isn't accompanied by some good luck. I'm wondering how many thrashings that hand can go through in one season. Can you believe Pro Circuit swept the podium at Anaheim 1, and now there's a chance that GEICO Honda could win both SX Lites Titles?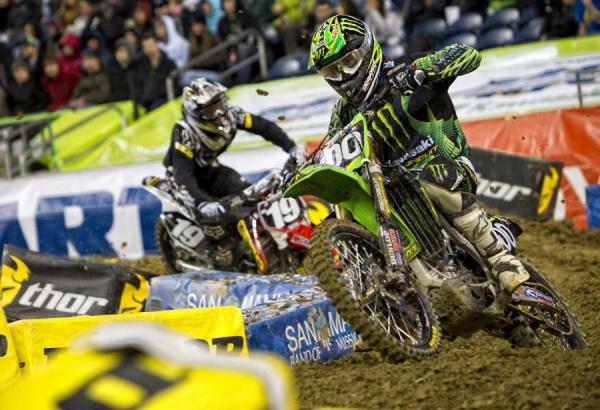 Will Hansen be able to overcome a hand injury and capture the Lites West title.
Photo: Garth Milan
What makes this Lites West chase even more exciting is the potential pack of spoilers. Clearly Seely can steal points, Ken Roczen is back for Salt Lake City, and Cunningham definitely can get in there. Cunningham lives by the "speed is not an issue" mantra. If he were to pull a holeshot one of these weekends and just walk off with a win, I don't think anyone would be in shock.
Bummer for Tomac's temmate Jimmy Decotis. He mangled his elbow pretty good in practice, but he was back up in the press box watching the race with a sling on, saying he might even be back for Salt Lake City. Still a bummer, because Jimmy D would have been good in these conditions. Those short legs have probably never gotten caught in a rut.
On the other hand, Ivan Tedesco grabbed another holeshot. Leading a race in those ruts with a torn ACL could is so torturous that it probably violates the Geneva convention. Tyler Bowers made his move back to supercross after cleaning up in the Arenacross series. From what the Kawasaki guys told me, he goes pretty fast at the Kawasaki track, and he looked good early in practice. But I think it got tougher for him at the night went on—20 laps on a slow, rutted, nasty supercross track is way different that Arenacross. I think he'll do better than his seventeenth at the next two rounds. Bowers has crazy talent and an awesome riding style. I'm still kind of surprised he's only made it as an Arenacross guy. Is it too late for him to find another shot at supercross?
That's it for me this week, we've got much to do on this site even with an off-weekend coming up. But that may mean I have more time for emails, so hit me up jasonw@racerxonline.com