by
Jason Weigandt
Bench Racing Ammo: Houston History
Thursday, February 10, 2011 | 1:00 PM
MOTOREX is used by factory teams worldwide, by independent pros and by top amateurs who demand the best performance from their race machines. The complete MOTOREX line includes a broad range of synthetic engine oils, lubricants, aerosol sprays, cleaners and care products. MOTOREX is available at dealerships nationwide.
Tweet
Houston may not be considered the heart of supercross like Anaheim, but its roots actually go back deeper than any stadium-style event on the tour (only Daytona, which races in a super speedway, has been on the schedule longer). Further, Houston used to host a bunch of double-header rounds through the 1970's and 1980's. Only Pontiac, Michigan and Anaheim itself (which has been hosting two or even three races per season for the last decade) have hosted more AMA SX races than Houston. So that's a lot of history baked into this soil.

Houston first joined the supercross map in the old Astrodome in 1974, back before the name supercross had even taken hold, and the tour was dubbed the Yamaha Super Series. In 2003, the race moved to the new Reliant Center, but the old 'dome, called the eighth wonder of the world when it opened back in 1965, still sits next door, although it officially closed in 2004 and has not hosted any events since.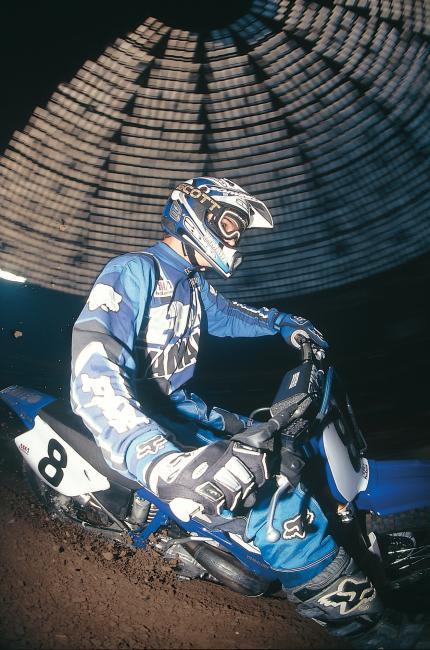 Kevin Windham
is a two-time winner at Houston.
Photo: Moto Verte

Still, there's a lot of history in Houston, for this week's Bench Racing Ammo, we highlight the winners of every previous SX Lites race held in Houston:

Date Winner, Hometown, Machine:
April 10, 2010 Christophe Pourcel, France Kawasaki
January 24, 2009 Christophe Pourcel, France Kawasaki
February 16, 2008 Austin Stroupe, Corona, CA Kawasaki
February 10, 2007 Ryan Villopoto, Poulsbo, WA Kawasaki
April 1, 2006 Davi Millsaps, Cairo, GA Honda
April 30, 2005 Andrew Short, Murrieta, CA Honda
February 14, 2004 James Stewart, Haines City, FL Kawasaki
March 29, 2003 Brock Sellards, Sherrodsville, OH Yamaha
March 23, 2002 Matt Walker, Mc Rae, GA Kawasaki
March 24, 2001 Travis Preston, Hesperia, CA Husqvarna
February 5, 2000 Derrick Shae Bentley, Ellenwood, GA Kawasaki
March 13, 1999 Nathan Ramsey, Corona, CA Kawasaki
January 17, 1998 David Vuillemin, France Yamaha
March 22, 1997 Kevin Windham, Baton Rouge, LA Yamaha
March 16, 1996 Kevin Windham, Baton Rouge, LA Yamaha
March 25, 1995 Damon Huffman, Acton, CA Suzuki
January 22, 1994 Ezra Lusk, Bainbridge, GA Suzuki
January 16, 1993 Jimmy Gaddis, Las Vegas, NV Kawasaki
January 18, 1992 Brian Swink, Linden, MI Suzuki
January 19, 1991 Tallon Vohland, Independence, MO Suzuki
February 3, 1990 Jeff Emig, Terrace, CA Kawasaki
March 18, 1989 Mike LaRocco, La Porte, IN Yamaha
February 6, 1988 Jeff Matiasevich, LaHabra Heights, CA Kawasaki
February 7, 1987 Keith Turpin, Forest Park, GA Suzuki
February 2, 1986 Willie Surratt, Canyon Country, CA Honda
April 20, 1985 Eddie Warren, Clio, MI Kawasaki
Share this article:
Did you like this article?
Check out MY LIFE IN MOTORCYCLE RACING
in our Latest issue of Racer X available now.

Jean-Michel Bayle, the iconic superstar of yesteryear, raced motocross for the first time in twenty-one years at the Vets MXdN in England. Page 126.
Look for the verified symbol
The Conversation