But the AMA races and Monster Energy Supercross tour are the ones that count in the big record book, and the book shows that the last LASX ever, in 1998, hosted one of the craziest, wildest, shocking victories in the history of the sport.

It was a stacked field for the '98 opener (where you have heard that before?) with all the main players healthy and ready. Jeff Emig was the defending SX Champion, Jeremy McGrath was looking to get his crown back on a Yamaha, and Ezra Lusk led a rejuvenated Honda effort.

The 1998 race was a mudder. Throughout the main, most of the players were up front battling, with Emig and McGrath dueling for second, and Doug Henry shocking everyone by running away with the lead on his YZ400F, the first race ever for Yamaha's production thumper. Henry had won the last race of the '97 season on a full-works 400, but that was on a slick, dry track in Vegas. This one was all about Henry's own personal skills in the mud.

And someone else's. Late in the race, an unknown rider on a Kawasaki KX250 started rumbling toward the front of the pack. He was passing riders quickly, but no one really understood who it was on the randomn number 103. The guess was that he was a lapped privateer with some mud skills, unlapping himself (!) late in the race.

He eventually caught up to Henry, and then Henry went down and stalled his bike. Stalling was a big no-no on those early four-strokes, and Doug couldn't get his bike started. The 103 bike pulled away and unlapped himself, or won the race. No one knew!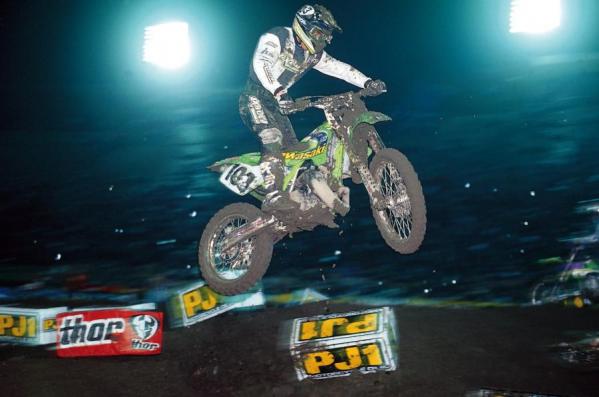 Tortelli pulled off one of the most shocking upsets in SX history when he won at LA in '98.
Photo Moto Verte
Turns out the rider was Frenchman Sebastian Tortelli, and he had indeed won the race. Tortelli was a GP rider racing LA just to get some SX experience—few even realized he was there. But in the mud, he had game. His late charge past the fastest riders in the world was so shocking that TV announcers Art Eckman and David Bailey assumed he was lapped, leaving the TV crew no choice but to re-announce the race on tape, once they knew Tortelli had actually won.

It was shocking. But you know what's even more surprising? Tortelli never won another AMA Supercross.