Richier Wins Dortmund Supercross
Tuesday, January 11, 2011 | 11:10 AM Tweet

By Bernd Dietrich

Florent Richier has finally added his name to the list of winners of Germany´s number one Supercross event. The Frenchman owns two of the three days and egdes out Cedric Soubeyras by two points to be crowned "King of Dortmund". Richier follows in the footsteps of recent Dortmund winners Kyle Chisholm, Heath Voss, Mike Brown and Josh Demuth. He is the first European to take the prestigious title since 2006 (Julien Vanni). Four-time German Motocross champion Richier, who´s been riding for Kawasaki Elf Team Pfeil for the past five years, also takes the ADAC SX-Cup 2010/2011 series win.

The podium in the SX1 (450cc) class is completed by former European title holder Fabien Izoird, making it an all French affair. PJ Larsen, who finished on the box one year ago, ends fourth overall - courtesy two third places. Larsen failed to make the main event on Friday. Bobby Kiniry and Brock Sellards finished seventh and eighth overall, respectively. Five of the top six positions went to France.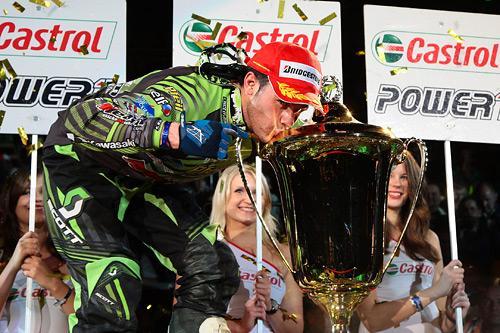 Australia´s Jake Moss was going well on Friday, but injured himself 24 hours later (shoulder). Teddy Maier is another victim of the tight, Arenacross-style track. Maier broke his collarbone.
Soubeyras meanwhile claimed the 18-lap main event on Saturday night in front of a sold out arena. Next stop for him: Phoenix, Arizona.
Austin Politelli carried the U.S. banner in the SX2 (250cc) class. The 16-year-old heads two Brits and two Frenchmen to become the new "Prince of Dortmund". After six motos, two per night, the Honda rider wins the overall from three Kawasaki riders - Jack Brunell, Jeremy Chaveau, Boris Maillard - and the new ADAC SX2 series champ, Ashley Greedy.

Dortmund Supercross
7-9 January 2011
SX1 overall
1. Florent Richier (FRA) Kawasaki 63 pts
2. Cedric Soubeyras (FRA) KTM 61
3. Fabien Izoird (FRA) Yamaha 46
4. PJ Larsen (USA) KTM 32
5. Khounsith Vongsana (FRA) KTM 31
6. Cyril Coulon (FRA) Suzuki 27
7. Bobby Kiniry (USA) Honda 22
8. Brock Sellards (USA) Honda 21
9. Joaquim Rodrigues (POR) Honda 20
10. Daniel Siegl (GER) KTM 20
Share this article:
Did you like this article?
Check out MOTO GIFT GUIDE
in our Latest issue of Racer X available now.

Our annual gift guide has something (or maybe even a few somethings) for everyone on your holiday list. Page 146.