by
Steve Cox
5 Minutes with... Chris Pourcel
Wednesday, September 15, 2010 | 2:59 PM
Tweet
In this article…
Riders
Races
At the end of the night last Saturday, after most of us thought that Monster Energy/Pro Circuit Kawasaki's Chris Pourcel was long gone, he showed up at the GEICO Powersports Honda rig to congratulate Trey Canard on his championship and collect a bit of memorabilia from his competitor. While he was waiting for Canard to get him his collectibles, we did a quick interview with him. This is how it went.
Racer X:
Obviously, this was a pretty disastrous way for your championship run to end with your fall in the first moto resulting in a dislocated shoulder. What was going through your head after it happened?
Chris Pourcel
: Nothing. I just stayed on the ground because I couldn't move.
You hit that hard? What happened?
Yeah. I jumped that little step-up [that led into a left-hand turn] and then the bike just popped me off of it right away. It happened way too fast. I was surprised about it. I thought I broke my humorous, so I was saying right away to the medics, "Let's go to the hospital and get it done." It turns out, the shoulder was just dislocated, but I couldn't put it back in for like 20-25 minutes. So it sucks.
Have you had shoulder problems before?
Yeah, I dislocated the other one, and it was way worse than this one, but there were two doctors in the Asterisk truck and they couldn't even put it back in! They said it was too tight. I've got big muscles... [Laughs] So they couldn't get it in, and then finally they like punched it, and it went back in. I was like, "Aaahhh..."
It felt better, then...
Yeah, and then they gave me a shot of some stuff, and I was like, "All right, I'm going to ride the second moto..." [Laughs] Nah, nah... No way.
You never thought you were?
No, I couldn't, because if I just lift my arm above my head, then the shoulder would just pop out again. And anyway, I was like 11 points behind Trey [Canard], and he's not going to do worse than fourth or whatever, so what's the point? I'm not going to push him out, so that's how it is.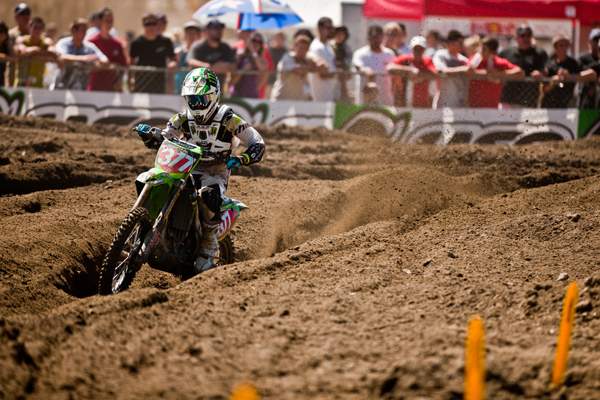 Chris Pourcel held the red plate for the entire series, but lost the championship with an injury at Pala.
Photo: Steve Cox
You came over here to the truck to get a souvenir from Trey. Why?
Because I think it was a good season, and I really like to ride with him. He respects me a lot, and I like to ride with Trey – and he won! He deserves the championship, even if I had bad luck here at the last round. But that's all it was. He did really good and he won a lot of races this year. I have to respect the guy, and he respects me, so it's good. That's how it is. I don't have to hate people to race against them. I'm not going to go sit on my couch and cry or whatever, you know? He won, so he won. He rode good this year, so that's fine! [Canard walks up and says that he added the words "The Duck" to the helmet he signed for Pourcel, as "Canard" is French for duck, and Pourcel says to Canard: "Hey, you've got to give me a shirt, Trey. I need one. I'm going to put it in my house somewhere so that I remember that I lost this championship and put my dislocated shoulder up there or something like that, and then I'll put your helmet right next to my bed or something (laughs), so that I can be like, 'F#$&! He won!' That's how it is (laughs)."]
Do you think you might still be able to race for France at the Motocross of Nations?
That's a good question. I don't think so. [It was later announced that Gautier Paulin would take his spot on the team, as Pourcel will need to take a couple of months off from riding after arthroscopic shoulder surgery.]
Share this article:
Did you like this article?
Check out THE MOTOCROSS OF 40 NATIONS
in our Latest issue of Racer X available now.

The 2013 FIM Motocross of Nations at Teutschenthal, Germany, hosted teams from a record forty countries. Here's how it played out for each of them. Page 90.
Look for the verified symbol
The Conversation