Your Collection: 1984 Aloha SX Ticket Stub
Sunday, September 5, 2010 | 2:47 AM Tweet

This week's collection comes from Hawaii's Kent Badham: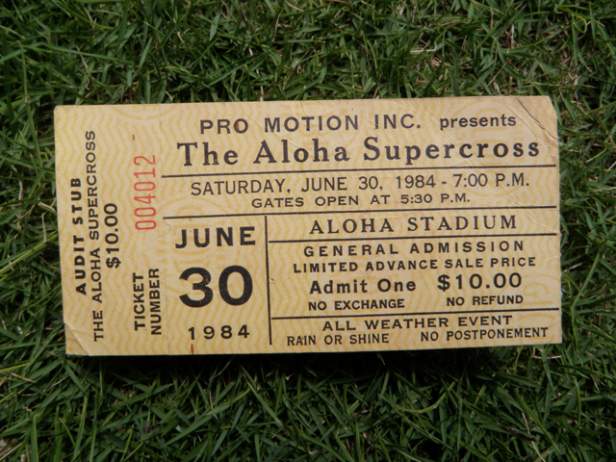 "For some reason, I thought Ping might appreciate this one. This is a ticket stub from the Aloha Supercross, when they held a real supercross inside Aloha Stadium. As I recall, they only held it 3 or 4 years, in the early to mid eighties. My friends and I were in High School and jumped the fence a couple of times, but this year we paid. John Desoto came out of retirement for this one. I dont remember how he finished, but I remember him being billed as a "rubbin is racin" type rider, and he did not disappoint his hometown crowd."
ATTENTION READERS: WE NEED YOUR COLLECTIONS!


Do you have something cool you'd like to show off? Submit a piece from your collection as well as your name and mailing address to [email protected] and be entered to win a Racer X cover poster and Throttle Jockey stickers. You will be notified via e-mail if you are the winner!


*Please note that while international readers may submit their Collections, we are only able to award and ship prizes to winners within the United States.
Share this article:
Did you like this article?
Check out TITLE SEARCH
in our Latest issue of Racer X available now.

The Swedish motorcycle brand Husqvarna was once a giant in the sport. Now, after years under Italian and German control, it's come to rest with … KTM? We check in to see where the iconic brand may be heading. Page 140.