Between the Motos: Brent Presnell
Brent Presnell has been around since the last time Trey Canard weighed 145 pounds – when he was 13. Brent has been wrenching for Trey since then, and he hopes to continue to do so in the future, if Canard's future employer will bring Presnell along with Canard. He has an interesting story, so here is Brent Presnell's "Between the Motos" interview.
Racer X:
How long have you known Trey?
Brent Presnell: I have known Trey pretty good since he was 9 years old. I knew of him since he was 4 or 5, but I didn't actually know him personally until he was 9.
And how much older are you than he is?
I am just about 6 years older, because I'll turn 26 in September and he'll turn 20 in September.
So you were 15 and he was 9. Was he more mature than you then, too?
[Laughs] You know what, not really. Not at 9. He was a chubby little punk.
Just kidding, obviously. I've heard him talk about how he weighed more when he was 13 than he does now...
Yeah, when I started working for him in '04, he was riding a KX85 and he weighed 145 pounds. And just this year, when he was on the 450s, he finally got over 150.
So he was 145 pounds on an 80. That's ridiculous. I think I got off 80s when I was like 130 pounds, and I was too damned heavy.
Yeah, he was definitely too heavy, but he was killing it still. Of course, they were all little guys on the 80s that would beat him. When you give up 50 pounds on the start, it's pretty difficult.
So, he still had mad skills though, even though he was a chub?
Oh yeah, he was still the fastest kid in Oklahoma. He even won motos at Loretta's. Our first year, in '04, he went 3-2-1 at Loretta's for second overall.
At 145 pounds?
Yep, in the 85cc (12-13) class.
Wow! I mean, 12-13 is still even smaller kids. It's not even the 14-15 kids...
It's pretty astonishing to think about it now.
As he progressed in his amateur career, at some point, did you decide that you would quit racing and then just start wrenching for this kid Trey?
Actually, not entirely. I had my own... call it a "career." It was more of a hobby. I qualified for Loretta's in 2001, so I wasn't bad. It was the normal thing where I graduated High School and went to college. I started my mechanical-engineering degree and then the summer after my Freshman year, I ran into Kari (Trey's mom) and Trey's brother Aaron. They came up to the school I was at and took me to dinner and were telling me they were struggling with not having any help because Roy [Trey's dad] passed away about a year before. I was like, "I've got nothing to do this summer, so I can help you out. I don't really know what I'm doing, but I can learn it." So it started out as a summer job. We went through that summer – went to Loretta's and he finished second in both 85 classes – and at that point, I was like, "I think I kind of enjoy this. I'm going to stick this out and see how it goes." That was summer of '04 and I've been doing it ever since.
So you fell into it...
I did. I just really fell into it. I started out to help out a friend.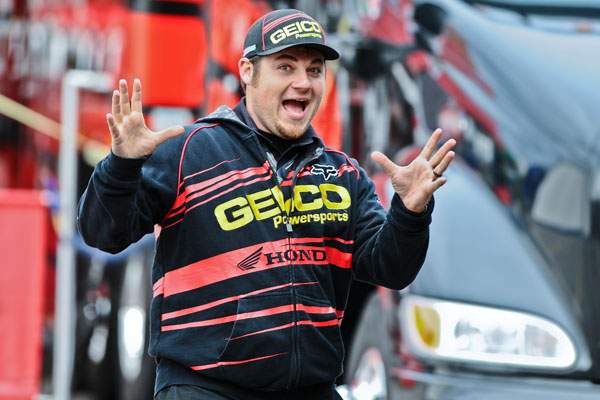 Brent Presnell is sometimes surprised by things he sees every weekend.
Photo: Steve Cox
So, you literally don't know what it's like to wrench for anybody else?
You're right. I have never wrenched for anyone else. I worked for Metty at an REM race one time, but that's about it...
Yeah, but like full-time, forming a relationship, learning their quirks while they're learning your quirks... You've only done that with one dude?
Yeah, that's very true.
Somebody told me you had some sort of affinity for the music from the TV show Glee. What the hell is that all about?
Throughout my High School career, I played trumpet in the marching band. I actually played in the marching band when I went to college, so I was pretty good at that, too. So, I've always had a liking for music and random things like that. I don't really know how the Glee thing started other than I had a pregnant wife last year that kind of controlled everything we did. So, when Glee was on, I had to watch Glee or else I had to go do something else. I actually got hooked on it. I was like, "Wow, this is actually pretty clever." It's definitely gay and dramatic, but it's hilarious to watch. I don't know, I just kind of got into the music. I think I have every Glee album on my iPod right now...
Is that primarily what you listen to?
Not entirely, no. I do listen to that a lot on the airplane, though. It's my music to get me going for the weekend.
[Laughing] You listen to Glee to get you hyped up?!
Yeah, it'll make you feel good. It's feel-good music. And you've got to be very confident in yourself to pull something like that off.
Not if it's in your iPod; you're just a closet gay.
Hey, I listen to it in the truck sometimes, too. I've had some pretty random looks.
With the window down?
Yeah, three tens and it's thumping some stuff!
It's thumping band music from a dude with a bass drum strapped to his chest...
I do that, too. I have my albums from the bands I was in.
So you remember the glory days of when you played trumpet in the High School band?
I do. High School band was a lot of fun, but the college stuff was awesome. It was like a 300-piece band and it was everyone that was way better than you were, so everything sounded awesome.
Then you could get drowned out and it didn't matter if you sucked real bad?
It did but it didn't at the same time. You could hide if you wanted, but I can hold my own. I was doing all right.
I think it's pretty safe to say that you're the only band geek that's wrenching right now in the pits...
Probably so. It was weird because it's the one thing Lindsey always said that she liked. I raced in High School, so on the weekends I was this completely different person. I was this motocrosser and hip like all of the cool kids. Then, during school, I was the straight-A student. I don't think I ever had anything below a 4.1 GPA through school. And I was in the marching band, so I was a band nerd. Come Friday, after the football game, we marched at halftime, loaded in the motorhome and drove to a race, raced Saturday and Sunday and came back. I had two lives, so I've been very fortunate to see both sides of it.
You've got a baby now; Beckham...
I do. He's three months old already.
Well, when you have a little one like that and you've had that sort of experience in your life, when you've been almost two opposite people, what do you aspire for the baby to be someday? Would you prefer them on the band geek side or more on the gnarly motocross side?
That's a tough call because of course I want him to do whatever he's into, but you see the amount of work and effort it takes to be in motocross; you see the handful of guys that actually do it [for a living], and then you see the hundreds of others that are just struggling and chasing... It's definitely one of those things where I'm not going to push anything. Play a trumpet, and if everyone calls you a nerd, we'll get you a dirt bike!
It's the best of both worlds I guess. To round it all out, with Trey moving teams next year, I'm sure you're hoping to go with him being as you have this relationship with him and have been with him for so long. Is that going to happen? Or are you preparing yourself to learn how to wrench for a completely different person?
You know, I don't know exactly what's going to happen. Obviously, yes, definitely going to go on with him and moving up and continuing our relationship and his career and everything, I want to do that. But I've also got plans where I say, "All right, I'll see if I really need to learn how to work with someone else or do a different type of job within the industry." I've learned quite a bit and I kind of see some stuff where I think I've got some pretty good ideas to do something about this. So it's one of those things I just have to wait and see how it happens. I've got some plans, so I'll keep going along for sure.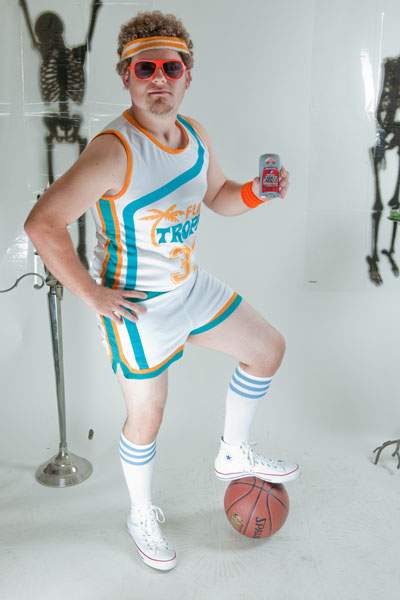 At the Annual Cox House Halloween Party last year, Brent came as Jackie Moon.
Photo: Steve Cox
So, choice A is wrench for Trey...
Yes, choice A would definitely be wrenching for Trey. I would say choice B is kind of open because I'm really putting all of my eggs into Trey's basket. I'm hoping it all works out. I do have an option to stay with GEICO Powersports, which I may end up doing should it not work out. I just have to play it by ear. Aside from that, I guess I could be his practice-bike mechanic, or just official man-friend.
That pays pretty well, actually...
It doesn't pay that bad.
Some of those man-friends are walking around in $500 jeans!
Yeah, that's ridiculous. There's no need for that. So, we'll see. If I did that, I'd go back to school. Trey's not going to race forever, so I've got to figure out what I'm going to do.