Another week down in 2010 and another Racerhead. Let's begin with good news, and then strange news. The good news is that there's a new Weigandt in the world! Jason Weigandt and his supercool wife Alisa are proud parents for the first time! Little Miss Lily Weigandt entered the world yesterday afternoon after a very long wait—like, really, long. But mama and baby are doing just fine.

"TheCynic82" posted the funniest motocross video since "Brandon's first race." It's an overly excited 65cc Italian rider who is either absolutely, over-the-top stoked about racing or the recent recipient of a supercross-sized portion on energy drinks. Check it out:
It was an interesting week at the Racer X Offices. For a few days we had the world's fastest parking lot, as GEICO Powersports Honda's Brett Metcalfe and current privateer Grant Langston (yes, he's a privateer, no matter how you look at it) parked together in the company lot. And staying off-site was another privateer, Scotty Champion, along with his girlfriend, Erin Normoyle. We even had the illustrious GuyB of VitalMX.com fame hanging out for a day before heading south with his Tacoma-and-camper mobile HQ. It was fun to hang out with all those guys and bench race. Metty is loving the 450, loving the fact the races are being shown live in Australia, and loving the fact that his beloved Los Angeles Lakers were in the NBA Finals (he even wore his Lakers jersey to Mario's Fishbowl to watch Game 6; can't imagine how happy he and Sheena were after they clinched it last night).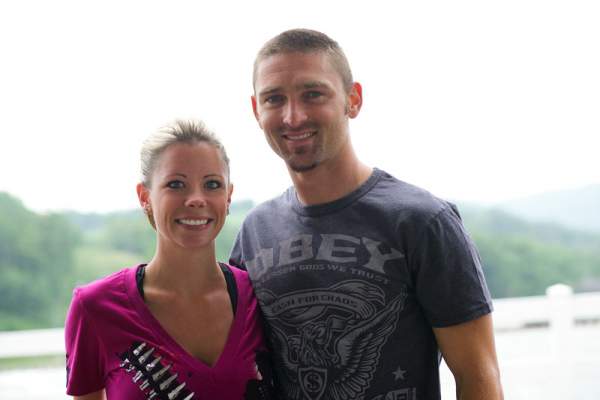 Sheena and Brett Metcalfe were around the Racer X office all week.
Photo: Fred

Another cool thing to do while in Denver

That's it for this week. See you at the races.