5 Minutes with... Brett Metcalfe
GEICO Powersports Honda's Brett Metcalfe had the first 450cc race of his career at the Hangtown National this past weekend, and he did pretty well with fourth overall, beating a gaggle of riders who were much more highly touted than he was coming into the event. He heads into round two at Texas with a little head of steam, along with the knowledge that he didn't think he even rode that well last weekend. We caught up with him after the race to get his take on it.
Racer X: So, that was your first EVER 450 race, right?
Brett Metcalfe: No... Well, yeah, 450 race, yeah. I raced a 400 four-stroke in the KTM days in Australia, when I was 16.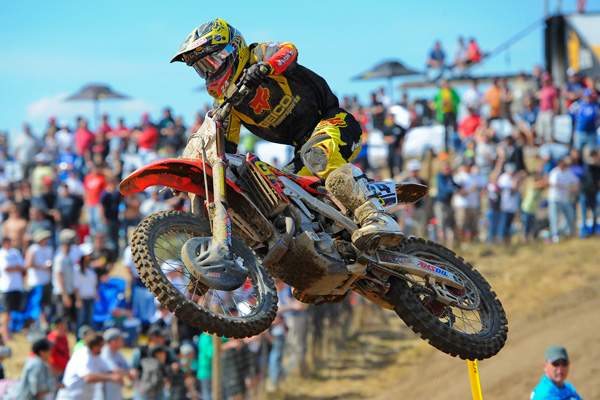 Brett Metcalfe finished fourth in his first-ever 450cc National.
Steve Cox Photo
So what did you expect coming in?
Nothing...
But I've been hearing from people on your team and others that saw you on tracks and stuff that you were going fast.
I've been riding pretty good and just keeping it steady. I'm just trying to learn the bike and take my time with it. Coming in, I had a feeling I could have maybe even done better than what I did today. I knew that was possible, but I really just wanted to keep the expectations out of my mind.
So you don't freak yourself out?
Yeah, it's just a new group of riders and you're just excited to go out there and compete and I just wanted to see. It was an engaging race, but also, in the back of my mind, I knew I'm riding well enough to win.
It's only one race, so you don't know everything you're going to know a few races in, but what strikes you as the big differences between the two classes?
You know, I was thinking the 450 class wouldn't be as aggressive, but I think I was a little bit wrong today. I was like, man, it's pretty aggressive. Everyone was going everywhere and I think this racetrack, being so muddy in the first few laps, made it even more crazy. People were crashing in front of you and you're dodging people, so it was kind of scary, but the difference is you're riding against people that are a little more mature. They've been champions or won races and they know what to do.
So you can trust them a little more?
You can trust them but they're much more – I don't know how to say it really... Race crafty? Savvy?
So, you're saying they're going to be better at passing you, or harder to pass...
Every rider is, exactly, harder to pass. They don't give up. They know how to control themselves. So, it's just a field that's talented. They get there because they've done well.
Well, you've got 22 more motos, so the saying is that you can't win it in the first one, but you can lose it, right? Coming out of here with solid points, it has to kind of feel like a victory even though you thought maybe you could do better, right?
Yeah, I mean I've said this before, championshipwise, points are good. I'm really stoked with anything in the top five here. Personally, the way I rode prior to the race, I felt like I would be better, so I don't know. I'm not just saying that because I didn't win, but no matter what the results, I want to ride my best.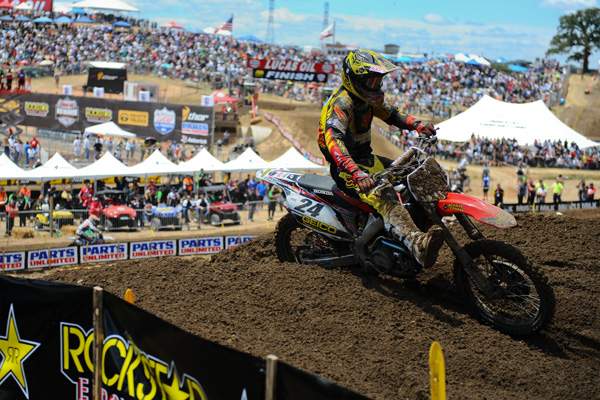 Steve Cox Photo
Are you saying that you don't think you rode your best?
I don't think I did. I think I can definitely do better than that.
After all those years on 125s and 250Fs, do you think this 450 really kind of suits you? It kind of looks like it does...
Yeah, I love it. I just love riding this thing. I mean, it's just time, you know? I'm 26...
I think that's like 45 in Lites years...
I know, it's a lot, but I think right now is the right time for me to move up. Some guys never really move up to the 450s. There are a lot of guys that don't do that, but the top guys, they do. So I feel ready and my racecraft is good enough to be out there and race for the season-long championship. That's what I have in mind. There's nothing different, mentally, from 250 to 450 for me.
While I was hearing all these people saying Metty is going fast here and Metty is going fast there, I think overall, people weren't talking too much about Brett Metcalfe in the media or fan worlds. It seems like when people talked about Hangtown, or the title, your name never really came up.
Sure, well that's normal. I mean, I get left out of a lot of that stuff. That's all right, we fly under the radar. I'm just doing my thing. I try and keep it not too flashy. I'm just doing my work, coming here to the races, and I'm just loving it. I'm just passionate about this sport. I love racing.
You've run into one or two guys before in the 250cc class, so did you hit anybody out there?
Yeah...
Hard?
Unintentionally...
Who?
Me and Shorty got together, and he went down...
Oh, in that top turn, second lap?
Yeah...
I saw him go flying off the track. That was you?
I dragged his bike probably up to the top of the corner. It had absolutely no intention...
What happened?
Well, he went inside in the right-hander [before the turn where they collided, which was a left-hander] and I came down with a little more momentum and then hit the outside thinking, "Sweet, I've got this pass." I just hit the throttle and took the inside of the next one, and as he exited that right-hander on the inside, he hit a nasty kicker, so he swapped and then just went straight and, yeah, we hit pretty hard right there. I think it blew him off the bike. I don't even know what happened. I think he fell off and his bike was lying across me and I just had to grab a handful because the bike was like falling over. So, I've got two bikes, and his bike is leaning on me, and I'm just like "Raaaa" [makes a twisting throttle motion with his right wrist].
So, you were riding two Hondas for a minute.
Yeah, I was riding two. It was like 900cc.
It's not faster, is it? You'd think it would be having double the displacement...
[Laughs] No... Way slower, dude. It's way slower. That was about it. Oh, and then de Dycker was kind of getting crazy on me in that second moto. That was it. It was just good racing.
You don't want to get into it with that guy, though, because he's like nine-feet tall.
Yeah, he's pretty big.
He might beat you up in the pits afterward.
He's a pretty big dude. So I just got away from him. I'm like, "All right... Braaap."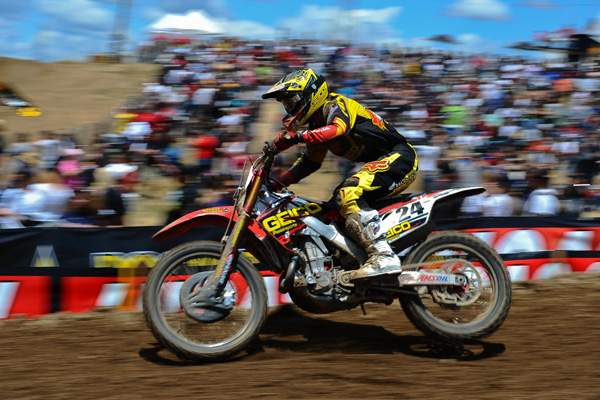 Steve Cox Photo