The track played a factor in the wild racing, as the soft St. Louis dirt rutted up and broke down, but the riders were still pushing hard for wins and had to go for the big jump combinations anyway. In the end, that cost Monster Energy Kawasaki's Villopoto his shot at the championship, as he went down and down hard trying to triple out of a rhythm section. But RV crashed while doing what he needed to do—leading the race, pushing the pace, and trying to beat Dungey and gain more points. But this time it was not to be, as Dungey, pressuring Villopoto from second, was able to ride past his downed rival and take a big win over GEICO Powersports Honda's Kevin Windham and Honda Red Bull Racing's Andrew Short.

There was a big pile of contenders heading into the Supercross Main Event, as Dungey and Villopoto both looked strong in practice, and they were 1-2 in qualifying times. But in the heat races, Monster Kawasaki's Chad Reed and Muscle Milk/Toyota Yamaha's Justin Brayton took it to the series' leaders. Reed passed Dungey on the first lap of his heat race and checked out with a win, and then Brayton did the same to Villopoto in the next heat and won it. Brayton and Reed beating the Ryans straight up? You had a feeling things were going to be different tonight.

Nick Wey snagged the $1500 Spike Holeshot, with Dungey and Honda boys Short and Davi Millsaps next. Dungey made short work of them and then went after Wey, who held strong to lead the first lap. Soon Dungey then made the pass for the lead, and Villopoto then zapped Short and Wey. Finally, finally, the race between the Ryans was on.

For the first ten laps, they went back and forth, Dungey's one second gap changing by no more than a tenth of a second or two. Then Dungey hit lapped traffic and Villopoto closed in…and wasted no time going for a crazy block pass attempt that took them both down! The championship contenders, who have missed each other on the track nearly every week, were down on the ground in a heap, bikes locked together, with Short and Windham coming up quickly from behind. The crowd was going crazy as Dungey and Villopoto finally got up, with Villopoto getting going first, Short jamming into second and Dungey back to third. Dungey then passed Short, and now it was his turn to do the chasing.

And once again the gap remained at right around one second, Dungey not relinquishing any room to Villopoto and keeping the pressure on. And then, in one short moment, it all changed: Villopoto's front end dropped on the take off of a triple, and he bailed off in mid-air knowing he was going to come up short. Same thing happened in Atlanta, but that time his barely made it over the last jump. This time he faced the landing, feet first, and immediately slumped to the ground. Dungey rolled past to take the lead with Windham right behind him.

Villopoto didn't move at first, and he was eventually taken away from the track on the Asterisk Medic Mule with his leg in an air cast. Rumor has it that he has broken his lower leg, but official word is not yet available. Regardless, with just the points he lost tonight, Villopoto's championship hopes are pretty much over.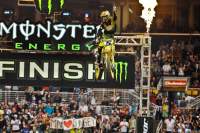 Ryan Dungey

won and pulled out a massive points lead.

Steve Cox Photo


The air was pretty much out of the building at that point, until the crowd realized Kevin Windham was still on Dungey's fender. With three laps to go he was just two seconds back, but then he had major problems in a rhythm lane and couldn't jump it, giving Dungey just the breathing room he needed.

And with that, the pressure is off of Dungey, who suddenly has a 37-point lead on Villopoto. Windham was pumped with back-to-back seconds, and Short was solid for third, admitting he got tired on the rugged track after spending the last two months recovering from injury.

Wey rode well all night for fourth, while Reed, after taking it to Dungey in the heat race, looked like a mere mortal and at one point was floundering back in ninth. He made his way back to fifth by the finish, ahead of Brayton, who couldn't find his heat race magic either.

Christophe Pourcel, finished last! He crashed in the second turn of the race and got stuck for a whole lap on a tuff block. His cruised for a few more laps before pulling off. Up front, GEICO Powersports Honda's Justin Barcia got the lead and dominated. Monster Pro Circuit Kawasaki's Dean Wilson tried challenging him but crashed, opening the door for Barcia's teammate Brett Metcalfe, Yamaha riders Martin Davalos and Ryan Sipes. Wilson caught back up and the battle was on for second. Sipes went after Metcalfe in the whoops and crashed his Moto Concepts machine, knocking him out of the race. Then Davalos lost the pace, leaving Wilson and Metcalfe to battle, and Wilson eventually got to second. But Barcia was long gone with his second win of the year.

The West Lites title is on the line for the next two weekends, with Jake Weimer leading Trey Canard in the standings. Dungey will head to Villopoto's home race with a big lead, while Villopoto, sadly, probably won't make the race at all due to injury. The battle didn't last long, but it sure was good while it lasted.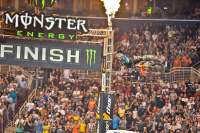 Justin Barcia

won his second main event of the season.

Steve Cox Photo


Stay tuned to Racer X Online all week for news and analysis from St. Louis.

The AMA Supercross class will air on CBS Sports on Sunday, April 18 at 2:00 p.m. EST. The Eastern regional AMA Supercross Lites class will air on SPEED on Sunday, April 18 at 6:00 p.m. EST.

AMA Supercross Class Results: St. Louis
1. Ryan Dungey, Belle Plaine, Minn., Suzuki
2. Kevin Windham, Centerville, Miss., Honda
3. Andrew Short, Smithville, Texas, Honda
4. Nick Wey, Murrieta, Calif., Kawasaki
5. Chad Reed, Tampa, Fla., Kawasaki
6. Justin Brayton, Murrieta, Calif., Yamaha
7. Michael Byrne, Park City, Utah, Yamaha
8. Kyle Chisholm, Valrico, Fla., Yamaha
9. Davi Millsaps, Murrieta, Calif., Honda
10. Tommy Hahn, Alvord, Texas, Suzuki

AMA Supercross Class Season Standings
1. Ryan Dungey, Belle Plaine, Minn., Suzuki, 302
2. Ryan Villopoto, Poulsbo, Wash., Kawasaki, 266
3. Josh Hill, Carlsbad, Calif., Yamaha, 225
4. Kevin Windham, Centerville, Miss., Honda, 223
5. Davi Millsaps, Murrieta, Calif., Honda, 215
6. Justin Brayton, Murrieta, Calif., Yamaha, 191
7. Ivan Tedesco, Murrieta, Calif., Yamaha, 183
8. Nick Wey, Murrieta, Calif., Kawasaki, 159
9. Tommy Hahn, Alvord, Texas, Suzuki, 139
10. Kyle Chisholm, Valrico, Fla., Yamaha, 136

Eastern Regional AMA Supercross Lites Class Results: St. Louis
1. Justin Barcia, Ochlocknee, Ga., Honda
2. Dean Wilson, San Jacinto, Calif., Kawasaki
3. Brett Metcalfe, Lake Elsinore, Calif., Honda
4. Martin Davalos, Cairo, Ga., Yamaha
5. Blake Baggett, Grand Terrace, Calif., Suzuki
6. Kyle Cunningham, Fort Worth, Texas, Honda
7. Michael Willard, Newark, Ohio, Honda
8. Mathew Lemoine, Collinsville, Texas, Suzuki
9. Steve Clarke, Cairo, Ga., Suzuki
10. Kyle Keylon, Brooksville, Fla., Suzuki

Eastern Regional AMA Supercross Lites Class Season Standings
1. Christophe Pourcel, Groveland, Fla., Kawasaki, 160
2. Justin Barcia, Ochlocknee, Ga., Honda, 147
3. Brett Metcalfe, Lake Elsinore, Calif., Honda, 133
4. Austin Stroupe, Lincolnton, N.C., Suzuki, 126
5. Blake Baggett, Grand Terrace, Calif., Suzuki, 118
6. Dean Wilson, San Jacinto, Calif., Kawasaki, 105
7. Ryan Sipes, Vine Grove, Ky., Yamaha, 93
8. Kyle Cunningham, Fort Worth, Texas, Honda, 84
9. Martin Davalos, Cairo, Ga., Yamaha, 83
10. Michael Willard, Newark, Ohio, Honda, 66