Ryan Villopoto early on, as he went over a berm in practice and crashed, tweaking his foot and ankle in the process. Word spread that RV had chipped a bone in the joint in his big toe, and he sat out of the second timed practice session. Meanwhile, series' points leader Ryan Dungey was running strong on his Rockstar Makita Suzuki, leading the first practice session and then taking second overall in the second session behind Kevin Windham. Villopoto's time from the first session left him in tenth overall, seeding both he and Dungey into the first heat race together.

There, Villopoto got the start and pulled a gap on Dungey early, and while Dungey closed the gap near the finish, Villopoto won the heat, showing the injuries were not going to slow him. Honda Red Bull Racing's Davi Millsaps won the second heat. When the gate dropped in the main, Valli Motorsports Yamaha's Ivan Tedesco nailed the Spike Holeshot, but Villopoto immediately made the pass and tried to get away like he did in the heat. Windham was soon up to second and ready to fight, while Dungey worked his way forward from fifth.

For several laps, there was a waiting game as Villopoto's condition was unknown, but by the halfway point it was clear he was going to be strong to the finish. Perhaps Trey Canard was the only rider putting in an equally impressive ride. As Dungey rolled up on Windham and started a huge battle for second, Canard moved into fourth, passing his teammate Millsaps, San Manuel Yamaha's Josh Hill, and Tedesco. Canard kept digging and closed in on the Windham and Dungey battle, the Honda Red Bull Racing rider showing huge determination in his final 450 ride.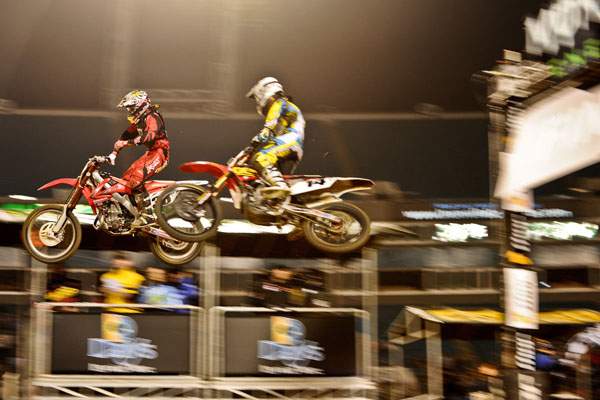 Trey Canard (38) passed Kevin Windham (14) in the last turn for third overall - his fifth podium in a row.

Photo: Cox

Then the championship nearly made a huge turn when Dungey tried to make a pass on Windham but bobbled and nearly went flying over the same berm that claimed Villopoto earlier. Luckily, he clipped Windham's GEICO Powersports Honda, which slowed him down just enough to prevent Dungey from going all the way over the berm. He regrouped and got back up to Windham, and then made the pass. Then Canard put the attack on Windham, but Windham put a nice block on him to hold him off. Canard continued to charge on the last two laps to catch Windham again. In the final corner, Canard got next to Windham and used a slick outside-to-inside move to get next to his veteran teammate (at least, teammate when Canard is racing for GEICO Honda in the Lites class). In the final straight, Canard edged ahead and snagged the final podium spot inches from the finish. Canard has taken five-straight podiums, but surely this come-from-behind effort was the most impressive.

Windham took fourth and Tedesco held off Millsaps in a battle that went down to the last lap. Hill, Tommy Hahn, Justin Brayton and Michael Byrne rounded out the top ten.

Christophe Pourcel needed a win, and he got one, but it certainly wasn't easy. After veteran Kelly Smith made a dramatic return to supercross by snagging the holeshot on his Honda of Troy bike, GEICO Powersports' Honda's Brett Metcalfe got into the early lead, with pressure being applied by Rockstar Makita Suzuki's Austin Stroupe, who is chasing Pourcel in the series' standings. Pourcel waited in third while Stroupe tried to make the pass on Metcalfe, and then "the crafty Frenchman" struck in his trademark fashion: Stroupe and Metcalfe hooked up in the corner, and Pourcel rode around the outside to pass Stroupe. Then he went by Metcalfe and extended the lead while Stroupe recovered.

It looked like a lost cause for Stroupe, until Pourcel tangled with a lapped rider and went down with only a few laps to go. Stroupe pulled up within a second of Pourcel but could not get closer, and Pourcel held on for a clutch win—extending his points lead to eight over Stroupe.

Metcalfe was happy to take a podium finish. His teammate Justin Barcia came through the pack for fourth ahead of privateer rookie Jimmy DeCotis, who took a career-best fifth.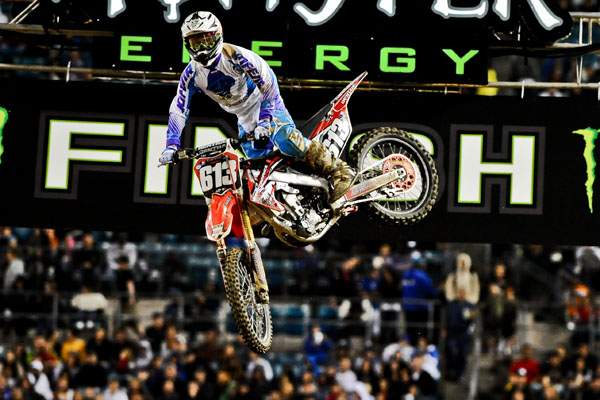 Jimmy Decotis grabbed a career-best fifth in the Jacksonville Lites main event.

Photo: Cox

The series finally gets a weekend off, certainly good news for all of the injured riders in the field. Villopoto could certainly use some time to heal his injured foot and ankle, but then again, it didn't slow him any tonight!

Stay tuned with RacerXonline.com all week for news, analysis and updates from Jacksonville, and look for full results in Yamaha's Monday Morning Wakeup call.

AMA Supercross Class Results: Jacksonville
1. Ryan Villopoto, Poulsbo, Wash., Kawasaki
2. Ryan Dungey, Belle Plaine, Minn., Suzuki
3. Trey Canard, Shawnee, Okla., Honda
4. Kevin Windham, Centerville, Miss., Honda
5. Ivan Tedesco, Murrieta, Calif., Yamaha
6. Davi Millsaps, Murrieta, Calif., Honda
7. Josh Hill, Carlsbad, Calif., Yamaha
8. Tommy Hahn, Alvord, Texas, Suzuki
9. Justin Brayton, Murrieta, Calif., Yamaha
10. Michael Byrne, Newnan, Ga., Yamaha

AMA Supercross Class Season Standings
1. Ryan Dungey, Belle Plaine, Minn., Suzuki, 261
2. Ryan Villopoto, Poulsbo, Wash., Kawasaki, 240
3. Josh Hill, Carlsbad, Calif., Yamaha, 206
4. Davi Millsaps, Murrieta, Calif., Honda, 189
5. Kevin Windham, Centerville, Miss., Honda, 179
6. Justin Brayton, Murrieta, Calif., Yamaha, 164
7. Ivan Tedesco, Murrieta, Calif., Yamaha, 159
8. Nick Wey, Murrieta, Calif., Kawasaki, 131
9. Kyle Chisholm, Valrico, Fla., Yamaha, 115
10. Tommy Hahn, Alvord, Texas, Suzuki, 113

Eastern Regional AMA Supercross Lites Class Results: Jacksonville
1. Christophe Pourcel, Groveland, Fla., Kawasaki
2. Austin Stroupe, Lincolnton, N.C., Suzuki
3. Brett Metcalfe, Lake Elsinore, Calif., Honda
4. Justin Barcia, Ochlocknee, Ga., Honda
5. Jimmy Decotis, Peabody, Mass., Honda
6. Troy Adams, Homosassa, Fla., Suzuki
7. Kyle Cunningham, Fort Worth, Texas, Honda
8. Matt Lemoine, Collinsville, Texas, Suzuki
9. Steven Clarke, Cairo, Ga., Suzuki
10. Justin Sipes, Vine Grove, Ky., Kawasaki

Eastern Regional AMA Supercross Lites Class Season Standings
1. Christophe Pourcel, Groveland, Fla., Kawasaki, 134
2. Austin Stroupe, Lincolnton, N.C., Suzuki, 126
3. Justin Barcia, Ochlocknee, Ga., Honda, 102
4. Brett Metcalfe, Lake Elsinore, Calif., Honda, 95
5. Blake Baggett, Grand Terrace, Calif., Suzuki, 80
6. Ryan Sipes, Vine Grove, Ky., Yamaha, 77
7. Dean Wilson, San Jacinto, Calif., Kawasaki, 71
8. Kyle Cunningham, Fort Worth, Texas, Honda, 54
9. Martin Davalos, Cairo, Ga., Yamaha, 49
10. Troy Adams, Homosassa, Fla., Suzuki, 47