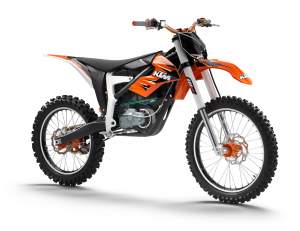 With its first zero emission motorcycle, the world's leading producer of offroad motorcycles has developed an electrically driven sports motorcycle that proves that riding fun and environmental sustainability need not be in conflict with one another. The cornerstone of this development is the clear commitment to offroad motorcycle sports and the obvious intention to go on the offensive by further expanding the strongest part of the company's business activities with a unique product that, as yet, does not exist in this format. This revolutionary development embodies completely new perspectives: Freeride also stands for the end of motorcycles fleeing the city and the accepted return of sporting motorcycle events in urban areas.

The following information is enclosed:

1.) A New Chance for Offroad Sport
2.) A Decisive Step into the Future
3.) Competitive Price Levels
4.) A Long Journey for the Development Process
5.) Completely New Patented Technology
6.) Focus on Series Ready Machines
7.) Technical Data Sheet
8.) Questions and Answers on KTM Freeride
9.) About the KTM Power Sports AG

1.) A New Chance for Offroad Sport

Due to the restrictions that exist today, many riders of offroad motorcycles are confronted with great difficulty if they want to practice their sport. Ideal basic conditions are very seldom found, even on closed tracks or special purpose parks. Regulatory requirements and demands from residents and general objections are leading to the closure of Enduro and motocross tracks. The decisive criterion against the use of competitive bikes in heavily populated areas is almost always a question of an excessive level of noise.

In order to give the sport more room and create new possibilities, there is no better solution than the zero emission motorcycle from KTM. It equates 100 percent to the sporting spirit and the race-oriented philosophy of the brand. It slips seamlessly into the product portfolio and at the same time brings with it a motor technology for sports motorcycles that until today has been very difficult to make feasible. This is a motorcycle that is extremely light, sporty and powerful, and with its electric motor, it is now also an emission- and noise-free form of mobility.

With this development it is possible to bring offroad sport close to densely populated areas, to establish new parks and riding opportunities, where until now it has been unthinkable. The use of this sport machine closer to home may generate interest in the activities of new target groups.

2.) A Decisive Step into the Future

Stefan Pierer, CEO of KTM Sportmotorcycle AG: "With the electric drive system of the zero emission motorcycle, KTM has succeeded in taking a decisive step forward in the future of the motorcycle industry and two-wheel motorsports. Above all, emission-free mobility with a motorcycle brings new impulses in the short-term and opens up completely fresh perspectives. KTM remains answerable on two counts. On the one hand we are "Ready to Race" and we want to do that with the latest technology, and on the other, as the worldwide number one in offroad sport, we must take care that the sport remains intact, and indeed, further develops!"

Contrary to the belief that e-mobility is not sport-oriented, this technology is directly and immediately an advantage to the enthusiast consumer. Now, with this zero-emission, noise-free motorcycle, a consumer may be able to practice their sport in areas that were previously off limits due to noise restrictions. Furthermore, KTM's aim is to offer "Freeride" at a comparable price to that of a similar combustion engine machine.

3.) Competitive Price Levels

Often with new technology, it is the high price that hinders the success of a product – not the least because of the significant expenditure in research and development. With electro vehicles, it is still a problem that the high cost of batteries continues to inhibit the broad-based deployment of emission and noise-free mobility. KTM has been able to solve this problem and will offer a competitive price structuring for its zero emission motorcycle right from the outset.

Mag. Hubert Trunkenpolz, Sales Director of KTM-Sportmotorcycle AG: "We can already say that the price of our Freeride motorcycles will be under € 10,000. With this we have a product on the market that is more than competitive right from outset. So apart from the fact that this positioning is on a par with a current combustion-driven Enduro of the type used in the World Championships, KTM is, in addition, setting completely new standards in matters of technology."

4.) A Long Journey for the Development Process

The development of an offroad sports motorcycle is an extreme task. A competitive bike must be small and light so that it remains agile. It must be able to endure extreme jumps and the hardest of landings as well as showing resistance to impacts, stones and even rubble. It must be able to be ridden through puddles, mud holes, rivers or streams and survive crashes which are an every day occurrence for a sports Enduro. And naturally, after the hardest of offroad days, the bike must be able to withstand being cleaned by a high-pressure washing device.

Even for a conventionally driven motorcycle this is already an enormous challenge for the developer. For the developer of an electrically driven vehicle, it initially seems to be an unsolvable task. These requirements are so far removed from what is possible, feasible or conceivable according to what currently exists in the development of electrically driven vehicles.

Nevertheless, the KTM Development Team rose to the challenge. The established research company "Arsenal Research", now operating as AIT (Austrian Institute of Technology) was called in as "reinforcement". As well as its existing competence in the area of the development of electronic/electric motors and components, this Vienna-based institute company was openly enthusiastic about motorcycle sports, forming the ideal basis for a development partner.

Since the presentation of the first rideable prototype in October 2008, the core troop from KTM in Mattighofen, Austria has taken over the development of a series ready bike. They also cooperate with development and supplier specialists from various companies from all over the world.

5.) Completely New Patented Technology

The KTM zero emission motorcycle is the embodiment of a race-ready vehicle interpretation that is typical of the company's "Ready to Race" philosophy. Like all KTM sportmotorcycles it exhibits the most modern construction hallmarks and is equipped throughout with high-quality vehicle components, representing the result of decades of experience and the continual dominance in offroad sports.

The completely new electro-drive technology developed by the KTM Development Team in cooperation with AIT sets entirely new standards. Its light-weight (under 100kg) is comparable to a 125cc two-stroke machine with a normal combustion engine. In the past, electric engine and battery durability, water-resistance and handling have been concerns of consumers that are now resolved through KTM's worldwide registered patent for the battery drive unit.

Gerald Kiska, Development leader and KTM chief designer: "The development of a conventional high-speed sportmotorcycle to series level is already a big task. The creation of an electrically-propelled vehicle of comparable quality represents an entirely new era in all areas. The use of the electric motor means a completely new layout for the motorcycle – which brings with it an equal measure of pros and cons. Our team must be in a position to allow completely new approaches and solutions and at the same time to apply the existing knowledge in an optimal way. Because of this "Freeride" is a typical KTM project – extremely innovative, courageous and full of sporting ambition."

6.) Focus on Series Ready Machines

Following promising tests, the transition of the zero emission prototype from a purely research project to a series development project has long been a reality. Intensive work is being carried out on the preparation of the finished series product at KTM headquarters in Mattighofen, Austria. The two prototypes being shown at the Tokyo Motorcycle Show are already series-near and the bike will be available for sale 18 months late in Europe.

DI Harald Plöckinger, KTM Power Sports AG Board Member: "As a company that is both innovative and a market leader, KTM has set itself the task of developing new drive systems for our sports motorcycles. The concept of the zero emission motorcycle united well-known KTM core competencies with a new and very interesting motor technology. The first prototypes are already revealing the huge potential of this development project."

7) Technical Data Information

» Vehicle concept

Frame Lightweight Delta Box frame with forged aluminium components
Self supporting tail in monocoque design

Suspension Up-side-down fork and shock absorber with variable setting
Progressive damping system

Tires 21" Trial Enduro tires

Brake system Hydraulic brake system with hand operation for the front and rear wheel
Radial brake system with recuperation support through brake energy

Engine case Combined drive casing in light metal design and all inclusive system integration

Drive motor Permanent energized synchronous motor in shrunk-on-disc construction

Engine management Modular high performance power module with integrated system and "Drive by Wire" security management

Transmission Direct drive without clutch with gear transmission and chain

Traction battery Plug in battery in li-ion (lithium-ion) technology

» Technical data
Value Unit
Motor effective horsepower 7.4 (10) / 6000 kW (hp) / Umin-1

Motor peak performance 22 (30) / 6000 kW (hp) / Umin-1

Motor torque 43 / 500 Nm / Umin-1

Maximum motor speed 6600 Umin-1

Maximum battery voltage 300 V

Maximum energy content 2.5 kWh

Speed 70 Km/h

Overall multiplication factor
(Primary / secondary level) 10.5 (2.4 / 4.5)

Charging time 1.5 h

Total vehicle weight
Including removable traction battery 90 kg

8.) Questions and Answers on the KTM Freeride

When will the first KTM electro-motorcycle be available for sale?
KTM will begin with the transition of this project into the pre-series phase in the summer of 2010. A comprehensive test program will be carried out at the same time. According to current planning, the delivery of the first "Freeride" offroad series production model will follow in late spring of 2011 for Europe.

What will the KTM "Freeride" motorcycle cost?
The price has not yet been finalized; however, the aim is to stay under € 10,000 and to settle on a price comparable to a conventional, high-quality, sport Enduro.

Will there be other variants or models?
The topic "electro-driven" certainly offers more areas of application than classic offroad sport. In the first phase, it will only involve the Enduro because here KTM wants to gather experience and push the sport. Following the enduro, there are numerous possible applications and scope for variants.

Is the KTM Freeride homologated for street riding?
In Europe, the machine will be homologated for use on the open road.

How long will the battery last under normal operation?
In principle it must be said that in the area of e-motors reach is largely dependant on the profile of the user. The range is significantly less with a motocross professional at the handlebars than with a hobby enduro rider. The development goal is to be equitable with the requirements in the area of Enduro. In other words, with mixed offroad riding, approximately one hour should be possible.

How long does it take to recharge the battery?
The battery can be used at 100% performance after 90 minutes on the charger. It is possible to recharge the battery while still installed in the bike, but it can also be simply and quickly removed and replaced with another.

How many times is it possible to recharge the battery?
The final specification of the battery has not been determined. The one that is presently being tested allows approximately 500 recharges, which is the equivalent of the normal life cycle of an Enduro motorcycle. Generally, it must be said that the development of batteries in this sector is still in the first stage and significant advances in development are expected in the coming years.

Does the "Freeride" mark the end of the classic Enduro with a combustion motor?
Absolutely not. From KTM's point of view the new drive technology represents a big chance to open up a third stream of application in the area of motorcycles. Highly developed four-stroke motors will continue to be used in the future, just as with two-stroke motors. Above all, motorcycles with an electro-motor will contribute to bringing the sport into the urban areas and at the same time speak to an entirely new target group.

9.) About KTM Sportmotorcycle AG

The KTM Sportmotorcycle AG is a leading international manufacturer of motorsports vehicles. KTM has already won more than 160 world championship titles and has won the Dakar Rally nine times. The operational core business, the KTM-Sportmotorcycle AG, develops and produces race-ready offroad and street motorcycles. The KTM-Sportcar GmbH is the company for the light-weight sports car, the X-BOW, with which KTM has taken the first step into the automobile area. With it's around 1,400 employees, the company group had a turnover in 2008/09 of approximately € 455 million. Some 17 sales subsidiaries and five joint ventures deliver KTM products to around 1,400 independent dealers all over the world.