Justin Brayton to end up fourth, dropping seven points to Dungey in the process. Between them came a battle between Honda Red Bull Racing riders Davi Millsaps and Trey Canard, who pushed each other down to the last lap with Millsaps claiming second and Canard third. In fact, they pushed each other so hard that they nearly caught Dungey coming down to the finish, all three going across the jump separated by just a few bike lengths.

But no doubt, Dungey, on his Rockstar Makita Suzuki, was always in control.

In complete contrast to that, the Lites East Region race was absolutely, positively crazy, with a first turn pileup that proved, yes, indeed, everything is bigger in Texas. A full 15 riders when down in the first turn, leaving just five machines out and running at the front of the pack. East Lites points leader Christophe Pourcel was the last rider to get up and going from the wreck, but then more chaos ensued as riders crashed all over the place. Up front, Ryan Sipes set the pace on his Moto Concepts Yamaha, with rookie Blake Baggett trailing him on a Rockstar Suzuki. BBMX.com's Troy Adams and Rockstar Suzuki's Jake Moss were also up front but they crashed into each other, allowing last week's winner Justin Barcia and title contender Austin Stroupe to sneak through. Barcia and Stroupe challenged the leaders, Sipes and Baggett, until Stroupe crashed several times and lost touch. Meanwhile, his rival Pourcel was working his way through the pack, and eventually Stroupe took fifth over Pourcel's seventh.



How improbable was Baggett's win? About 20 minutes before the main event, he was running third in the Last Chance Qualifier, looking at not making the main, when the race was red flagged due to a crash. In the restarted event, Bret Metcalfe took the win over Baggett, giving Baggett the very last gate pick in the main event. But he got through the first-turn crash clean, rode smart, and delivered a victory in just his fifth SX race.

Pourcel's point lead is down to just five over Stroupe as the series heads to Jacksonville next weekend.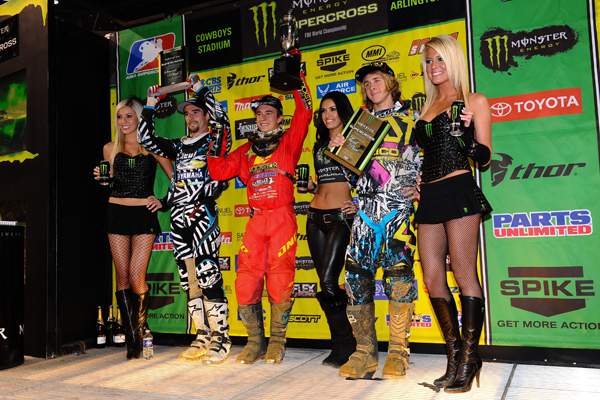 The Lites podium, with Blake Baggett in the center spot.

Photo: Cox


The Last Chance Qualifier also told a story in the Supercross Class, as Kevin Windham, who crashed in his heat race, had to race and win it. But he was left with a bad gate pick in the main event and started 18th, only able to race into seventh.

TiLube/Brown Motorsports' Nick Wey ripped the Spike Holeshot on his Kawasaki and battled with Dungey early, and San Manuel Yamaha's Josh Hill was in the mix, then came Brayton, Millsaps and Canard, too. Valli Motorsports' rider Kyle Regal also had a good start, but he cased a triple and went over the bars. His crash took Wey and teammate Ivan Tedesco down.

Hill, battling sore ribs, eventually dropped off the pace a bit, leaving Brayton to deal with a charging Villopoto while Millsaps and Canard settled it for second. Late in the race, RV made the pass to get fourth.

So now Dungey is back in control with a 22-point lead. It's going to take a mistake on his part to give those points back, but as has been proven over and over again, anything can happen this year in supercross.

The top-ten results below were made available immediately after the race. Look for full results in Yamaha's Monday Wakeup Call, as well as news, scoops and photos all week on RacerXOnline.com

SPEED will broadcast the Eastern Regional AMA Supercross Lites class at 5:00 p.m. EST on Sunday, March 21 and the AMA Supercross class at 6:00 p.m. EST.

AMA Supercross Class Results: Arlington
1. Ryan Dungey, Belle Plaine, Minn., Suzuki
2. Davi Millsaps, Tallahassee, Fla., Honda
3. Trey Canard, Shawnee, Okla., Honda
4. Ryan Villopoto, Poulsbo, Wash., Kawasaki
5. Justin Brayton, Murrieta, Calif., Yamaha
6. Josh Hill, Carlsbad, Calif., Yamaha
7. Kevin Windham, Centerville, Miss., Honda
8. Kyle Chisholm, Valrico, Fla., Yamaha
9. Jason Lawrence, Carlsbad, Calif., Yamaha
10. Tommy Hahn, Alvord, Texas, Suzuki

AMA Supercross Class Season Standings
1. Ryan Dungey, Belle Plaine, Minn., Suzuki, 239
2. Ryan Villopoto, Poulsbo, Wash., Kawasaki, 215
3. Josh Hill, Carlsbad, Calif., Yamaha, 192
4. Davi Millsaps, Murrieta, Calif., Honda, 174
5. Kevin Windham, Centerville, Miss., Honda, 161
6. Justin Brayton, Murrieta, Calif., Yamaha, 152
7. Ivan Tedesco, Murrieta, Calif., Yamaha, 143
8. Nick Wey, Murrieta, Calif., Kawasaki, 122
9. Kyle Chisholm, Valrico, Fla., Yamaha, 105
10. Tommy Hahn, Alvord, Texas, Suzuki, 100

Eastern Regional AMA Supercross Lites Class Results: Arlington
1. Blake Bagget, Grand Terrace, Calif., Suzuki
2. Ryan Sipes, Vine Grove, Ky., Yamaha
3. Justin Barcia, Ochlocknee, Ga., Honda
4. Martin Davalos, Cairo, Ga., Yamaha
5. Austin Stroupe, Lincolnton, N.C., Suzuki
6. Matthew Lemoine, Collinsville, Texas, Suzuki
7. Christophe Pourcel, Groveland, Fla., Kawasaki
8. Mike Willard, Newark, Ohio, Honda
9. Tyler Futrell, Clinton, N.C. KTM
10. Steven Clarke, Cairo, Ga., Suzuki

Eastern Regional AMA Supercross Lites Class Season Standings
1. Christophe Pourcel, Groveland, Fla., Kawasaki, 109
2. Austin Stroupe, Lincolnton, N.C., Suzuki, 104
3. Justin Barcia, Ochlocknee, Ga., Honda, 84
4. Ryan Sipes, Vine Grove, Ky., Yamaha, 77
5. Brett Metcalfe, Lake Elsinore, Calif., Honda, 75
6. Blake Baggett, Grand Terrace, Calif., Suzuki, 71
7. Dean Wilson, San Jacinto, Calif., Kawasaki, 71
8. Martin Davalos, Cairo, Ga., Yamaha, 47
9. Nico Izzi, Albany, Ga., Yamaha, 41
10. Kyle Cunningham, Fort Worth, Texas, Honda, 40