In what may be a Racerhead first, I want to talk about Women's college basketball for a second. The University of Connecticut Huskies just broke the NCAA record for consecutive wins, now up to 72 (that's a big number in AMA Supercross – Jeremy won that many races in his career). But rather than discuss just how great this team is, we're starting to see stories about how bad this is for women's basketball.
What the heck does that have to do with out sport? Nothing, except for the fact that it's refreshing to have a series going on right now where we don't have a foregone conclusion as to who the winner may be each Saturday night. It's a big difference from, say, 2001 through 2006 in AMA Motocross, where
Ricky Carmichael
won, what, 90 percent of the races? Or even back in the mid-nineties, when
McGrath
was at his dominant best in AMA Supercross. We may miss our heroes when they're out or retired but good, close racing is a huge asset to the sport moving forward, and no matter who lines up this summer or next season in the 450 class, I don't see another dominant era starting up that would rather Ricky's and Jeremy's, let alone the UConn lady hoopsters.
I got an update from 1980 AMA Supercross Champion
Mike Bell
on his brother
Scott
's condition after his automobile accident of a fortnight ago. His doctor has removed the breathing tube and Scott appears to be making good strides. By now he should be out of bed and walking around. He's got a rough road ahead of him, but he seems willing to do whatever it takes—typical Scott Bell! Thanks to everyone out there for their thoughts and prayers.
In a major move in the motocross industry, designer extraordinaire
Marc Blanchard
decided last Friday that the time is right for him and his family to back off the throttle after more than twenty years of solid work. Blanchard moved here from France to pursue his motocross design dreams, landing a spot with JT Racing and helping lead them for many years. He then cofounded what I believe to be this generation's JT Racing, One Industries. But I am biased: when we started
Racer X Illustrated
, we went straight to Marc to ask if he would be interested in designing it on the side. He was, and so
Chris Hultner
and
Eric Johnson
and myself started setting up camp every other month in a corner of the crammed One Industries' warehouse down on India Street in San Diego and worked with Blanchard to build the base of what we have today.
Ricky Carmichael
after the 2007 Motocross of Nations at
Budds Creek
, he knew the time had come for the next phase of his life—spending more time with his wife and kids. If his last major project was the new David Bailey riding gear, not to mention the entire 2010 One Industries line, Marc Blanchard went out on top.
Merci beaucoup, Marc, bien fait!
Oh, and speaking of the limited-edition David Bailey racewear, it's now available for purchase over on the One Industries website!
Click here
to buy a set or two, because I'm sure they won't last long.
Here's
Jason Weigandt
:
I drove up to Toronto yesterday with Jeff Canfield, who works in our MX Sports office during the week. Feld Motor Sports had completed a bunch of paperwork so I wouldn't have to pretend I was a fan coming across the border - I actually told them I was here to work and showed them my papers. So then they made Canfield and I get out of our truck and go into a building for some grilling.
Ten minutes later, they told us we were good to go. Whew!
Chad Reed
would indeed not be racing this weekend. I texted Chad myself and there didn't seem to be any messing around: he is out for the weekend. That's a big bummer, and Chad agreed with "When it rains, it pours." If I were to guess when he would come back, I would guess Jacksonville, since that's close to Florida and should give him time to heal. But after that race comes a weekend off….
Reed may not be back yet, but
Nick Wey
is back on his original team, TiLube/Foremost Insurance Kawi, with
Allan Brown
. Check out
this interview
with Nyk that we posted earlier today.
There was also a rumor that
Ivan Tedesco
had broken his hand in Daytona, but we now hear he only had a cut. After some stitches, he was pronounced ready to go and is on his way to Toronto right now.
Justin Brayton
also told me this week he is banged up but will be fine to race this weekend.
Track should be fine too. Feld Motor Sports found a better place to store the Toronto dirt, so it didn't get assaulted by rain and snow like it often does. In the past, the dirt got wet, then froze, then thawed inside the building, leading to a strange, soft, rutted track. I'm hearing it will be drier this year. Think of the progress in Indy and Atlanta, which have transformed from soft to hard-pack.
DC
mentioned earlier,
James Stewart
was a guest on the DMXS Radio Show on Wednesday night. It was a hilarious interview that went on for a good hour, and toward the end James talked about how badly he wanted to race outdoors this year in the Lucas Oil AMA Pro Motocross Championship. On a scale of 1-10, James said he's a "12" as far as going to race motocross this season. Wow! Of course, I'm sure a lot of logistics have to be worked out, first including Stewart healing up from his wrist injury properly, and then his San Manuel Yamaha team will have to set up for the full series, which they have never done before. But I have a feeling James is super motivated to show everyone he hasn't lost anything outside. I would call this the perfect storm, but that term has become way overused in this sport, and that movie came out ten years ago. Let's call this summer's outdoor tour something new.
Crazy Heart
?
Avatar
?
The Hurt Locker
?
The Blind Side
?
Clash of the Titans
?
The Action Sports Medicine Foundation, which is essentially the Asterisk Mobile Medical Unit for the amateur set, will be hosting a cool fundraiser Friday night in Jacksonville. It's a good way to meet some of the stars of supercross.
Check it out
.
And Speed will have live SX coverage again from Toronto - that's four straight weeks. Our little webcast is back, too, after a week off in Daytona so tune in to hear myself and
Jim "Hollywood" Holley
at
www.supercrossonline.com/supercrosslive
we will have some good guests, scoops, info, the race call and a chance for you to win prizes by calling in!
Here's
Cox
:
The real question regarding
Chad Reed
's return is if his teammate
Ryan Villopoto
or points leader
Ryan Dungey
can keep him from winning. At this point, if Villopoto won out and Dungey finished second in every race, Villopoto would win the title by four points. But if Reed begins winning everything and Villopoto gets second and Rockstar/Makita Suzuki's Dungey gets third (in every race), Dungey would win the title by four points. And this isn't even including the other X-factor who has yet to return: San Manuel Yamaha's
James Stewart
. It's going to get interesting.
Nick McCabe
on the Daytona Amateur SX:
Ricky Carmichael
and MX Sports for the first
Ricky Carmichael
Amateur Supercross Championship. With the exception of a long pre-event registration line on Saturday (all participants will be receiving a "make good" email with discount certificates from the event sponsors), the event was a huge success, attracting riders from all over the world. The weather was perfect and somewhere around 800 competitors took to the same
Mark Barnett
-designed track that hosted the stars of the Monster Energy Supercross series the night prior.
For complete event results,
click here
.
Check out
this video
by
Matt Francis
on the race, and
here's one from RCU
.
Also,
Matt Wozney
from MXPTV was put these two videos together, including a cool helmet-cam video with New Jersey rider
Frank Lettieri
:
Video 1
Video 2
Ricky Carmichael
University event, which was held on Monday and limited to 100 lucky participants. With Ricky himself as lead instructor, the school also boasted
Jeff Emig
and
Jeff Stanton
as tenured professors and offered students countless national championships' worth of experience. The school also had Dunlop test rider and privateer hero
Clark Stiles
and
Jeannie Carmichael
rounding out the five "classes." The weather was again perfect, and riders had well over five hours of riding time and instruction, in addition to two classroom sessions. Also enrolled in the class was NASCAR legend
Kyle Petty
(the son of
Richard Petty
) and Speed TV's
Rutledge Wood
, who both enjoyed taking lessons from the GOAT. Read about Kyle Petty's experience in the
Daytona News-Journal
right
here
.
At the conclusion of the day's activities, riders received diplomas and gift bags full of swag in Daytona's famous victory lane. In addition, parents and friends were treated to seminars by none other than Pro Circuit's
Bones Bacon
(suspension),
Robb Beams
(fitness and training),
Andrea Leib
(education), and the crew from
Fox Racing
(riding gear).
Photographer
Hoss Sharifi
of
www.FactoryPhoto.com
was at the event, and snapped over 6500 from the two days of racing and the school.
Click here
for his shots.
For Carmichael, it was a big weekend – on Saturday, he achieved his best-yet NASCAR Camping World Truck finish in Atlanta with a sixth. He then hopped on a plane and flew to Daytona, where he ran color commentary for the supercross race, then hosted his amateur race and school.
Check out
this link
from Racer X videographer Matt Francis. This didn't make his recap video, but it's way too funny to not give it some props. These two RCSX riders somehow took each other out, and instead of coming to blows, one guy just decided to roost the other:
Thanks, Nick.
Here's
Ping
:
Kyle Regal
/Valli Yamaha debacle is going to get much uglier before it gets better, and it's nothing a little common sense and communication couldn't have prevented. I had Kyle and his stepfather come out last summer for a tryout with the TLD/Lucas Oil Honda team, and while we were impressed with his riding, it was pretty clear that things weren't going to work out with him. I wanted him to be in California during the preseason and they didn't want to leave Texas. They believed they had all the answers out there in the Lone Star State, and despite the fact that he had never raced a supercross at the time, they didn't seem interested in the direction and advice we had to offer. There's no question that Kyle works really, really hard and is talented, but you can't burn bridges in an industry this tight-knit. And you really shouldn't ever burn a bridge while you're still standing on it. Hopefully it'll all get sorted out soon. I feel bad that just four rounds into Kyle's young career, he already has a reputation for being difficult.
I got some disturbing news this week about Johnny Campbell Racing rider
Timmy Weigand
. Apparently, he had a small stroke this week. After some tests, it sounds like he is going to need open-heart surgery to repair small holes in his heart. I haven't had a chance to talk to him directly yet, but here's wishing Timmy good luck and a speedy recovery.
Is anyone else a little confused by the homologation rule? I don't know of a Suzuki dealer anywhere that has a 2010 250F, but
Austin Stroupe
is racing one. And
Mike Alessi
is planning on riding a KTM 350, but I don't think dealers have even been told when they are getting them. I thought the rule was that there had to be 300 of them in the country before they could be raced. Then I heard that the rule was 100 in the country by the end of the series. Are the rules changing? And if so, why? There are teams still running 2009 models (Rockstar/Canidae Suzuki, Hart & Huntington) and they are doing just fine. It just seems strange to me that I can't get a straight answer about it, that's all.
And finally, a tip of my cap to one of my favorite French guys, Marc Blanchard. I met Marc in 1992 when I rode for JT Racing. Marc was the designer there, and even though I've butchered his name intentionally for the past eighteen years [I like to overpronounce it), he has always been one of the nicest guys in the sport. Good luck with your next move, Blanchwah. I'm sure I'll see you at the races.
If you missed it, check out this week's
Your Collection
. It features a small sampling of DC's event program collection.
Here's
Bad Billy
:
Man, it's been awhile since I been to a supercross, but luckily I got to go to two in a row. First off, I was invited to Atlanta by the fine folks at Red Bull to participate in the Red Bull Re-MX event, which took place the day after the supercross out at Bremen Race Park. Though I wasn't on the winning team, I still had a blast riding with my teammates,
Justin Dawes
from
MotorcycleUSA.com
, and
Hunter Hobbs
. Look for more on this event in the June issue of
Racer X
. For now, check out
this video
.
Next I headed to Daytona to compete in the inaugural
Ricky Carmichael
Amateur Supercross Championship. I competed in the Plus 25 class aboard a BTOSports.com/BBMX/Palmetto Suzuki, so I owe
Forrest Butler
and the team a big thanks for helping me out. I also want to thank
Mark Giannatonio
for being my mechanic on his day off. You can look for more on my experience as a BBMX rider as well as a story on the event in a future issue of the mag.
You also have a chance to be a factory rider for a day. All you have to do is subscribe or renew your subscription to Racer X, and you'll be entered to win a chance to ride for the Rockstar Energy Drink Suzuki team on amateur day at the 2010
High Point
National. Click the image below for details.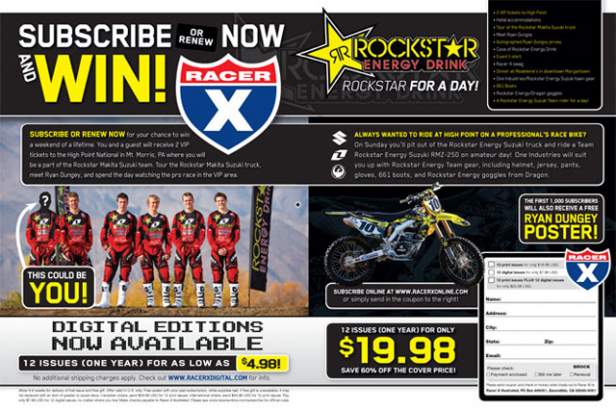 In other news:
Are you happy with your subscription to
Racer X
but wondering what happened to your Racer X Films DVD? Well, they are at the duplicator right now and will be shippinng soon. Don't worry, it will be worth the wait!
A
Marty Smith
MX Clinic is scheduled for April 9 in Houston. This clinic will be held to a ten-rider limit. The class is scheduled for Friday, April 9 from 9:00 a.m. to approximately 3:00 p.m. Instructional and practical training will be provided by Marty Smith. Both night track and main tracks will be utilized for conducting this class! Darrel Penkert will have both tracks prepped-to-the-max for this event. Marty has graciously provided this opportunity, since he will be in town for the Houston Supercross on Saturday, April 10. To contact the Marty Smith MX clinic,
click here
.
Gary Bailey
is in a contest to design a custom Sprint Cup car for Team Toyota drivers. If Gary gets enough votes, we may just see his design in the 2010 NASCAR Sprint All-Star Race.
Click here
to vote for Gary's design.
From reader
Tom Coleman
:
"About a month or so ago you guys reported that the Pontiac Silverdome was sold and was going to be redeveloped into soccer fields. Well I just wanted to send you this link so you can see what has actually been done with the former supercross venue and the only place that still gives me chills to see in the distance! Here's hoping for a return to supercross in Michigan. I guarantee the first race will be a sell-out!"
After getting numerous requests, Troy Racing is announcing the return of its highly successful rider-support program.
Click here
or visit the main page of
www.hondaoftroy.com
to fill out an application. Riders who are accepted will receive discounts on everything Troy Racing offers including motor and suspension work from Eleven 10 Mods.
Check out this
blog post
about
Ken Block
's latest rally race.
Don't forget to
sign up
to win a new Kali AATMA(R) helmet in our TGI Freeday contest.
YouTube video of the week:
Jason Doyle
,
Jeff Doyle
, and
Kevin Walker
perform a musical parody in talent show at the 2009 Loretta Lynn's Amateur National Motocross Championship. Check it out below: