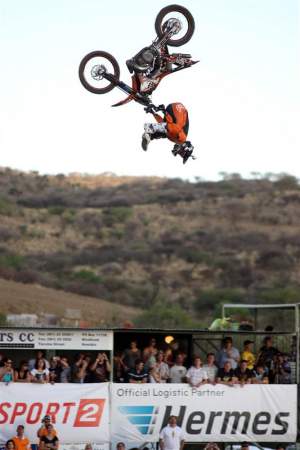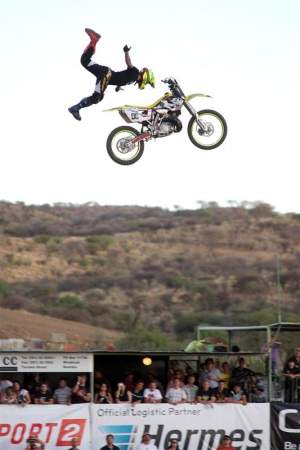 On December 5th this years IFMXF season will end with an amazing showdown at the NIGHT of the Jumps Brazil. The 12th and final contests of the FIM Freestyle MX World Championship will bring the decision of the Vice World Champion. Four riders still have the chance to reach 2nd place in the overall ranking. Libor Podmol is now on 2nd position with only one point ahead of Jose Miralles. Brody Wilson lays 4 points behind the Spaniard. Brice Izzo has a gap of 11 points to Podmol. But there still 20 points to give in Fortalesa and Izzo won in Brazil last year. So the spectators will see a showdown of the giants in Estadio Castelao.

But for sure Remi Bizouard will be highly motivated to win in Brazil. The French rider defended his World Championship title with a 7th place in Namibia. But it was the first time ever, that Bizouard could not reach an IFMXF final. So he wants to end the season with a win. And don't forget Steve Mini, who took the win in Namibia. The Aussie rider wants to improve his victory by a place on the podium in Fortalesa.

Marcelo Simoes will represent his country. The best Brazilian rider had a solid debut on the IFMXF track with his 8th place at the NIGHT of the JUMPs Fortalesa last year. If he joins the finals he would commend himself for a starting place at the IFMXF season 2010. Fabian Bauersachs, Hannes Ackermann and Massimo Bianconcini will fight also for their IFMXF starts 2010. The Brazilian rider Octavio Neto and Gilmar Flores will complete the field of riders.

Field of riders NIGHT of the JUMPs/
FIM Freestyle MX World Championship Fortalesa:
Remi Bizouard (FRA)
Jose Miralles (ESP)
Brody Wilson (USA)
Libor Podmol (CEZ)
Brice Izzo (FRA)
Steve Mini (AUS)
Massimo Bianconcini (ITA)
Fabian Bauersachs (GER)
Hannes Ackermann (GER)
Marcelo Simoes (BRA)
Octavio Neto (BRA) tbc.
Gilmar Flores (BRA) tbc.