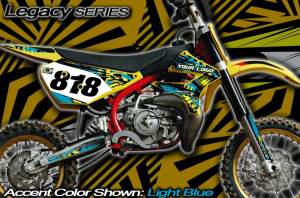 MGX Unlimited graphics is pleased to announce the launch of the all new 2010 graphic line for Cobra mini cycles featuring 21 brand new designs. These new designs are also now available for the newly designed 2010 Cobra King and CX 65 models. MGX Unlimited is proud to offer the industry leading Semi-Custom graphics line up, with the most options on the market today.

Make sure to check out MGX Unlimited today! www.mgxunlimited.com

2010 Sponsorship Program Available

For 2010 MGX Unlimited graphics is able to provide the most extensive line of Semi-Custom graphics and Pre-printed backgrounds in the industry, while continuing to offer the Full-Custom designs to suite any riders needs. Resumes for the 2010 season are being accepted now, apply today!

Resumes must be submitted electronically through http://www.sponsorhouse.com or www.mxsponsor.com.

About Us:

MGX Unlimited was started at the beginning of 2008 with the merger of both Motographx and Vision Motocross, both started back in 2005. MGX Unlimited is here to bring you the customer the best both prior companies had to offer, the supreme quality and clean designs of Vision Motocross and the custom cutting edge designs that Motographx became known for.

The MGX Unlimited Design team is here to offer unlimited possibilities and can create anything you can possibly want. From our Semi-Custom graphics lines, Full Custom, Pre-Printed backgrounds, and Personal I.D. Decals we are your one stop decal shop. Make sure to call us today to see what we have to offer.

Call or email us today to see how MGX Unlimited can fit any of your individual needs from Retail to Dealer sales, MGX has you covered.