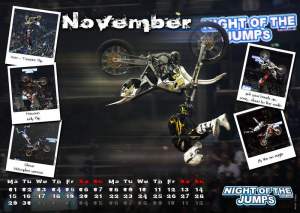 The official NIGHT of the JUMPs 2010 calendar is available now!
Featuring the hottest action from all the IFMXF riders, events, girls and fire breathing working machines of the worldwide NIGHT of the JUMPs tour 2009!

The NIGHT of the JUMPs calendar in super size format 50 x 35 cm (20 x 14 inches) is available now to order for only 19,95 € + shipping through www.ifmxf.com.