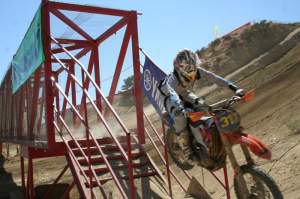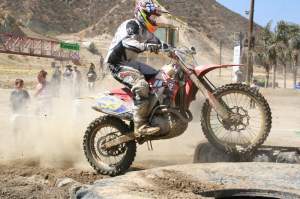 KTM's Kurt Caselli put the demons of a less than satisfying GNCC season behind him and returned to his home track of Glen Helen to win round 9 of the WORCS series by a decisive margin ahead of KTM team-mate Mike Brown. "I've raced at Glen Helen my whole life," said Caselli. "I've done the 12-hour and the 24-hour here, motoed, everything. So it was easy to come from the east and get my bike set-up and ready for this race. I know the dirt and terrain pretty well. It's nice to get a win; this is my first win this season. KTM has been great and patient with me in the GNCC Series while I learn the tracks back there. I've got a great team and it's nice to give them this win."

Brown was the second man in a KTM 1-2 finish. After coming from behind at the start, Brown steadily picked off other riders and moved into second with just 30 minutes to go. His sixth podium of the season also put him back in to the point's lead for the WORCS Championship. "It was a good race," said Brown. "I was tight early on, but pushed through that and got a good strong pace going and kept moving up. You win these races in the second hour and I felt stronger as the race went on. I'm happy to get back in the point's lead, but there's still one more round to go."

Glen Helen extended his lead over Kyle Summers and Brenden Ritzman in the series.

Ritzman finished fourth for the day with KTM's Justin Soule rounding out the top five.

Summers recorded a DNF after a nasty crash left him with a broken nose and a broken foot. It was disappointing to say the least after Summers just won the last Hare Scrambles National in Utah just weeks ago. Defending WORCS Series Champion Bobby Bonds started well but pulled off after 30 minutes, a crash re-broke several ribs and Bondo couldn't continue. Five-time winner and WORCS Series point's leader coming into Glen Helen, Ricky Dietrich gated poorly and was caught in a first lap tangle. Ricky put on a charge, but eventually had to drop out before the finish.