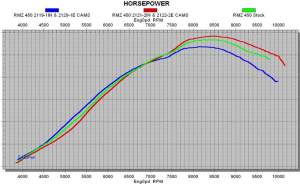 Hot Cams announces the release of their new Stage 2 intake and exhaust camshafts for the Suzuki RMZ 450. These new camshafts increase the top end and provide good over rev for the fuel injected Suzuki RMZ 450. Without having to do any adjustments to the fuel mapping these cams provide a solid increase in peak horse power. Be sure to check out our online dyno charts at www.hotcamsinc.com.

As with most Hot Cams products, the RMZ 450 Stage 2 camshafts: 2121-2IN & 2122-2E, are drop-in camshafts that utilize stock lifters, valve springs, and the OEM auto decompression mechanism. This makes installation as easy as possible. Also simplifying the installation process are our online installation videos that can be downloaded at www.hotcamsinc.com.

The camshafts retail for $189.95 each. Additionally, there is no core charge because Hot Cams are manufactured from raw billet steel. You get to keep your old cams.

For additional information, please contact Hot Cams at 515-402-8005 or visit our Web site at www.hotcamsinc.com.