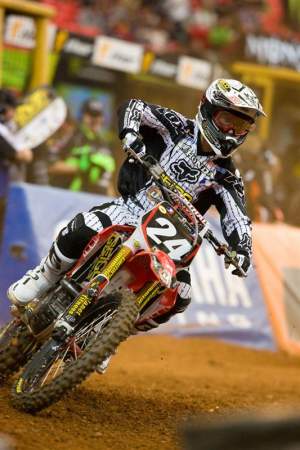 May 4: Suomy Helmets' Rick Marlin. May 5: Smooth Industries' Mike Koger.

May 6: Ryder LaRocco, Mike's son.

May 6: Rockstar/Yoshimura Suzuki's Chris Borich has become one of the top guns of GNCC ATV racing, winning a bunch of races over the last few years and pushing champion Bill Ballance to the brink every season. Unfortunately, he's ended up ranked second in the series for the last four years.

May 6: GEICO Powersports Honda's Brett Metcalfe is one of those guys who has a lot of potential but injuries have hurt his chances of winning a championship. This summer, Metcalfe will be a podium regular and he could get his first win outdoors.

May 6: San Manuel Yamaha truck driver Loren Lowry.

May 6: Live Nation's Aaron Anderson.

May 6: Sponsorhouse.com's Jeremy Marinier.

May 7: Road Racer X's editor Chris Jonnum.

May 7: Loretta Lynn's alumni, Matt Tedder Sr.

May 7: Future Racer X boss, Vance Coombs.

May 8: DeCal Works Matthew Chamley.

May 9: Sponsorhouse.com's RJ Kraus.

May 9: Loretta Lynn's alumni, Cody Ryder.

May 10: Monster Energy's Jason McCormick.