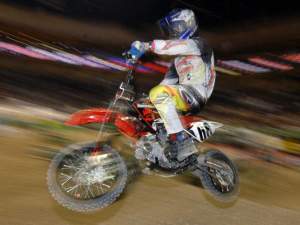 Las Vegas NV – A sold out crowd at the Orleans Arena witnessed an action packed night of fifteen main events. Red Baron Racing's Michael Blose dominated the premier 12-inch expert class over Monster Energy/BBR's Tim Weigand and Red Baron teammate David Pingree. Monster Energy/BBR's Ryan Abrigo, a consistent front runner at major Mini events, finally won the big one by topping the 10-inch Expert class over defending champion Derek Costella and Ryan Beat. Jason Lawrence, the bad boy of Supercross showed a lot of speed but could not avoid controversy as he began a block passing session with several riders and eventually finished sixteenth.

Blake Bagget dominated the youth classes on his Red Baron Racing machines. The seventeen year-old ran lap times that would be competitive in the Expert classes to finish in front of Logun Pickering and Brandon Schreuder in the 12-inch class. He then beat out Jason Anderson and Brandon Schreuder in the 10-inch class.

Victor Sheldon stole the Vet 35+ Expert class with a last lap pass on Ricky Lee, who accidentally hit his kill switch while leading. The women's class was won by Erika Short who took the lead late in the race when Jackie Ives crashed spectacularly near the end of the race.

The first multi manufacturer Electric bike race was won by Brian Roth on a Quantya over fellow Quantya rider David Lodermeier and Zero mounted Blake Mitchell who finished second and third respectively.

Overall Results by class:

10" Stock/Mod
Clint Johnson, Red Lion PA
Kyle Coen, Auburn WA
Duane Brown, Auburn WA
35 Plus
Victor Sheldon, Vista, Ca.
Ricky Lee, Palm Beach Gardens, FLA
Kevin Popaeko, Woodstock, ILL
10" Amateur
Kevin Bosch, Chino, CA
Kevin Popaeko, Woodstock, ILL
Mikey Borchardt, Plano, TX
16" Stock/Mod
Scott Burnworth, Jamul, CA
Danny Milosavljevic, Vista, CA
Dustin Somogyi, Templeton, CA
12" Stock/Mod
Randy Pekarek, Phoenix, OR
Jake Oswald, Alpine, CA
Austin Parr, Henderson, NV
8" Amateur Vintage
Derek Rose, Casco, MI
Tyson Clark, Carlisle, PA
Jay Maloney, Klupepper, VA
12" Amateur
David Segers, Belgium
Malachi Walker, Benbrook, TX
Kevin Popaeko, Woodstock, ILL
Women
Erika Short, Lemon Grove, CA
Tania Satchwell, Laguna, CA
Tatum Sik, Temecula, CA
Electric Bike
Brian Roth, Sacramento, CA
David Lodermeier, Sacrameto, CA
?
10" Expert
Brian Abrigo, Snohomish, WA
Derek Costella, North Las Vegas, NV
Ryan Beat, El Cajon, CA
12" Youth Stock/Mod
James Gardiner, Las Vegas, NV
Tristan Miller, Alpine, CA.
Steven Gibson, Lake Havasu City, AZ
12" Youth
Blake Bagget, Grand Terrace, CA
Logun Pickering, Rancho Cucamor, CA
Brandon Schreuder, Victorville, CA
10" Youth
Blake Bagget, Grand Terrance, CA
Jason Anderson, Murrieta, CA
Brandon Schreuder, Victorville, CA
12" Expert
Michael Blose, Phoenix, AZ
Tim Weigand, Canyon Country, CA
David Pingree, Temecula, CA
Baja Designs Mini Night Race
1. Kyle Coen, Auburn, WA
For rules and race information visit www.EnduroCross.com or email endurocross@sourceinterlink.com.

For TV airing dates/times visit www.motorsportshour.com
Source Interlink Media Motorsports:
Encompassing the highly successful AMA Maxxis MiniMotoSX, the AMA EnduroCross Championship Series and the AMA EnduroCross Grand Championships, the Source Interlink Media Motorsports brands reach millions of motorcycle enthusiasts with live events, DVD packages, web sites, television and magazine coverage. Visit www.minimotosx.com or www.endurocross.com.