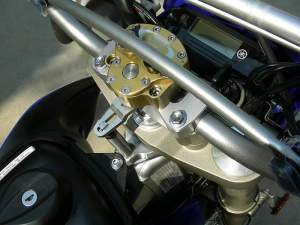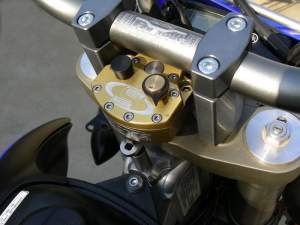 Scotts is proud to announce the stabilizer kit for the WR250R and X is finally here. It wasn't easy and it had lots of hurdles to overcome but it came out very nice. This kit is available for standard diameter bars, oversized bars and/or SUB mount style mounting. The stock handlebar crossbar is too low to use on either of the upper mounts, so new handlebars are needed, either the oversized conversion kit or the special Renthal Bars we had made with a bowed crossbar. The Sub mount version can use the stock bars as long as you request the bar reducers as all SUB mounts are made for oversized bars. The SUB mounted version will raise the bars about 25mm. All the kits keep the bar distance from the rider very close to where it is stock.

We've have had a lot of demand for this kit and expect the finished product in about a week or so. Please place your orders now so we try to make enough to fill all the initial requests. Please let the forums know and anyone else who might be interested, that they are almost ready to ship.

I've attached some photos for your viewing.

If you have any questions regarding this please feel free to call us at 818 248-6747 and or visit our website at www.scottsonline.com for photos and more info.

We also make the finest stainless steel oil filter in the world for this model. We were the original maker and still the best on the market.

Thanks for your patience and loyalty.

Scotts Performance Products.