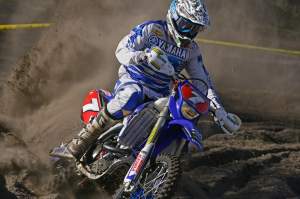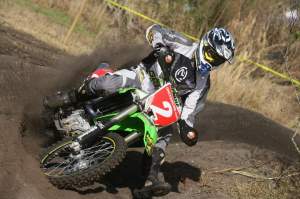 The top stars of off-road racing hit the sandy, whooped out trails of the West Gate River Ranch yesterday in their final tune-up before tomorrow's Can-Am Grand National Cross Country Series season opener. The top riders looked fast and confident, including Nathan Kanney and Kurt Caselli (Shock Doctor KTM), Barry Hawk and Thad DuVall (Am-Pro FMF Yamaha), and Paul Whibley and Jimmy Jarrett (GEICO Monster Kawasaki). In addition, Shock Doctor KTM has a ringer in 2001 AMA 125 Motocross Champion Mike Brown, no stranger to going fast on sand.

"I want to try going for this GNCC championship in a few years, so I want to do well tomorrow to show what I can do," said Brown, who leads the standings in the WORCS tour.

Today's Parts Unlimited River Ranch GNCC will also include FMF Suzuki pilots Charlie Mullins and Josh Strang, and 2000 GNCC Champion Shane Watts will compete as well. Watts won the Florida GNCC in 2007.

The event will mark the racing debut of several new teams, including the GEICO Monster Kawasaki squad with Whibley, Jarrett and Scott Watkins, as well as new entrants from Husaberg, with Dustin Gibson, Aprilia with Ryan Echols, and Gas Gas with Justin Williamson. In all, it makes up the widest variety of equipment ever on the starting line of a GNCC race.

The race gained additional international presence when eight riders from the Japan National Cross Country (JNCC) tour signed up to race, led by All-Japan Motocross Champion Takeshi Koikeda.

Fans can watch the lap times live by clicking on the LIVE TIMING AND SCORING link at www.gnccracing.com or go to http://gncclive.tracksideonlineresults.com/ The pro race begins at 1 p.m. and runs for three hours.