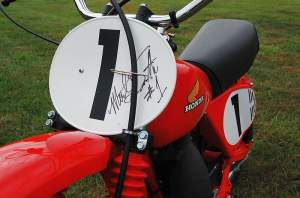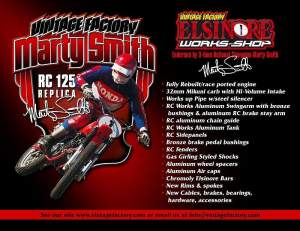 Vintage Factory and Marty Smith are proud to introduce the second series of 1975 Honda RC125 Works Replicas! These bikes are an exact replica of the machine ridden by Team Honda's 3-Time National Champion, Marty Smith! Marty won his second 125 title on a Honda Works Bike just like this one, in 1975! This is your chance to own a machine like the one ridden by America's most popular MX champion from the 70's! No expense was spared on these machines. Marty Puts his name on it!! Check out the details.

The bikes feature:


Aluminum RC Gas Tank
Aluminum RC Swingarm w/Bronze Bushings
Works Style RC Pipe & Steel Silencer
Gas Girling Styled Shocks
Aluminum Wheel Spacers
Works Aluminum Styled Chain Guide and Brake Stay Arm
Aluminum Air Caps
Bronze Brake Pedal Bushings
32mm Mikuni Carb Kit w/Hi-Volume Intake Manifold
Fully Race ported/Rebuilt Engine
Elsinore Handlebars/Controls
New Honda Hardware, Honda Cables, Parts, Accessories
Works RC Stand
Endorsed Front Plate by Marty Smith himself!
We sold out of the first series RC Replicas in 2 weeks. With bikes shipping as far as Japan! This bike would be a great addition to any shop, den, office for display, and will surely increase in value over time! See out site at www.vintagefactory.com !

Please see our website at www.vintagefactory.com