Kawasaki/Racer X Race Report
Monday, April 28, 2008 | 8:50 AM

Since 1968,

Thor

has maintained its position as a top motocross apparel brand. From trails, deserts, to the most famous racetracks in the world,

Thor

supports racing on the track and off with its sponsorship of race reports.

Tweet

FIM Motocross World Championship
Round three of fifteen
Grand Prix of Portugal, Agueda

Pourcel resilient and Cairoli masterful at Agueda

For all those connected and following the FIM World Championship, the Grand Prix of Portugal, round three of fifteen, offered a reminder to as to what the current protagonists of the MX1 and MX2 classes actually look like. The mud-cloaked fraternity rolled into Agueda one week after the bog of Spain sporting sun-scorched skin and decidedly chipper for the reversal in weather that promised to launch the 2008 campaign on an "ordinary" footing after the sand of Holland and showers of seven days prior.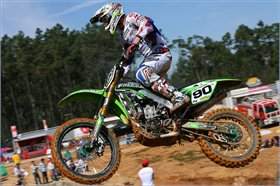 Seb Pourcel won the fourth GP of his career
Sebastien Pourcel clinched a second MX1 moto success to claim the overall, the fourth of his career, and headed a double Yamaha podium appearance of David Philippaerts and, in thrilling fashion, Josh Coppins. Philippaerts, victor of Moto 1, became the first Italian in the short history of MX1 to receive the red plate after his second consecutive runner-up accolade. Coppins placed a second YZ450FM on the rostrum through his dogged pursuit of world champion and nemesis Steve Ramon, pushing past the Belgian on the last corner of the final lap to displace the Suzuki rider from the top three. In MX2 Antonio Cairoli raced his ghost of 2007 for a double moto haul even though he only finished his antibiotics for a throat infection on Friday. The two frustrated KTMs behind him belonged to
Tyla Rattray
and
Tommy Searle
respectively - Rattray even had to watch the world champion and purveyor of panache slip status as series leader from his grasp, completing a good day for Italy in terms of the points tables.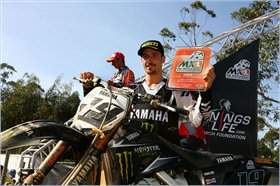 David Philippaerts
After the shocking state of the Grand Prix of Spain last week, world championship motocross actually began to look like a top-flight international series again. The shimmering weather and plus-thirty degrees helped give the immaculate Agueda circuit extra vibrant colors; it was as if Grand Prix racing exhaled deeply after the sustained breath-hold from being under the Bellpuig water and mud.
The rough, jumpy and technical layout saw many riders hitting the same fractions of a second through the weekend, and it was no real surprise that the motos themselves witnessed participants chinking at time gaps. Pole position holders Pourcel and Cairoli would take the first sprays of champagne on Sunday but the MX1 contest was a more open affair.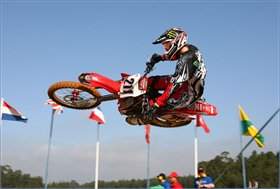 Billy MacKenzie
CAS Honda's Billy Mackenzie should have been on the podium and perhaps even disputing the win. The pacy Scot was half a second away from Pourcel in qualifying and led both motos, the second with a comfortable gap until an unforced error dropped him into the clutches of the top five. Arm pump and a boisterous Philippaerts (who gave the Honda a hefty whack when he took the lead) derailed Moto 1 for the Briton. Spain's Jonathan Barragan managed get through a Grand Prix without blowing an engine but did have a crash in Moto 2 that also ruined a possible podium at the venue where he obtained his very first top three in 2006. Philippaerts had a dodgy first lap in Moto 2 that meant he needed assistance from the floorings of Mackenzie and Barragan to rise up to second place but by that stage Pourcel had gladly inherited the leadership and the GP was under his beret.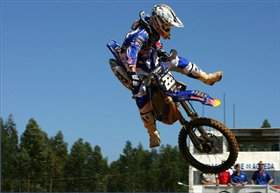 Antonio Cairoli
Coppins' determined flight in the second race (after keeping fifth in the first sprint) provided a perfect wrap to the event. Pushed along by an improved
Mike Brown
, Coppins sliced four seconds to the back of a limping Steve Ramon in two laps and seemingly achieved the impossible when the world champion (unbelievably) did not block the inside line on the last corner. Four-tenths of a second was the difference and Ramon was non-too pleased when called up to the podium area only to find the results screens had not had time to refresh and he was politely asked to leave to make way for Coppins.
"It was an exciting end to the Grand Prix and one that even I did not expect," said the Kiwi. "I could see that Steve was fading and, of course, after last year I always like to pass Steve, so I put in that extra effort. He went wide in the last corner and I could not believe that. My eyes lit up and I made the pass."
Cairoli played a part in a three lap MX2 duel with Searle in the formative stages of Moto1 and took control with a magnificent move that aped Stefan Everts' mockery of Seb Tortelli in 2005 – still one of the best MX1 motos of the century. From that moment of authority Cairoli had the spur to capture his first win since Lierop last September. Searle would crash from second to third in Moto 2, giving the second step to Rattray as the podium trio were a set apart this weekend.
Cairoli is now five points ahead of Rattray with Searle close by in third on twenty-four. Philippaerts has an advantage of six over Ramon in MX1 while Coppins – still not at full race fitness – is next up with a deficit of nineteen.
Kawasaki's Kevin Strijbos' title hopes are now definitely over after the runner-up in 2006 and 2007 underwent surgery on his left hand to repair a broken thumb. Another hand affliction affected countryman and former championship leader Ken De Dycker even though a set of troublesome blisters allegedly appeared from excessive cleaning in his home during the week (!). The winner of the first Grand Prix had a torrid time with crashes in each moto and was nineteenth overall with just seven points.
From damp and dirty boots to sunburned arms and faces in the space of seven days, the Grand Prix series now has time to recover from the climate spectrum opposites with a week break before back-to-back meetings in Bulgaria and Italy. The first test in the heart of eastern Europe will also see the inauguration of the Women's World Championship.


Share this article:
Did you like this article?
Check out MONSTERBALL
in our Latest issue of Racer X available now.

Playing soccer on 250cc motorcycles might sound like a strange form of riding, but in Russia they do it with great passion—and for very little reward. Page 112.