This is a totally non-moto related question but being a professional athlete I would highly value your opinion on this subject. How is it that all of this steroid abuse crap in baseball is a federal issue? Why must our congressman take up our taxpayers money to go after Barry Bonds and Roger Clemens? Yes, steroids are illegal, but shouldn't they just get a ticket or something, go to court, prove if you innocent or guilty and move on? Why spend millions investigating? If it's a matter of cheating then it should be MLB's problem; Not a federal crime. What's next, anytime a SX rider is caught cheating they go in front of a grand jury? This whole legal system is messed up! Politics! I vote Ping for President!
Thank You,
Brandon Norris. Ottawa, IL


Dear Brandon,
Politics are a bitch, aren't they? Coincidentally, so is one of the democratic nominees this year. But I digress. There are so many things that are screwed up about our legal system that it's difficult to list them all. An inmate was killed in a California prison riot recently and the state is going to pay his family a massive sum of money to avoid a "wrongful death" suit. And everyone has heard the story about the clown that spilled some coffee in his lap and sued McDonalds for it… Hey, If you don't want to be killed in a prison riot, howzabout staying out of prison? And if you don't want to be burned by hot fluids then don't drink coffee while you're driving or don't spill on yourself, moron.
Most of this stuff is so simple that I can't believe a judge even deliberates on it, let alone awards the plaintiff monetary compensation. I don't mind paying my taxes but when I see my hard-earned dollars squandered like this I want to move to Mexico and open a street taco stand. The baseball issue is just another national debacle that makes me shake my head. How hard is this to figure out? Both Bonds and Clemens went from lean, athletic-looking types in their early years to record-smashing homerun hitters and fast-ball throwers with heads that look more like farm animals than national heroes. Just a tip fellas: when you have a jaw like a dinosaur and a snout like a pig it's pretty obvious to anyone with a brain that you are juicing.
PING

DEAR PING,

FIRST OFF, I JUST WANT TO SAY HOW MUCH I ENJOY READING YOUR COLUMN EACH WEEK; YOU ROCK. NOW LETS GET DOWN TO THE NITTY GRITTY: HOW DO YOU THINK CHAD REED FEELS KNOWING THAT HE'S GONNA WIN THE CHAMPIONSHIP AGAIN ONLY BY DEFAULT? THAT HAS TO SUCK KNOWING THE ONLY WAY HE CAN WIN IS BY HAVING THE BEST DROP OUT OF COMPETITION. MAYBE HE DOESN'T REALLY CARE WHEN HE'S CASHING THE CHECK AT THE END OF THE SEASON, BUT I THINK IT WOULD BOTHER THE HELL OUT OF ME KNOWING THAT THE ONLY REASON I WON WAS BECAUSE THE BEST HAD TO BOW OUT; FIRST THE G.O.A.T. AND NOW BUBBA… THAT HAS TO SUCK.
JUST A THOUGHT.
SINCERELY,
JUSTIN KINGHORN. OGDEN, UTAH

Dear JUSTIN,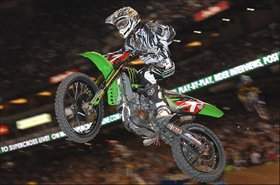 Reed is winning with no Bubba.

photo: Carl Stone

First of all, your CAPS LOCK BUTTON IS Stuck. Take care of that, will you? Aside from your over-capitalization problem I agree with you. Reed has definitely had a little help during his two championship runs by way of injury to his competition, but you can't take too much away from Reedy. The guy is fast, solid, consistent, and, at the end of the day, he stays healthy. Avoiding injury is a huge part of racing and, more specifically, winning championships. Trust me; I got hurt all the time and I never won any titles. So maybe RC and Bubba were faster, but that doesn't mean much when you are walking around on crutches. I imagine Chad will always be reminded by haters that the two "fastest" guys were hurt when he won titles but he will still be a two-time champ and number three on the all-time win list. Those are huge stats. He has more wins that RJ, Wardy and Hannah! The record books don't show who was injured or who was the quickest rider; just who won—that's where you will see Chad Reed's picture too.
PING

Dear Ping,
As I write this, I am in a Coors Light-induced haze. This made me wonder: Do those guys that are in the top 5 or 10 ever tip back a few coldies? There was a picture that circulated the net of RC's motorhome with an un-opened 36'er in one of the storage bays. This really endeared him to my heart. How often do these guys tip'em back? I know that Ryno and those guys, due to their un-willingness to consume any un-natural beverage, probably don't partake but please tell me that on occasion some of the other guys consume. You would have to think that due to the fact that most beers have wheat, barley and hopps in them (even a few have some protein), that they could be considered to have some nutritional value (spelled, pork chop in a can). If you have any stories, I, along with countless others would LOVE to hear them. While I quit drinking and riding (I always ended up getting hurt), there is not much in the world that compares with a cold brew—or twelve—after a day of riding. How about you.....Do you ever rinse away the sadness of a second-place finish with a beer? Not that you are a second place kind of guy, but I know that #2 sucks !! Just curious.
Thanks,
Signed, Bring-on-the-Advil: Chuck Wages
P.s. If Ryno drank, would it be from a bottle or a can? Just wondering because I don't want to get sick.

Dear Chuck,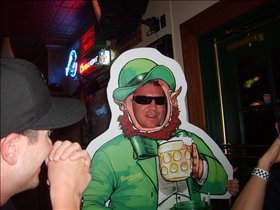 Insert your own caption here.

photo: Mike Farber

As far as I know this is my first letter from an intoxicated reader. Good work, Chuck. I'm not going to throw anyone under the bus here but I will tell you that most racers old enough to consume adult beverages do so on occasion—occasion being the key word here, Chuck. Trust me: RC didn't crack that 36'er until after the season was over. Big Rick, on the other hand, might have been halfway through it by the time practice was over. As far as your boy Ryno is concerned, well, he might not have been the nutritional purist that you believe him to be unless Goldschlager is high in protein and dietary fiber. I have some photos from Lake Havasu in the mid-nineties of Ryno, Fro, MC, Factory Phil, Bud Man, Denny Stephenson, and the rest of them enjoying your beverage of choice, except they used a beer bong and had a fleet of half-naked women hanging around them. My guess is you would have liked moto-life in the nineties. Most kids today realize that racing professionally takes more commitment and dedication than the brain cells-be-damned attitude of racers a decade ago. Not that they didn't work hard but it was definitely a different scene. Good luck with that hangover, Chucko.
PING

Have a question for Ping? E-mail him at ping@racerxill.com.