In MX2 it was Tommy Searle who led the field on the opening lap of the day, but by the second lap the UK's Shaun Simpson, on his Team KTM UK, had muscled his way to the front, a position he would hold until the line. Behind him, Searle, Van Horebeek, Rattray, and Sword were battling to fill the top five. Rattray landed on Searle, and this dumped Searle way back in 16th. Erik Eggens took advantage and put on a late charge, putting himself into second ahead of Sword in third and Van Horebeek in fourth.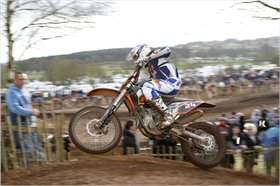 Shaun Simpson won the first MX2 moto.

In the second of the MX2 races it was the usual suspects from race one battling up front, and by halfway it was Simpson out front with Searle, Rattray, Eggens, and Sword in tow. Unfortunately for Simpson, his luck was about to run out: he stalled his bike, dumping himself right back down the order finishing an eventual 22nd and ruining his chance of causing a huge upset. Rattray got in front of Searle to take the win and the overall by one point from Molson Kawasaki's Stephen Sword, who finished third behind Searle.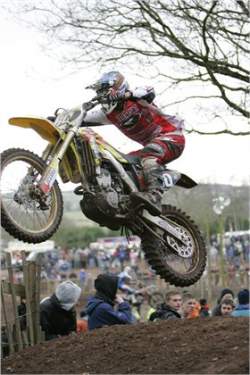 Erik Eggens

After securing the win, Rattray was pleased with his day's work. "It was a good day," he said. "I love coming out to Hawkstone. There was some good racing today. For the last two years it's been raining and has been just mud--this is the first time I've come here in the dry, and it's been really good. I really had a lot of fun out there. It was an intense race with Tommy and Shaun pushing in the beginning, but that's something I needed and something I'm working on, so like everything, it's coming good. Unfortunately, I crashed with Tommy in the first race. I landed on him, so that's why I only came fifth, but all in all it was a good day."

1. Shaun Simpson Team KTM UK
2. Erik Eggens
3. Stephen Sword Molson Kawasaki
4. Jeremy Van Horebeek Champ KTM

1. Tyla Rattray Red Bull KTM
2. Tommy Searle Red Bull KTM
3. Stephen Sword Molson Kawasaki
4. Erik Eggens

MX2 Overall

1. Tyla Rattray 51 points
2. Stephen Sword 50 points
3. Erik Eggens 50 points

MX1 was where most of the interest was, as it saw Josh Coppins lining up against World Champ Steve Ramon (quite literally, as they picked gates next to each other off the start). With some big moves going on in the off-season it was going to be interesting how people got on with their new mounts.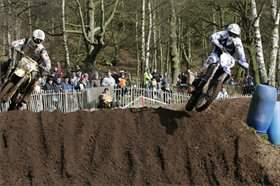 Steve Ramon and Josh Coppins

In qualifying, first blood went to Ramon, 1/10 of a second faster than Coppins, but it was Martin Honda's Marc de Reuver who set pole nearly half a second quicker than CAS Honda's Billy Mackenzie, followed by Ramon and Coppins.

After a huge pile-up at the end of the start straight it was Bas Verhoeven who came out at the front, but within two laps it was CAS Honda's Billy Mackenzie who'd put himself in the lead, followed by De Dycker and Coppins with Verhoeven, Ramon, and De Reuver following on. Mackenzie was able to pull out a small gap but De Dycker was able to pace him and never let him get too far away. Behind them, Coppins and Ramon were having a great battle, swapping paint and places, both trying so hard to stay in front of the other that simple little mistakes were being made, leaving the door open for the other.

On Lap 8 with De Dycker stalking him, Mackenzie landed on a back marker, stalling his bike and putting himself out of the race completely, leaving De Dycker out front. The man on the move was Coppins' team mate from last year, De Reuver, who put himself between Coppins and Ramon for the final spot on the box.

In race two, Mackenzie pulled the king of all holeshots, and after only the first few corners had a couple of seconds' gap on the rest of the field. Coppins was in second, leading De Reuver and De Dycker. De Reuver put pressure on Mackenzie toward the end of the race, and with only a lap to go, Mackenzie made a small mistake and De Reuver was through. On the last lap, Mackenzie's front wheel pushed out of a rut in one of the turns, allowing both Coppins and Ramon to pass him for second and third, respectively.

"I rode tight," said Billy Mackenzie. "I led it until the last lap and then, to be honest, I got a little nervous because he [De Reuver] was pretty close to me, and I just lost it on the last lap. I tried to pick the pace up and go for it again and spun out on a corner and ended up fourth."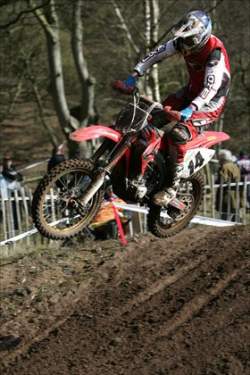 Marc de Reuver took the MX1 overall win.

For Martin Honda's Marc de Reuver it was an excellent day, with a third and a first enough for the MX1 overall. After being let go by Rinaldi Yamaha at the end of last season, the win was super sweet for the ever-smiling Dutchman.

"I felt good," he said. "I love to be in Hawkstone Park because I love the track, not because it's sand but because of the atmospherethis is a real motocross track. In the first heat I was third behind Ramon, but very close. In the second heat I crashed just after the finish line and Coppins passed me, but I got back on and I won. I felt so good!"

After the day's battles it was Ramon who came out on top of Coppins by 2 points. "At the beginning of the day I had a lot of problems with arm pump, and in the first moto I had to slow down," Ramon said. "But the second race was better for me. We did some testing and made some changes to the bike today, which was all in the right direction. The riding was going good. I felt good and physically I felt good. It was good racing today and I'm looking forward to the season."

MX1 Race 1

1. Ken De Dycker Suzuki
2. Steve Ramon Suzuki
3, Marc de Reuver Martin Honda
4. Josh Coppins Rinaldi Yamaha
5. David Phillipaerts Rinaldi Yamaha

MX1 Race 2

1. Marc de Reuver Martin Honda
2. Josh Coppins Rinaldi Yamaha
3. Steve Ramon Suzuki
4. Billy Mackenzie CAS Honda
5. David Phillipaerts Rinaldi Yamaha

MX1 Overall

1. Marc de Reuver 55 points
2. Steve Ramon 52 points
3. Josh Coppins 50 points
4. Ken De Dycker 49 points
5. David Phillipaerts 42 points