Kawasaki/Racer X Race Report
A supposedly predictable beginning to Monster Energy AMA Supercross an FIM World Championship ended in a very unpredictable fashion. First, the 100 percent sure chance of rain over Southern California and Angel Stadium of Anaheim, dubbed a storm of the century by some, managed to lift basically around the schedule of the race. Live Nation officials hoped for a window of clear weather between 3 pm and 2 am, and they got it, as the entire show ran with nary a drop of rain falling from the skies. A few minutes after the main event ended, the skies finally opened up. The Gods must really like supercross.
The other highly-predictable outcome was
James Stewart
pulling out another amazing performance to win the main event. After 13 wins last year some predictions ran as high as James winning every race this season. Well, like a pitcher who gives up a home run on the first pitch of the game, prompting fans to say "there goes the no hitter" you can now say "there goes the perfect season" as soon as Stewart went down in turn one of the main event. With Stewart in the back a battle broke out for the lead between Yamaha riders
Chad Reed
and
Grant Langston
and Kawasaki's
Tim Ferry
, and soon enough those riders had opened a big lead on the rest of the field. Reed moved into the lead but stalled his bike, but he got it restarted, got the lead again and cruised to victory. Reed looked fast, aggressive and fit in this one, and the expectations for more wins by the Australian look completely realistic.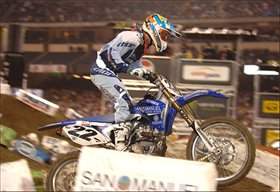 Chad Reed looked fast and aggressive all night.
Stewart put on a strong charge to get all the way to second place after starting last, but he wisely chose to back his pace down instead of trying to make a wild effort to catch Reed from such a huge deficit. Ferry and Langston swapped the third-place spot over and over before Ferry finally emerged with it, Langston taking fourth over Torco Honda's
Kevin Windham
.
Mike Alessi
made his 450 debut with the Rockstar Makita Suzuki team and turned a bad gate pick via qualifying through the LCQ into a great start in the main and a solid sixth. Behind him came Honda's duo of
Davi Millsaps
and
Andrew Short
, then MDK KTM's
Nick Wey
and Alessi's Suzuki teammate David Vuillemin.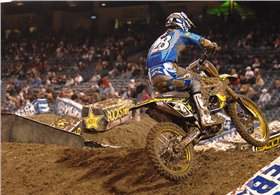 Rockstar/Makita Suzuki's Ryan Dungey drew first blood in the Lites.
In the West Region Lites, an intense battle broke out over the first few laps between six riders, but once it all settled down Rockstar Makita Suzuki's
Ryan Dungey
was left battling Boost Mobile Yamaha of Troy's
Jason Lawrence
for the lead. Lawrence let Dungey past, deciding to go on the attack instead of dealing with the pressure. He then tried a pass on the inside of a corner to take the lead back but ended up washing out his front end and going down. Dungey pulled ahead to victory with Lawrence second and MDK KTM's
Justin Brayton
putting together the best ride of his supercross career with third.
With Reed capturing A1 for the first time since 2004, Stewart is left to try to rebound in Phoenix next week, while Dungey will attempt to hold onto his lead in the Lites, something he couldn't do after winning the East Lites opener a year ago. Care to guess what will happen? Be careful, this game isn't as easy to predict as some would think.