MXLarge: How was that race on Saturday? You must have been bummed to lose it!
David Thorpe: The first moto was tough. The track was tough for me and Jan rode really well. I lead most of the first moto and when somebody passes you on the last few corners and you lose, it's not something I like. He passed me right at the finish, I was pretty pumped for Sunday anyway, but there is nothing worse than being passed three corners from the end. Jan rode well on Saturday though.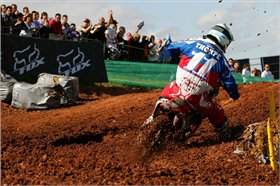 David Thorpe

What about Sunday? You came out firing!
I knew if I made a good start in the Sunday race and ran a good pace then I would be okay. I got a good start and could relax a little. It was fun out there. I mean, when you are a British boy at the British Grand Prix, there is a lot of pressure. If you are riding well, then it's great, but if your form has dropped away, then it's tough. You want to win so bad for the crowd, you want it to be perfect. I mean all the boys in MX1, they wanted it.
Was it nice to see Tommy Searle win in the MX2 class?
Yes it was, Tommy would be so happy today, but Billy (MacKenzie) will be bitterly disappointed. Billy will be disappointed for himself, we all know what he can do, and so does he.
Did you like the circuit? It was very supercross styled.
I enjoyed the track, they did a great job here. A win is a win, I had my dad here with me, that was fantastic. I don't really class it with another World championship, but it was a great deal of fun and I enjoyed being a part of it.