A is for Amateur? – Loretta Lynn's is an amateur national with a Pro Sport class which allows ex-professional racers who are allowed to race Vet classes. But the real encroachment of professionalism is coming with riders too young to get their pro licenses. It's a try-out/career-day/business meeting conducted by top riders and their parents with agents, potential sponsors and more. Amateur motocross has become big business in America, and nowhere is that business more obvious than at Loretta Lynn's.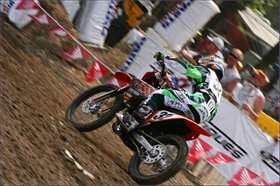 B is for Brothers

B is for Brothers – Blake and Tyler Wharton; Honda factory rider Tommy Hahn and his brother Wil; Kyle and Kory Keylon; Kyle and Cody Chisholm; Matt and Kyle Goerke, Kevin and Kyle Kelly; the Masterpool brothers, and even Andy and Clint Bowyer. Yes, one of Loretta Lynn's most famous alumni came back to the ranch for the first time since his car-racing career took off. Clint Bowyer (the younger brother of MX Sports' and former LL 65cc champion, Andy Bowyer), came to the ranch this year for the first time since he competed in the 85cc class some time ago. Clint currently pilots the #07 car in the Nextel Cup Series and is sponsored by another well-known Tennessee resident, Jack Daniel's. Clint wasn't as recognized as Ricky Carmichael on the infield, but kids did spot the stock car racer and were thrilled to see him back.
C is for Controversy - The most notorious decision of the entire 2007 championship system was the pursuit of Vet B/C eligibility for Kevin Cozadd, an admitted former pro, who after being denied entry into the class by both MX Sports and AMA sports, took the appeal process before getting the decision that proved far more unpopular than anyone might have imagine. After dominating his first moto against terribly outclassed competition of 41 other riders, the Suzuki-supported Cozadd crashed out of the second moto with a broken collarbone. It was a risk-and-reward equation that Cozadd misjudged which overshadowed the good work he done for years with his ministry. The only winner here? Actually, there were 41 of them.
D is for Dubach – What do you do about a guy like Doug Dubach? He's 44 years old, hasn't raced professionally in years, has a job in the industry and is still pretty damn fast. In fact, Doug has been a professional racer since before Loretta Lynn's even began! Although he was injured, he was still able to put together three moto wins in the 40 Plus class.
E is for Evenings – The fun doesn't stop after the racing is done. For a lot of people, the evening is the best time of the day. The temperatures drop and the evening activities begin. From relaxing and bench racing in the Fishbowl Pub to playing Honda's Guitar Hero in the pavilion, pitching horseshoes in the Scott USA pitch-off contest or watching movies at the Ogio/Kicker beach, there's never a dull moment when the sun goes down.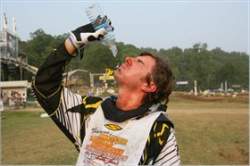 F is for Fahrenheit

F is for Fahrenheit 101 – One bullet you're not going to dodge in Tennessee is the high temperatures, and this year was no different. Heat and humidity is always at its peak this time of the year, so preparation is key to staying cool and not miserable.
G is for Geiger – Red Bull Yamaha's Tarah Geiger has Jessica Patterson's number at Loretta Lynn's. Geiger went 1-1-2 for the Women's championship, adding LL title number three to her resume. Too bad she can't trade JP$ for some more wins in the WMA series.
H is for Hospitality – Sometime throughout the week you can look forward to being taken care of with some top-notch hospitality. As for me and my assistant Andy Bowyer, we were taken care of by Hylton Beattie of Parts Unlimited, Todd Hicks at Fox Racing and Mario at Red Bull, so thanks to those guys.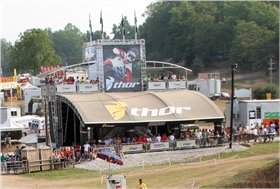 H is for Hospitality

I is for Improvements – Each year we see many improvements, but this year Alan Brutto and the grounds crew at Loretta Lynn's Ranch went to another level. The place looked like a golf course before it became covered in thousands of motor homes, box vans, pick-up trucks and rental cars.
J is for Jason Anderson – After a very dominating performance in the 85cc (12-13) class, you can look for very big things out of New Mexico's Jason Anderson. In fact, Ricky Johnson himself told DC that Jason Anderson is the next American motocross hero. That's big.
K is for Kawasaki – Team Green was the first sponsor of Loretta Lynn's, and they've been there ever since. They come out in force, building a mini city of semis, trailers and box vans, creating "Greenville." And whether you ride a Kawasaki or not, you're always welcome. This year they even put together their own daily TV show, ala MX Sportscenter, which has some really cool stuff. Check it out at www.kawasakilive.com.
L is for Loretta Lynn – We always have to give a nod to the country music superstar, who lets us take over her massive ranch for one week every year. With the large campground, hookups, a pavilion, food venders, a swimming pool, volleyball court and a pristine creek snaking through the facility, there's no better place to hold the world's largest amateur motocross race, and that's why you can count on it staying here for a long time to come.
M is for Monster Truck – Travis Pastrana's #199 was on the property on Sunday, and he literally drove the wheels off of it! Amsoil also brought in their Shock Therapy truck after TP's performance, but it didn't quite compare. Here's a bit of advice: Never, ever let Travis Pastrana go first in anything.
N is for Noise – In the meeting with representatives from every manufacturer at Loretta Lynn's, as well as other industry movers and shakers, the AMA's Ryan Holliday and MX Sports' Tim Cotter asked for cooperation in getting the noise of the motorcycles down, particularly the four-strokes. It is a problem that affects everyone, and it's time everyone started doing something about it.
O is for Organized Chaos – Nowhere will you find more going on at any given moment at any motocross event in the world. There's Camp Loretta's, seminars, Trials exhibitions, BMX, Guitar Hero , a talent show and a beer tent that is bigger than any bar you've probably ever been to outside of Las Vegas. There are golf carts galore, cookouts everywhere, and literally thousands of campsites. But, every one of the 99 motos scheduled over the course of five days went off right on time. Think about that. If you're one of the many, many workers who was involved in the production of this year's AMA Air Nautiques Amateur National Championships at Loretta Lynn's, give yourself a well-deserved pat on the back.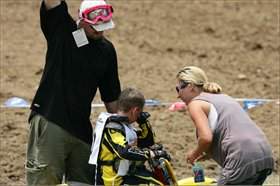 P is for Parents

P is for Parents – This is just a nod to the thousands of parents who sacrifice so much time away from work and home and travel all across the country—and world—just to bring their families to the world's largest amateur motocross event. Without all of you, this event and sport wouldn't be what it is today.
Q is for Quality – As in the quality of competition you will find at Loretta Lynn's. With a two-step qualifying process, including area and regional qualifiers across the country, this format guarantees you will have the fastest 42 riders in each of 33 classes are on the gate at Loretta Lynn's. Once you're there, there are no qualifiers, which is the secret to the week's festive atmosphere. The pressure of qualifying is already over.
R is for Red Bull – The popular energy drink is stepping up their presence in amateur motocross big time with their amazing support at Loretta Lynn's. The familiar logo was visible all over the ranch, including the helmets of a few of their top athletes, including Phil Nicoletti and Brandon Mays, who are members of the Red Bull JAMS program. Red Bull also brought in Trials champion Geoff Aaron for a few incredible shows, along with X Games champion Ryan Nyquist. (But the Red Bull para-jumpers could not get a permit from the local aviation board, so they stayed grounded.)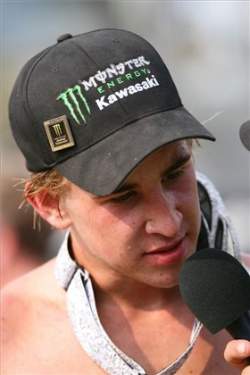 S is for Stroupe

S is for Stroupe – North Carolina's Austin Stroupe was one of the three most-watched athletes at Loretta Lynn's this year. Mitch Payton even flew out from California to see his future employee, and that was the first time he has been at the ranch in a dozen years. The last time he was at Loretta's? To see Ricky Carmichael. Stroupe was joined by Factory Connection Honda's Trey Canard and Makita Suzuki signee Nico Izzi in moto after moto of intense competition. Both of the titles went down to the last laps of the last moto, and it was Canard who took home both classes. Now it's on to Millville!
T is for TMX – The Toyota TMX Program awarded Wil Hahn with a support ride with the Star Racing Yamaha team for 2008, helping him move forward into his pro career. He nudged out Yamaha revelation Chris Johnson for the award (and it's a shame that P.J. Larsen didn't sign up). Think you can win it in 2008? Make sure to visit www.ridetmx.com and sign up.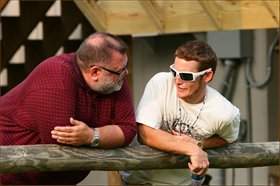 U is for U.S.A.

U is for U.S.A. – It is becoming commonplace for the announcement of Team USA to be made at this event, and Tuesday night Steve Whitelock told us that Ricky Carmichael, James Stewart and Ryan Villopoto, all Loretta Lynn graduates, would be the three riders flying the red, white and blue at Budds Creek in defense of the Peter Chamberlain trophy.
V is for Velocity – For the first time in its 26-year history, the start of Loretta Lynn's was shortened from its original football-field-length, tilled deeper than ever and went back into the woods after a gradual sweeper, all in an effort to slow the bikes down. The evolution of motocross has seen amateurs and pros alike armed with faster and more sophisticated equipment than one might have ever imagined when this whole thing started in 1982. While the start had some folks scratching their heads before the racing started, the lack of injuries and high-speed crashes had to leave everyone satisfied with the measures. Now if they can just figure out a way to turn the A/C on….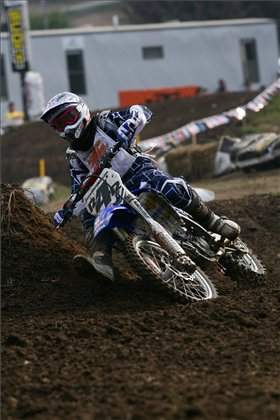 W is for Walker

W is for Walker – Legend Kevin Walker became the all-time winningest Loretta Lynn champion by taking his 12th championship early Friday in the Vet 35 Plus class. (He followed that up with #13 in Plus 25 later that day.) Walker donned the number "R4R" as a favor to his friend Kevin Foley and family in support of the charitable foundation the Foley's set up for their daughter Emma, who struggles with Rhetts disease. Walker is the essence of amateur motocross.
X is for X Games – As the popular X Games becomes more moto-related, it led to a quick exit of stars and action-sports sponsors late in the week. But that's okay; it gave the next generation a chance to take over the spotlight.
Y is for Yesterday's heroes – When Marty Tripes showed up on the infield and shook hands with Barry Higgins, it marked a rare moment when the winner of the first-ever supercross—'72 L.A. Coliseum winner Tripes—reunited with the winner of the first-ever AMA motocross national—'72 Tallahassee winner Higgins. As fate would have it, standing right there with them outside the first turn was the man who has won the most of all of them—Ricky Carmichael. If that's not enough, there was Rick Johnson, Jeff Ward, Mike Craig, Kenny Keylon, Keith Turpin, Ronnie Tichenor, Tim Ferry, Ivan Tedesco, Ryan Villopoto, Tommy Hahn, Travis Pastrana, Broc Hepler, Robbie Reynard and more. And that only includes the past heroes and LL alumni who showed up to watch. Out on the track were such familiar names as Trampas Parker, Denny Stephenson, the aforementioned Dubach, Billy Liles, Keith Johnson, Tom Carson, Kurt McMillen, Jon Grewe, Earl May.
Z is for ZZZZssss… - Whether you're a rider, a spectator, an industry worker, a flagger, an EMT, or a dozer or tractor or water truck driver, sleep is hard to come by at the ranch. It is a truly overwhelming experience. If you love motocross, there's no place on earth like the ranch!