Last week, the top amateur motocross racers in the world all gathered in one place to answer the ultimate question: who is number one? It's a yearly ritual, and it happens on a motocross track that offers no advantage to any one rider, as it is only used one time a year. The 26th Annual AMA/Air Nautiques Amateur National Motocross Championship at Loretta Lynn's is now in the books, and here's a brief account of what went down.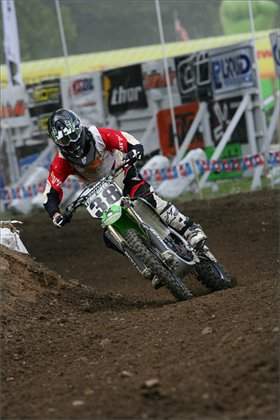 P.J. Larsen got his first LL championship this year in the Motocross A class

After all was said and done on Saturday afternoon, a total of 33 class champions were crowned, their hopes and dreams coming to fruition. They ranged from AMA Horizons Award winner Trey Canard, who will step into the pro ranks this weekend at Millville, to 45-year-old Ray Niebel, a lifelong amateur who beat a bunch of ex-pro riders for the Senior +45 title. But we'll start with the youngest of the bunch.

As we've seen in the past, the 51cc classes offered a lot of excitement, as no one rider was dominant. It's a matter of consistency, and Jordan Bailey, Adam Bestafka and Mark Worth stood out among the rest, each taking moto wins on their way to the championship in each of their respective classes. You often see some very unusual moto scores in these classes. For example, Joey Crown finished 8-4-3 for second overall in the 51cc (7-8) Class 2. Weird.

In the 85cc classes, there were three riders who stood atop their respective classes. Florida's Adam Cianciarulo is a name that you'll be hearing a lot of in the years to come, and the young Team Green Kawasaki rider with the Ricky-like stature took two championships in the (7-11) classes.

In the (12-13) divisions it was Rockstar Suzuki's Jason Anderson taking home two titles. He was also the only rider throughout the week to win all six of his motos, and he's a rider whom another Ricky—Ricky Johnson—believes in the next American motocross hero.

And in the (14-15) Modified and Supermini class, it was Colorado's Eli Tomac winning two more championships for Suzuki. This kid is so polished, fast and charismatic that he's going to have the factory teams ringing his phone off the hook the moment he steps aboard a big bike.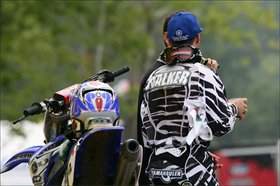 Kevin Walker now has 14 LL championships

The Schoolboy classes are quite often some of the fastest of the week, and KTM's prodigy Blake Wharton swept all three motos in the two-stroke class, while young Steven Clarke, who comes from Cairo, Georgia by way of England, won the MX Lites Schoolboy division. (Sir Jack Burnicle would have been damn proud of this boy!)

In the Women's class, it was a dominant performance by Yamaha's Tarah Gieger, who carred a 1-1 into the final moto over her arch nemesis Jessica Patterson. Gieger then cruised home to second in the final moto, taking her third Loretta Lynn's championship. And in the Girls (9-13) it was KTM's Chiara Fontanesi taking home the title—straight to Italy! The girl is under the tutelage of Steffy Bau, and she was extremely fast. Remember her name: Chiara.

In the A, B and C classes, Honda-mounted riders were dominant all week long, as they combined for 10 championships, giving Honda bragging rights for the most championships in 2007. Red Riders contributing championships included Justin Wilson, Josh Lajiness and Garrick Noble, who won all the C classes; Les Smith and Vince Friese who won a total of three B classes; and fastest of all, Trey Canard and Ben Evans, who combined for three A-class titles.

But some of the most emotional racing of the week came in the Vet classes. It was a long time coming, but Yamaha's Kevin Walker finally got championship #12 in Junior +25, making him the all-time winningest rider in Loretta Lynn's history. Walker then followed that up with championship #13 in the Vet +35 class. And in the Senior +45 Plus class, it was Pittsburgh, PA's Ray Niebel gutting out an incredible third-moto win over defending champion Tom Carson to put a Cernic's Kawasaki on the podium.

As for the manufacturers, here's the number of championships each won:

Honda – 10
KTM – 6
Kawasaki – 5
Suzuki – 5
Yamaha – 5
Cobra – 2

For complete results, please visit www.mxsports.com.

2007 Loretta Lynn's Champions

51cc (4-6) AMA Class 1
Jordan Bailey (Cob) Orlando, FL

51cc (4-6) Stock Shaft Drive
Adam Bestafka (Yam) Hudson, FL

51cc (7-8) AMA Class 2
Mark Worth (Cob) Queen Creek, AZ

65 (10-11) Stock
Jarek Balkovic (KTM) Camp Hill, PA

65 (7-11) Modified
Jesse Masterpool (KTM) Sparks, NV

65 (7-9) Stock
Alex Frye (KTM) Huntingtown, MD

85 (7-11) Stock
Adam Cianciarulo (Kaw) Port Orange, FL

85 (7-11) Modified
Adam Cianciarulo (Kaw) Port Orange, FL

85 (12-13) Modified
Jason Anderson (Suz) Edgewood, NM

85 (12-13) Stock
Jason Anderson (Suz) Edgewood, NM

85 (14-15) Modified
Eli Tomac (Suz) Cortez, CO

Supermini (12-15)
Eli Tomac (Suz) Cortez, CO

Schoolboy (12-15)
Blake Wharton (KTM) Pilot Point, TX

MX Lites Schoolboy (14-16)
Steven Clarke (Suz) Cairo, GA

Girls (9-13)
Chiara Fontanesi (KTM) Tallahassee, FL

Women (12 Plus)
Tarah Geiger (Yam) Vero Beach, FL

Four-Stroke
Tyler Wharton (KTM) Pilot Point, TX

Junior 25 Plus
Kevin Walker (Yam) Gray, TN

Vet B/C 30 Plus
Allan Assaf (Hon) Jacksonville, FL

Vet 35 Plus
Kevin Walker (Yam) Gray, TN

Senior 40 Plus
Doug Dubach (Yam) Tustin, CA

Senior 45 Plus
Ray Niebel (Kaw) Pittsburgh, PA

MX Lites C Stock
Justin Wilson (Hon) Camden, SC

MX Lites C Modified
Josh Lajiness (Hon) Deer Park, WA

Motocross C
Garrick Noble (Hon) Riverside, CA

MX Lites B Stock
Michael Hall (Kaw) Murrieta, CA

MX Lites B Modified
Les Smith (Hon) York, SC

Motocross B Stock
Vince Friese (Hon) Cape Girardeau, MO

Motocross B Modified
Les Smith (Hon) York, SC

MX Lites A
Trey Canard (Hon) Elk City, OK

MX Lites A Pro Sport
Trey Canard (Hon) Elk City, OK

Motocross A
P.J. Larsen (Kaw) Awendaw, SC

Motocross A Pro Sport
Ben Evans (Hon) Boise, ID