by
Bryan Stealey
Yamaha's Monday Wake-up Call
Monday, June 25, 2007 | 5:46 AM
Tweet
ADAC MX Masters
Aichwald
June 24, 2007
Heat 1
1. Tyla Rattray KTM
2. Marcus Schiffer KTM
3. Kornel Nemeth SUZ
4. Bradley Graham KAW
5. Yauheni Tyletski SUZ
6. Clement DeSalle SUZ
7. Xavier Boog YAM
8. Daniel Siegl YAM
9. Jaka Moze SUZ
10. Marco Kovalainen HON
11. Filip Neugebauer KAW
12. Alenandr Ivanutin YAM
13. Stephan Mock KTM
14. Jerome Hemery SUZ
15. Oswald Chittaro KAW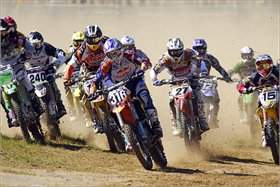 Tyla Rattray jumps out to an early lead.

Maximilian Ludwig photo


Heat 2
1. Tyla Rattray KTM
2. Kornel Nemeth SUZ
3. Collin Dugmore KAW
4. Florent Richier KAW
5. Wyatt Avis KTM
6. Bradley Graham KAW
7. Alexandr Ivanutin YAM
8. Xavier Boog YAM
9. Marco Kovalainen HON
10. Yauheni Tyletski SUZ
11. Filip Neugebauer KAW
12. Daniel Siegl YAM
13. Clement DeSalle SUZ
14. Gunter Schmidinger HON
15. Andreas Huber KTM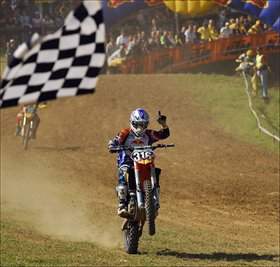 Rattray went on to win both heats.

Maximilian Ludwig photo


Overall
1. Tyla Rattray 50
2. Kornel Nemeth 42
3. Bradley Graham 33
4. Yauheni Tyletski 27
5. Xavier Boog 27
6. Clement DeSalle 23
7. Alexandr Ivanutin 23
8. Marco Kovalainen 23
9. Marcus Schiffer 22
10. Daniel Siegl 22
11. Collin Dugmore 20
12. Filip Neugebauer 20
13. Wyatt Avis 19
14. Florent Richier 18
15. Jaka Moze 12
16. Gunter Schmidinger 11
17. Stephan Mock 8
18. Andrea Huber 8
19. Oswald Reisinger 8
20. Jerome Hemery 7
---
Monster Energy Motocross Nationals
Round 4 – Regina, SK
June 24, 2007
MX2 West
1. Jimmy Nelson (Yam) 1-1
2. Eric Nye (KTM) 2-4
3. Ben Evans (Hon) 8-2
4. Tucker Hibbert (Kaw) 6-3
5. Kyle Beaton (Yam) 4-5
6. Kevin Urquhart (Hon) 3-7
7. Gray Davenport (Suz) 5-6
8. Brady Sheren (Kaw) 7-9
9. Jared Allison (Kaw) 9-8
10. Kyle McGlynn (KTM) 10-10
MX1 - Moto 1
1. Colton Facciotti (Yam) 1-4
2. Jean Sebastien Roy (Yam) 4-2
3. Michael Willard (KTM) 3-3
4. Paul Carpenter (Kaw) 9-1
5. Jeff Gibson (Kaw) 2-6
6. Marco Dube (KTM) 5-5
7. Jeff Northrup (Kaw) 8-7
8. Blair Morgan (Yam) 7-9
9. Mitch Cooke (Suz) 6-13
10. Tyler Medaglia (Suz) 12-8
---
2007 Maxxis ACU British Motocross Championship
Desertmartin, Northern Ireland
June 24, 2007
MX1 Moto One
1. De Dycker
2. Anderson
3. Crockard
4. MacKenzie
5. Noble
MX1 Moto Two
1. De Dycker
2. Crockard
3. Noble
4. MacKenzie
5. Rose
MX1 Overall
1. De Dycker 60
2. Crockard 52
3. Noble 46
Championship to date
1. Mackenzie 260
2. De Dycker 247
3. Crockard 230
MX2 Moto One
1. Searle
2. Barr
3. Church
4. Dougan
5. Brown MX2
Moto Two
1. Nunn
2. Church
3. Campano
4. Searle
5. Simpson
MX2 Overall
1. Searle 53
2. Church 52
3. Nunn 49
Championship to date
1. Searle 253
2. Brown 216
3. Swanepoel 210
---
Dutch Open
Round 4: Halle, Netherlands
June 24, 2007
MX1 1st Moto
1 Marvin van Daele B Honda
2 Aigar Leok Est Yamaha
3 Marc de Reuver NL Yamaha
4 Bas Verhoeven NL Honda
5 Kristof Salaets B Suzuki
6 Patrick Roos NL Honda
7 William Saris NL Yamaha
8 Danny Theybers B Suzuki
9 Sven Breugelmans B KTM
10 Jan van Hastenberg NL Honda
DNF Tanel Leok Est Kawasaki
2nd Moto
1 Marvin van Daele B Honda
2 Tanel Leok Estr Kawasaki
3 Bas Verhoeven NL Honda
4 Aigar Leok Est Yamaha
5 Marc de Reuver NL Yamaha
6 Sven Breugelmans B KTM
7 Patrick Roos NL Honda
8 Danny Theybers B Suzuki
9 Kristof Salaets B Suzuki
10 Lauris Freibergs Let Yamaha
MX1 Podium
1 Marvin van Daele B Honda 100
2 Aigar Leok Est Yamaha 83
3 Bas Verhoeven NL Honda 79
MX1 Championship
1 Tanel Leok Est Kawasaki 297
2 Marvin van Daele B Honda 293
3 Steve Ramon B Suzuki 272
4 Aigar Leok Est Yamaha 268
5 Patrick Roos NL Honda 260
MX2 1st Moto
1 Joel Roelants B KTM
2 George Strik NL KTM
3 Rinus van de Ven NL KTM
4 Dennis Verbruggen B Yamaha
5 Erik Eggens NL Suzuki
6 Pascal Brons NL KTM
7 Rob van Vijfeijken NL KTM
8 Herjan Brakke NL Honda
9 Jan Laurijssen B Yamaha
10 Stuwey Reijnders NL KTM
DNF Ceriel Klein-Kromhof NL KTM
2nd Moto
1 Erik Eggens NL Suzuki
2 Joel Roelants B KTM
3 Rob van Vijfeijken NL KTM
4 Jeremy Vanhorebeek B KTM
5 Jan Laurijssen B Yamaha
6 Pascal Brons NL KTM
7 Herjan Brakke NL KTM
8 George Strik NL KTM
9 Coen van Haut NL KTM
10 Aigars Bobkovs Let KTM
DNF Dennis Verbruggen B Yamaha
DNF Ceriel Klein-Kromhof NL KTM
MX2 Podium
1 Joel Roelants B KTM 95
2 Erik Eggens NL Suzuki 86
3 George Strik NL KTM 78
MX2 Championship
1 Joel Roelants B KTM 318
2 Rob van Vijfeijken NL KTM 288
3 Erik Eggens NL Suzuki 271
4 Rinus van de Ven NL KTM 266
5 Dennis Verbruggen B Yamaha 248
---
Australian Motocross Championship
Toowoomba
June 24, 2007
Nokia Pro-Open
1. Matt Moss, 45
2. Troy Carroll, 45
3. Jay Marmont, 37
4. Cody Cooper, 36
5. Daryl Hurley, 34
6. Daniel Reardon, 32
7. Ford Dale, 29
8. Nathan Crawford, 24
9. Kade Mosig, 21
10. Justin Carafa, 20
Nokia Pro-Open Points
1. Daniel Reardon, 260
2. Daryl Hurley, 231
3. Jay Marmont, 204
4. Cody Cooper, 203
5. Troy Carroll, 161
6. Matt Moss, 120
7. Nathan Crawford, 115
8. Kade Mosig, 113
9. Nathan Brochtrup, 109
10. Shane Metcalfe, 98
Honda Pro-Lites
1. Jake Moss, 47
2. Todd Waters, 40
3. Kyle Tobin, 38
4. Danny Anderson, 35
5. Mitch Hoad, 26
6. Lewis Stewart, 25
7. Kirk Gibbs, 23
8. Dean Ferris, 22
9. Brendan Harrison, 21
10. Lewis Woods, 18
Honda Pro-Lites Points
1. Jake Moss, 276
2. Mitch Hoad, 200
3. Danny Anderson, 187
4. Kyle Tobin, 180
5. Cody Mackie, 168
6. Adam Monea, 142
7. Michael Phillips, 142
8. Lewis Stewart, 135
9. Louis Calvin, 112
10. Cameron Taylor, 109
11. Michael Addison 108
Women's Race
1. Katherine Prumm, 50
2. Ashley Bates, 44
3. Stacey Griffiths, 36
4. Emma Davis, 35
5. Melissa Mackay, 32
6. Kristy Gillespie, 31
7. Amber Snooks, 26
8. Lauren Parsons, 24
9. Tahlia Neilson, 21
10. Adelia Barton, 14
Women's Points
1. Katherine Prumm, 150
2. Ashley Bates, 118
3. Kristy Gillespie, 115
4. Emma Davis, 100
5. Adelia Barton, 78
6. Tahlia Neilson, 78
7. Lauren Parsons, 75
8. Melissa Mackay, 70
9. Amy Boyd, 62
10. Amber Snooks, 51
---
Moose Racing Snowshoe GNCC
Snowshoe, WV
June 24, 2007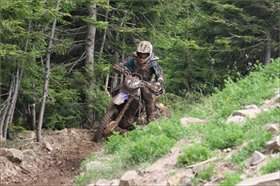 Thad Duvall negotiates the wooded West Virginia terrain.

Jason Hooper photo



Overall
1. David Knight Isle of Man, UK (KTM)
2. Barry Hawk, Jr Smithfield, PA (Yam)
3. Jimmy Jarrett Beloit, OH (Suz)
4. Thaddeus Duvall Williamstown, WV (Yam) XC2 Pro Lites
5. Joshua Strang Australia (Suz)
6. Ryan Echols Fairmont, WV (Yam) XC2 Pro Lites
7. Paul Whibley New Zealand (Hon)
8. Jesse Robinson Conellys Spg, NC (Kaw)
9. Glenn Kearney Australia (Suz)
10. Justin Williamson Sanford, FL (KTM) XC2 Pro Lites
11. Rodney Smith Antioch, CA (Suz) XC2 Pro Lites
12. Robbie Jenks New Straitsville, OH (KTM)
13. Dustin Gibson Cumbrland Frnce, TN (KTM) XC2 Pro Lites
14. Brian Garrahan Boulder Creek, CA (Yam)
15. Joe Marsh Pittsburgh, PA 250 A (Yam)
16. Charles Mullins Hamilton, OH (Yam)
17. Russell Bobbitt Fayetteville, GA (KTM)
18. Joseph Scherer Renfrew, PA (Yam) 250 A
19. Scott Watkins Leetonia, OH (Kaw) XC2 Pro Lites
20. Gary Fridley Lost Creek, WV (Yam)
2007 Can-Am GNCC Overall Series Standings (After 8 of 13 rounds)
1. David Knight 179/4 wins
2. Charles Mullins 153/1 win
3. Barry Hawk, Jr 144/1 win
4. Garrett Edmisten 123
5. Glenn Kearney 116
6. Jimmy Jarrett 104
7. Paul Whibley 98/1 win
8. Shane Watts 92/1 win
9. Jesse Robinson 90
10. Joshua Strang 85
XC2 Pro Lites
1. Rodney Smith (147/3 wins)
2. Justin Williamson (134/1 win)
3. Scotty Watkins (128/1 win)
4. Thad DuVall (122/1 win)
5. Dustin Gibson (115)
6. Josh Weisenfels (114)
7. John Barber (103)
8. Brian Lawson (76)
9. John Bennett (64)
10. Cole Calkins (63)
---
AST Dew Tour-Panasonic Open Results
Baltimore, Md.
Sunday, June 24, 2007

Freestyle Motocross Final
1. Nate Adams, Grendale, Ariz., 95.67
2. Blake Williams, AUS, 93.83
3. Mike Mason, Carson City,NV, 92.17
4. Adam Jones, Warrendale, PA 91.50
5. Jeremy Lusk, San Diego, Calif., 91.33
6. Ronnie Faisst, Mays Landing, NJ, 89.33
7. Wiley Fullmer, Chino, Calif., 88.83
8. Todd Potter, Anza, Calif., 88.67
9. Myles Richmond, Cherry Valley, Calif., 87.00
10. Matt Buyten, Carson City, NV, 86.17

For road racing results visit www.roadracerx.com.

If you are a race promoter and would like to see results from your event on Yamaha's Monday Wake-Up Call, please contact Gregg Lowley at [email protected].
Share this article:
Did you like this article?
Check out MY LIFE IN MOTORCYCLE RACING
in our Latest issue of Racer X available now.

Jean-Michel Bayle, the iconic superstar of yesteryear, raced motocross for the first time in twenty-one years at the Vets MXdN in England. Page 126.