Luckily, the show was a good one, and the AMA Toyota Motocross Championship Presented by FMF just went to another level. The second Motocross Class moto at Budds Creek was a classic, and it was fun to watch and easy to understand all at once, even for those who may not normally watch these races. You had the two biggest names in the sport battling hard for the lead for nearly the entire race, and it made for good TV and great entertainment for those that chose to spend Father's Day at the track.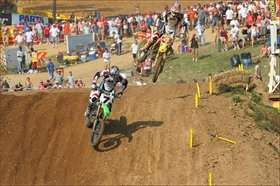 photo: Zak Lowery

We even had some storylines to throw in there, like James Stewart missing Saturday's practice and qualifying to spend more time with his dad for Father's Day, and Chad Reed coming back to race one time to prepare for the Motocross des Nations, and Ivan Tedesco coming back from injury, and Grant Langston having all of that momentum from Southwick, and RC going after his 100th AMA National Motocross win, and then losing his goggles and losing it in the pits after the race, upset about losing a single moto even though the points don't matter to him and he can still win the overall. It was good stuff.

The best was reserved for last, with Carmichael shadowing Stewart's every move for 25 minutes in moto two. The biggest storyline of all came after the racing, when Carmichael laid a systematic verbal dismantling on the track. And although he might have his points, even he will admit part of the reason the racing turned out so well was because there was basically no place to pass on the track, which basically forced the duo to stay together the whole time.

It was lucky that it worked so well. Anyone watching the show or watching the race in person was treated to a great show, which is great for the sport.

As for the rest of the guys, Reed put together quite a run for a guy who has been in Australia for weeks. He crashed in the first turn of the second moto and fought all the way back for fourth, all on a one-line track. And Andrew Short collected his first podium in a moto with third in the second go-around. But while the results show that the battling between anyone in that second group is good, the racing on the track hasn't been as intense. Certainly nothing in that group matched the intensity of seeing Stewart try to stay in front of Carmichael for 30 plus 2 under sunny skies on Father's Day. Just ask anyone who watched it.