Toyota/Racer X Power Rankings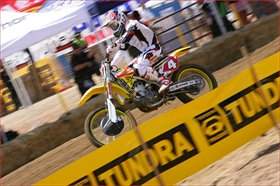 RC is a unanimous #1
Well, the voters in the Racer X/Toyota Power Rankings were betting on
Ricky Carmichael
going into
Hangtown
--he was voted #1 in our preseason poll--and the champ came through again. Carmichael's thrilling win at
Hangtown
has the Makita Suzuki rider a unanimous selection at the top of the chart, as all 23 of this week's voters put him down as their #1.
James Stewart
was ranked second, and Lites winner Ben Townley made the jump up to third, moving past his teammate
Ryan Villopoto
, Kawasaki's second 450 rider
Tim Ferry
, and the veteran
Kevin Windham
. And
Davi Millsaps
jumped six spots based on his excellent ride in the second AMA Motocross moto!
| | | | | | |
| --- | --- | --- | --- | --- | --- |
| | | PTS | # | RIDER | SPONSOR |
| 1. | | 575 | 4 | Carmichael Ricky | Makita Suzuki |
| 2. | | 549 | 7 | Stewart James | Monster Energy Kawasaki |
| 3. | +3 | 501 | 101 | Townley Ben | Monster Energy Pro Circuit Kawasaki |
| 4. | -1 | 494 | 51 | Villopoto Ryan | Monster Energy/Pro Circuit Kawasaki |
| 5. | -1 | 493 | 15 | Ferry Tim | Monster Energy Kawasaki |
| 6. | +6 | 413 | 118 | Millsaps Davi | Factory Honda |
| 7. | -2 | 411 | 14 | Windham Kevin | Sobe No Fear/Samsung Mobile Honda |
| 8. | -1 | 400 | 8 | Langston Grant | Factory Yamaha |
| 9. | +1 | 391 | 62 | Dungey Ryan | Makita Suzuki |
| 10. | -2 | 341 | 29 | Short Andrew | Factory Honda |
| 11. | | 304 | 12 | Vuillemin David | MDK Motorsports Honda |
| 12. | +1 | 302 | 338 | Lawrence Jason | Yamaha of Troy Yamaha |
| 13. | +1 | 302 | 24 | Grant Josh | Sobe No Fear/Samsung Mobile Honda |
| 14. | +2 | 239 | 800 | Alessi Mike | Red Bull KTM |
| 15. | | 234 | 26 | Byrne Michael | Rockstar Suzuki |
| 16. | +3 | 231 | 123 | Metcalfe Brett | Monster Energy/Pro Circuit Kawasaki |
| 17. | +3 | 156 | 52 | Hahn Tommy | Factory Honda |
| 18. | | 146 | 58 | Hill Joshua | Factory Yamaha |
| 19. | -2 | 125 | 27 | Wey Nicholas | MDK Motorsports Honda |
| 20. | +new | 101 | 75 | Tickle Broc | Star Racing Yamaha |
| 21. | -12 | 96 | 9 | Tedesco Ivan | Makita Suzuki |
| 22. | +new | 87 | 73 | Weimer Jake | Sobe No Fear/Samsung Mobile Honda |
| 23. | +new | 75 | 32 | Clark Ryan | Team Solitaire Honda |
| 24. | +new | 69 | 801 | Alessi Jeff | Red Bull KTM |
| 25. | -3 | 63 | 31 | Thomas Jason | DNA Energy/BTO Sports/BBMX Honda |
Total number of votes 23
Linda Ardehali, Vince Arimitsu, John Ayers, Jason Berry, John Bodnar, Chris Bond, Andy Bowyer, Erv Braun, Paul Buckley, Dave Castillo, David Clabaugh, Davey Coombs, Steve Cox, Simon Cudby, Jeff Emig, Mike Farber, Jason Fleming, Steve Giberson, Jason Hooper, Frank Hoppen, Steven Hudson, Chris Hultner, David Izer, Eric Johnson, Jeff Kardas, Jim Kimball, Scotty LaLonde, Stephan Legrand, Brian Leib, Mario Marini, Nick McCabe, David Pingree, Dave Prater, Pat Schutte, Alan Selk, BJ Smith, Bryan Stealey, Denny Stephenson, Carl Stone, Michael Stusiak, Jean Turner, Billy Ursic, Scott Wallenberg, Matt Ware, Jason Weigandt, Billy Wood, Brad Zimmerman