Things To Do In...Morgantown
Ah, the High Point National—our favorite time of the year here at Racer X. Many people probably wonder why Racer X is based here in Morgantown, WV. Well, the founder, Davey Coombs, was actually born and raised here in Morgantown, and he never really felt the need to move. It's a great little city in West Virginia, home of the West Virginia University Mountaineers, and it's about 15 minutes from Mt. Morris, PA, home of the High Point National. So this week's "Things To Do…" feature was pretty easy for us, and below you'll find a comprehensive guide of entertainment and activities highly recommended by everyone here at the magazine. Remember, if a round of the AMA Toyota MX Championship is coming to your town, and you have a suggestion for us, please email us at letters@racerxill.com.
Thursday:
Mario's Fishbowl (bar/restaurant) one of Morgantown's landmarks.
704 Richwood Ave
Morgantown, WV 26505
Tel: 304-292-2511
http://mariosfishbowl.tripod.com/
Kelger's Sports Bar. Great Wings. And bowling! (And lots of very pretty waitresses)
735 A Chestnut Ridge Road,
Morgantown, WV 265605
Tel: 304-598-9698
Friday:
Amateur Motocross Racing at High Point
Practice at 8:00 a.m., racing immediately follows.
www.highpointmx.com
Tel: 304-284-0084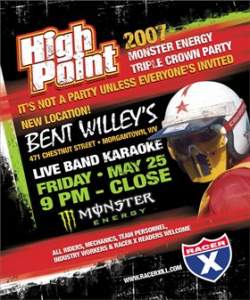 Be here

Racer X Party at Bent Willey's. Outdoor party deck. Live Band Karaoke. Monster Energy drink specials. Foolishness.
http://morgantownbars.com/
471 Chestnut Street
Morgantown, WV 26505
Tel: 304-292-9590
Saturday:
Moto-X Country Racing at High Point
Racing starts at 9:00 a.m.
www.highpointmx.com
Tel: 304-284-0084
Camp at the track. No bottles. No kegs. No pets. No fighting. www.highpointmx.com
Tel: 304-284-0084


Sunday:
Dirt Bike Races at High Point.
Exit 1 off of I-79
Mt. Morris, PA
Main event starts at 1:00 p.m.
See Tony DiStefano, Bob Hannah, Jim Weinert and Rocket Rex Staten.
www.highpointmx.com
Tel: 304-284-0080
After the race, of course, $1 drafts at Crockett's in Star City (Exit 155 off of I-79, Morgantown, close to track)
Play a round of golf with Parts Unlimited's Hylton Beatty.
www.lakeviewresort.com
Take a hike or have a picnic in Coopers Rock State Forest
www.coopersrockstateforest.com
Go fishing, boating, swimming in Cheat Lake
www.cheatlake.com
Visit Dorsey's Knob
www.dorseysknob.org
Buy some Wine
www.winebungalow.com
Buy some clothing
www.vancesblues.com
Buy a magazine subscription
www.racerxill.com
Wander around WVU's two campuses, or enroll in college
www.wvu.edu
Walk the Rails-to-Trails in downtown Morgantown, or ride them. Need a bicycle? Head down to Wamsley Cycles and rent a bike for a rail to trail spin.
www.wamsleycycles.com
Tuesday:
Zick Day
One-stop shopping:
University Town Centre. Exit 155 off of I-79. Get all your weekend supplies: Target, Wal-Mart, Sam's Club, Giant Eagle, Dick's Sporting Goods, Best Buy, Barnes & Noble. Plus, McDonald's, Olive Garden, Chili's, Lonestar Steakhouse, Cheddar's, CiCi's Pizza, Evergreen Asian restaurant. These are the closest restaurants to the track.
There's also a list of restaurants at www.highpointmx.com.
Seneca Center
A distinctive center for enjoyable shopping and facscinating history.
www.senecacenter.com

Bars/Restaurants Dave Brozik personally recommends:
Bent Willey's – Tell Tanner and NateDawg I sent you.
Gibbie's – Tell Gibbie, Lindsay, Overcash, Yoho, and E-Dawg I sent you.
Fishbowl – Tell Mark and Karen I sent you.
Chic 'n Bones – Tell Paul I sent you.
Back Door – Tell Rusty and Mike I sent you.
Big Tyme's – Tell Big Tyme I sent you.
Mercury – Tell Dave I sent you.
WV Brewpub – Tell Jeramia I sent you.
McClafferty's – Tell Shelly I sent you.
Kegler's – Tell Julz I sent you.
Crockett's – Tell Charlie, Ryan, Britney, Janna, and Dina I sent you.
Gene's – Tell the lady with the Irish accent I sent you.
Buck's – Tell Buck and his daughter I sent you.
Wooden Nickel – Tell Jessica I sent you.
Tailgators – Tell Brooke, Nicki, Joe and Sandy I sent you.
Rio Grande – Tell Sergio I sent you.
Archie's – Tell Archie Fleming sent you.
Good Times Lounge – Tell Fubro and FuJoe I sent you.
Outback Steakhouse – Tell Vicki I sent you.
Prime Thyme Restaurant – Tell Dave and Peggy I sent you.
Hummer's Gentleman's club – Vegas rules apply.
123 Pleasant Street – Tell them Matt Ware sent you. www.123pleasantstreet.com
Oliverio's Italian Restaurant – Never met anyone there—yet. Too busy eating fantastic Italian food.
Enjoy.